 Stockers are a margin driven business with flexibility of buying and selling calves when cattle prices and forage availability dictate. Because of this flexibility, stocker cattle are an excellent grazing management tool. When quantity of forage is decreased due to drought or overuse, remove animals from the pasture. In destocking, reduce herd size enough to bring the number of animals in balance with available forage. When forage conditions improve sufficiently to provide a grass surplus, stockers can be added.
"To ensure achievement of target weight gains, forage intake should be non-restricted at all times in a stocker cattle operation," says Jane Parish, Mississippi State University Extension, beef cattle specialist. "Forage quality as well as quantity is important when growing stocker cattle. It is very hard for young cattle to grow on hay or pastures that have become too mature and lost their nutritional quality. For this reason, managers must strive to provide a consistent supply of quality forage through a year-round pasture program."

IMPACT OF MANAGEMENT: A fence line shows the contrast between a poorly managed pasture (right) versus well-managed forage.
Practicing good grazing management strategies is usually very beneficial to a stocker operation. Appropriately managed pastureland is more productive for a longer period, has higher forage quality, and reduced forage waste. Stocking rate governs forage persistence and productivity which influences the amount of beef produced per acre.
What is the quantity of forage?
"Improved pastures with adequate fertilization provide high forage production and create a scenario in which stocking rates can be increased," says Holly Boland, Mississippi State University, Extension professor, beef cattle production.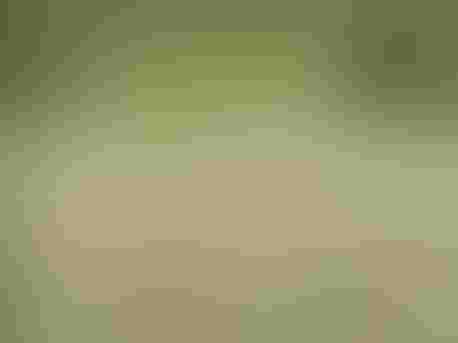 LET IT REST: Stockers have been moved from this pasture to let it rest.
Boland explains that when stocking rates are low, forage availability and animal productivity are initially high, but later decline because there is not enough grazing pressure to prevent forages from accumulating stems and dead leaves. Animal intake begins to decrease along with animal performance. Underutilizing forages with low stocking rates is not economical. Less forage is available per animal as stocking rates are increased but forage is better utilized and animal output per acre increases.
Related: Safe cattle handling tips from Dr. Joe
Take care to avoid overgrazing pastures. A safe minimum forage height varies depending on the forage species. Overgrazing depletes forage energy reserves which results in weaker plants and potentially, loss of the stand. A decrease in overall forage production ultimately decreases animal performance.
"Forage production varies considerably and the variability is important for stocking rate decisions," says Kimberly McCuistion, King Ranch Institute for Ranch Management.
McCuistion notes that forage availability should be monitored visually throughout the year. Conduct forage surveys at the end of production cycles. In regions that receive spring and fall rains, conduct surveys in June or July and again in October or November. Surveys can be limited to one in October or November in areas that receive summer rains. Do surveys in all regions during March to learn how much forage is available in case spring rains don't occur.
What is the quality of forage?
"Cattle are selective grazers and have ability to improve their own diet," Boland says. "They choose green leaves over dead leaves, and leaves over stems which are comparatively the more nutritious plant parts. In many cases cattle show a partial preference for legumes over grasses. If forage quality is high and forage availability is adequate, plant selectivity is not a concern."
Related: Winter-seeding legumes boosts old grass pastures
Stocking rate can be used as a tool to change plant composition of a pasture. Heavy stocking, for example, favors certain forages over others. Under heavy grazing, cattle will graze out the more palatable plants leaving the less palatable to regrow. This problem is alleviated by reducing stocking rate.
"Pasture management including fertilization and clipping dead stems can improve overall pasture nutritive value," adds Boland. "Forage testing provides detailed information on nutritive values, which is important for pasture management planning."
Identification of plant species in pastures helps gauge seasonal variations in forage production. Adjust stocking rate as forage production fluctuates. Stocking heavier during periods of rapid pasture growth and harvesting surplus forage more efficiently utilizes pastures than stocking light and allowing vegetation to become too mature.
Subscribe to receive top agriculture news
Be informed daily with these free e-newsletters
You May Also Like
---