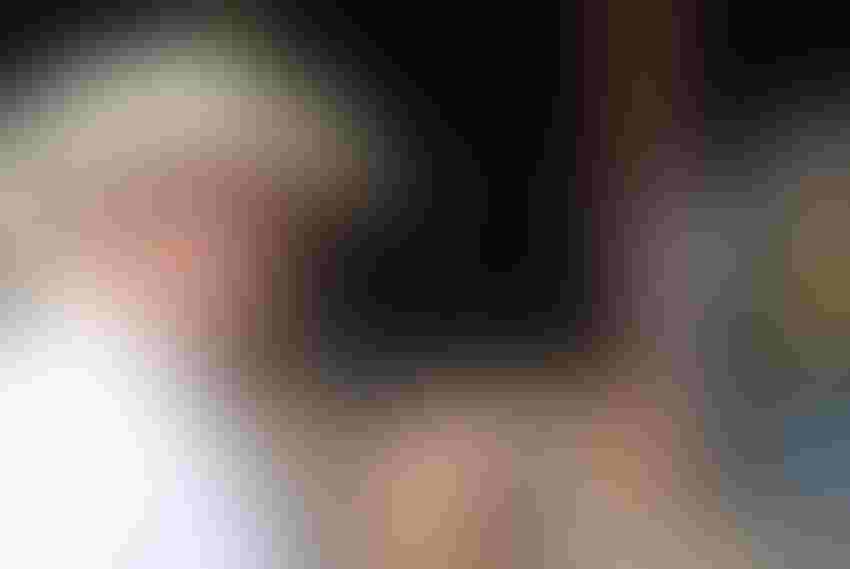 Cattle handling equipment and systems have come a long way over the past few decades and vastly improved safety for ranchers and their cattle has been the result. When Joe Jeffrey, veterinarian from Lexington, Neb., finished veterinary school in 1960, cattle processing equipment was fairly primitive compared to modern working facilities. "There were no hydraulics and it was tough to restrain an animal" to treat it, Jeffrey said in an interview at Husker Harvest Days this past fall. "Today's chutes are so much safer."
Jeffrey, who has been the narrator of live cattle handling demonstrations at HHD for the past 27 years, said that he has seen it all over his 55 year career as a veterinarian and cattleman. He talked about former days on the farm when working facilities were loud and dangerous.
"I've seen chute operators with broken arms who got injured while working cattle," Jeffrey recalled. "The old chutes did a lot of damage." Even during early cattle handling demonstrations at HHD, things didn't always go as scripted. 
"The new chutes, whether they are hydraulic or manual, are safer for man and beast," he said. "Once the critter is restrained, they can't get hurt. It works better to get them implanted, to pregnancy check cattle or give vaccinations, because we want the cattle to be safe and we want the operator to be safe."
Jeffrey advises farmers and ranchers to invest in good equipment, high quality alleyways and gates for their working facilities to make processing livestock easier and more efficient. "Manufacturers have spent thousands and thousands of dollars to develop new chutes that are animal-safe," he said. "You want equipment that works as quietly as possible. You want alleys that are blind and covered, so the cattle can't see an opening."
He said that processing equipment should protect valuable livestock from injury or bruising too. "We know now that cattle should only receive vaccinations in the neck area," Jeffrey said. "The new chutes are designed to provide the chute operator with easier access to the neck region for vaccinations."
At cattle handling demonstrations, the side-by-side chute comparisons are of value to producers attending HHD. "In the early days of the show, the chute manufacturers wanted a way to reach out to customers and draw a crowd, so that's why we came up with the idea for the side-by-side chute comparisons," Jeffrey said. Cattle handling demonstrations offer producers a chance to hear about the specifics of each chute.  Then they are able to see each chute in action, as operators process several calves during the event. They also offer manufacturers an opportunity to discuss the attributes of their equipment with customers.
Jeffrey said that he enjoys visiting with packed audiences each year at HHD, telling stories from his experiences and offering useful information to producers.
You can learn more online at huskerharvestdays.com.
Subscribe to receive top agriculture news
Be informed daily with these free e-newsletters
You May Also Like
---