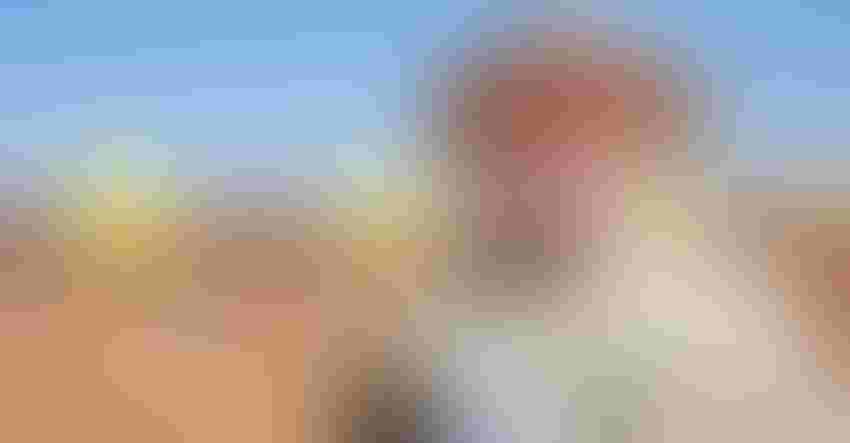 In the 1970s, Mark Scott was determined to become a veterinarian. He was attending Texas Tech University in Lubbock and a semester away from beginning veterinarian school in the fall.
But on a whim and in need of courses to fill his spring semester, he took a class that would not only introduce him to insect identification but reveal his true passion and change his trajectory.
"I didn't have any interest in crop agriculture," Scott admits. "I took an ag entomology course and fell in love with agriculture. I liked veterinary science, but I had a passion for crop agriculture. Once it gets in your blood, you bleed dirt. It's crazy!"
Scott earned a Master of Science in Entomology and for the last 43 years, he's been consulting with producers in Terry, Lynn, Hockley, Yoakum, Gains, and Lubbock counties, identifying insects but also management practices that can increase their bottom line.
"I love this area because the farmers are fantastic," Scott says. "We do a lot with the limited amount of water we've got. A lot of times you can overcome mistakes by putting on more water. But when you don't have enough water, you have to do everything right for it to work out. These guys down here know how to do it."
Scott's primary goal is to help producers make money, he says. "I want them to keep their banker happy. We don't want to spend money if we're not going to make money."
Throughout his career, Scott admits there has been a lot of new technology introduced into agriculture but not all of it has generated more income for producers. "I'm not one of those consultants who tries everything that's new. But when I see a practice that works, makes people money, then I'll spread it around to my farmers."
Individual Producers
As Scott advises producers, he says he treats each operator and their operation individually. "Some of them have different overall yield objectives versus others, so we tailor management strategies according to what they're trying to accomplish."
At the beginning of each season, Scott begins by reviewing cotton variety-trial results with his clients. "We go over varieties for each field. All fields are not alike," Scott says. "We've got nematodes and diseases. So, we've got all kinds of situations we have to plan for in each of the fields."
He also collects soil samples. "We try to get a good fertility program in place. During the year, we might adjust that according to weather patterns. If it looks like it's going to be hot and dry, we don't need to put out as much fertilizer, but if it's going to rain and we are going to make a bumper crop -- those are things we take into account."
Scott also assists producers with selecting insect and disease, and herbicide programs. Further along in the season, Scott helps them determine whether a plant regulator is needed and how much. "Some varieties are more growthy than others, so we've got to be careful what we do for plant growth regulation."
2020
Scott describes the 2020-production year as "extremely difficult." Some of the producers in his region received as little as 1.5 inches of rain from March 1 until November, when the area was hit by an ice storm that Scott says brought very little moisture.
"I don't care what you do to the crop, if you don't have water in this area, it's not going to work. The people who had the higher yields this year, had more water."
Key this year was vigilance. "We had to be vigilant with our weed control," Scott says. "Whenever you have weeds out there, they're taking away fertilizer, sunlight and water from the crop."
Fertility and water management also were essential. "You've got to know when to hold them (fertility and irrigation) and when to fold them because this year, I don't care what you did, if your water ran out, you didn't make the yield you needed."
Fortunately, insects were not an issue. "We were lucky about that because we don't want to spend money we don't have."
Looking ahead
As producers look ahead to 2021, the region's drought-like pattern is forecast to persist. Scott recommends growers consider the following:
Assess the water situation. "A lot of their water got pumped down at the end of the year, so producers might not have as much water to work with as they did last year."

Tailor variety selection and yield expectations according to the forecasted weather pattern. "We've got to try to determine if it's going to be a wet winter, then we've got a better chance next year of making a good yield. If it stays dry, we've got try to decide what drought-tolerant varieties we can plant."

Tailor fertility according to yield expectations. "Don't go out there and throw out a bunch of fertilizer for four-bale cotton if you've only got two-and-a-half bale potential."
"This winter is going to be critical as far as what happens next year. We cannot water enough to catch up when we get behind."
Scott was named the 2018 Crop Consultant of the Year.
Subscribe to receive top agriculture news
Be informed daily with these free e-newsletters
You May Also Like
---