2023 Illinois Master Farmers: What their friends say
2023 Illinois Master Farmers: What their friends say
The letters that pour into Prairie Farmer offices in support of Master Farmers make for the most uplifting reading we do all year. Here's a slice of the stories they tell about the 2023 Master Farmers.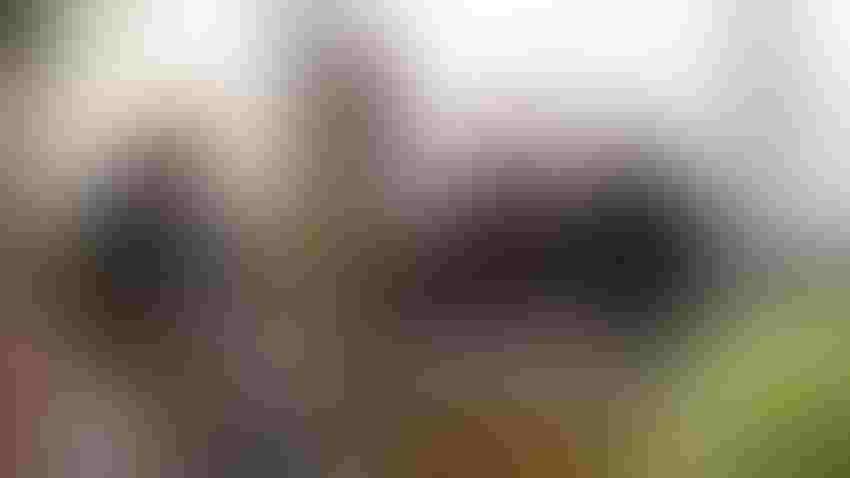 RESPECTED: The 2023 Prairie Farmer Master Farmers are (from left) Curt Strode, Marietta, Ill.; Martin Barbre, Carmi, Ill.; David Meiss, Gridley, Ill.; and Ron Moore, Roseville, Ill.
Betty Haynes
When the letters of support pour in accompanying Master Farmer nominations from across Illinois, they add personal insight and touching memories about time spent with the honorees — on and off the farm. They also paint a picture of the farmer's character, forged during community fundraisers, late-night meetings and harvests for neighbors. For many Master Farmers, reading the letters is a humbling and honoring experience.
Here's a look at what some of the closest friends, family, landlords, suppliers and others have to say about each member of the 2023 Class of Prairie Farmer Master Farmers.
Martin Barbre
"Martin's well-run, environmentally sustainable farming operation made it possible for him to give back to his community, serve the agriculture industry and pave the way for future generations of farmers to grow, learn and succeed." — Susan Adams, 2020 Master Farmer, Atlanta, Ill.
"What I loved most about serving with Martin is his positivity. Martin shows up for any meeting with a positive attitude and looking for solutions." — Dan Cole, Plainville, Ill., farmer
"Martin is the kind of farmer-leader who takes opportunities, learns and grows from them, and uses them to make programs, policies and people better." — Rod Weinzierl, IL Corn
"In the NCGA board room, Martin made the people around him better and more prepared. He has the ability to cut to the chase and make a decision, then back it up with thought and knowledge." — Anthony Bush, Mount Gilead, Ohio, farmer
"He knows how to deliver a clear and concise message." — Jon Doggett, National Corn Growers Association CEO
"Martin has paved the way for a future generation of farmers to grow, learn and succeed." — Sonny Perdue, former U.S. secretary of agriculture
"Passing the farm on to the next generation is one of the ways that I measure success. Martin's son has taken over the reins, and the Barbre farm is continuing on into the future." — Randy DeSutter, 2015 Master Farmer, Woodhull, Ill.
"Legacy is something that takes a lifetime to build, and Martin's vestige is shining through already to his next generation." — Bryan Tomm, Carmi, Ill.
David Meiss
"I always appreciated David's positive attitude. His faith in his Lord and Savior has guided his daily life and decisions impacting his farming operations." — Richard Guebert Jr., 2006 Master Farmer and Illinois Farm Bureau president
"He was always prepared, thoughtful in his decision-making, a good listener, conscientious, and respectful of all persons and points of view." — Chris Magnuson, Illinois Farm Bureau
"Dave is someone to aspire to be like. He has built a successful farm, raised three terrific kids and kept God first." — Jamin Ringger, Gridley, Ill., farmer
"David is an excellent farmer with meticulous tendencies for detail and improvement. He works to make his farmland and business better with each growing year." — David Erickson, 2003 Master Farmer, Altona, Ill.
"In his leadership role with Illinois Farm Bureau, David spent a great deal of time reviewing policy, evaluating legislation and regulations, and advocating for the interests of farmers and our rural communities." — Mark Hines, McLean County Farm Bureau president
"He's treated others how he wants to be treated, and over the years, he has become a farmer in our community that people trust and admire." — Andy Huette, Christ Community Church of Gridley senior pastor
"I have confidence in his abilities to guide many through life's difficulties and encourage them to flourish and thrive. He is a true servant to all whom he meets." — Bob Fecht, Toluca, Ill., farmer
Ron Moore
"Ron is a recognized voice of leadership in a room full of farmers. He's an inquisitive thinker and a voracious learner who takes his commitment to the fellow farmers he serves seriously. He is one of the most dedicated farmer-leaders we are privileged to know." — John Lumpe, Illinois Soybean Association CEO
"Ron has been the go-to guy on ASA's board of directors for serving as a thinker, worker, leader and now mentor." — Stephen Censky, American Soybean Association CEO
"Ron understood the need for agriculture to have a seat at the table and how to use that opportunity." — Don Guinnip, Marshall, Ill., farmer
"Ron has been involved in many production issues, including best management practices such as research, seed traits and pesticide use, among others. Those issues were presented, discussed and, in many cases, implemented during his tenures on both the Illinois Soybean Board and the American Soybean Board." — Bill Raben, 2016 Master Farmer, Ridgway, Ill.
"I think back upon my early days on the state soybean board, and Ron was the guy I wanted to be like. Ron didn't talk all the time, but when he did, it was spot on." — Doug Schroeder, 2022 Master Farmer, Mahomet, Ill.
"Ron truly reflects and represents what makes Illinois farmers some of the best in the world. Across the country and across the globe, Ron has consistently demonstrated his commitment to serving the needs of Illinois agriculture and Illinois' farmers and all U.S. agriculture." — Ron Kindred, Atlanta, Ill., farmer
Curt Strode
"Curt is an incredibly responsible, conscientious, conservation-minded farmer. He's one of the first members I met when coming to Fulton County, and he's an example of this county's finest people." — Elaine Stone, Fulton County Farm Bureau manager and nominator
"Curt has always been about taking care of the land and animals for the generations to come. It would mean more to Curt to know a Strode was still farming his ground 100 years from now than if someone gave him a brand-new pickup truck today. To him, what matters most is the people we love and the land we are called to cultivate." — David Spangler, Spangler Trucking
"Curt is a man of integrity and kindness." — Jim Rock, Canton, Ill., farmer
"Curt has been able to take well-calculated and conservative financial steps that have built an operation that will nicely position for success the next generations of Strodes, and he established appropriate business ownership structures years ago to quickly transition his son, Wes, into an ownership role." — Keith Mellert, Compeer Financial
"Curt is very well known in the farming community and loved by all. He would give you his last dime if it meant success for the next farming generation." — Delson Wilcoxen, Ipava, Ill., farmer
"Curt now walks slower than he used to, but his wisdom and compassion haven't diminished. Fact is, they've grown. I've seen it." — Mike Burdick, pastor, St. John's Lutheran Church
Subscribe to receive top agriculture news
Be informed daily with these free e-newsletters
You May Also Like
---