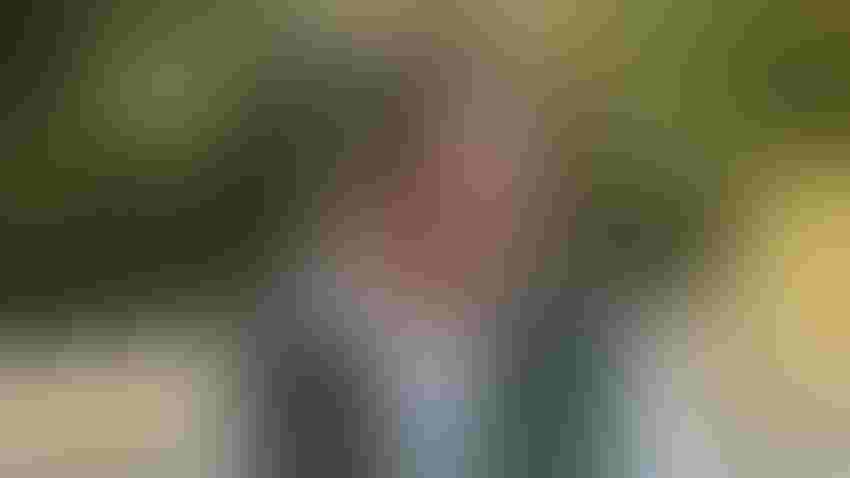 Farmers worry about a lot of things. But whatever the hot topic bubbling away at your local coffee shop – be it population decline in China, electric cars, or another looming food vs. fuel debate – Matt Roberts can usually explain why your fears are unfounded.
"All these topics start with farmers, but when I dig into them, a lot of times I can usually dispel their fears," says Roberts, a former Ohio State ag economist and now a senior grain and oilseed sector analyst for Terrain, a research and analysis firm sponsored by three regional farm credit associations.
"The reason I rarely give farmers advice is, generally they know what they're doing," he adds. "Where I can add value is getting them to think about what they know in a different way."
Roberts has experience as a commodity economics research consultant, trainer, and professional speaker on grain and biofuels markets. He started his career as a commodities broker in Europe, then became the unofficial biofuels economist in the Land Grant system. He was a founder and Managing Director of The Kernmantle Group, a commodity economics research and training consultancy.
And while he may be an expert on a lot of things, he knows that advice from the academic's perch may not always make sense in the real world of farming.
"My experience after 25 years in ag either as an economist or in academia, is that when I see farmers making decisions that don't fit with economic theory it's because academic theory doesn't align with the choices actually being offered," he says.
We asked Dr. Roberts to share his views on a variety of anxieties that may be on your radar these days.
You've written and spoken a lot about the impact of electric vehicles on the future of ethanol and corn demand. Should farmers worry?
Roberts: In the last four years we're hearing first from the European Union, then California, and General Motors, about how we're only going to sell or build electric cars after 2030 or 2040. What will it do to the ethanol market? The reality is, when you dig into that language, there's a topline story that may be scary, but a plug-in hybrid is also electrified, so we're not talking about all future vehicles being all electric, such as Teslas. For a lot of people, plug-in hybrids will work much, much better.
We've also seen in car regulations that the fleet is getting older and older, as technology pushes the prices of new cars higher. The age of the American fleet has grown by two years in the past decade. So put this together. By 2035 electric cars won't have much impact on ethanol; by 2050, yes we will see a significant decline in ethanol in the country, but that decline will certainly be dwarfed by yield growth. We have to find other sources of demand.
China has been a big driver of U.S. farm exports. Should we worry about that country's population, which dropped by 850,000 in 2022?
Roberts: It's true that China had more deaths than births in 2022. It has been a big ag demand driver over the past 30 years. What does this mean? A lot less than what people think. That's because the driving force behind exports is not population, it's their income exploding. We need to think: Is China's income growing, and how fast? China is eating better because their economy is growing 8% to 10% a year the last 30 years.
The bottom line: Money and prosperity matter more than people and population.
At Commodity Classic we heard a lot of people buzzing about renewable diesel and emerging demand for low carbon feedstocks. Is this going to do for soybeans what ethanol did for corn over 15 years ago?
Roberts: I have a slide from 2006 talking about this new policy called the renewable fuels standard being discussed in Congress, and we were working out the acreage implications. It was crazy to think we were going to grow enough corn to meet the RFS demand, and a lot of analysts at that time laughed it off. But sure enough six years later we were growing 95 million acres of corn. I feel the same way now about soybeans. When you look at the crushing capacity coming online, the acreage implications are staggering. We have to grow a lot more soybeans.
Let's assume the increase in acreage is 10 million, just to keep it a round number. Long term, a million and a half acres comes out of cotton. Over time, more of those acres also come out of corn, mainly because we don't see corn demand growing as fast as vegetable or protein demand globally. I think we'll see half to 1 million acres moving from corn to soybeans. I think wheat will lose a decent number of acres.
If you remember 15 years ago we saw a lot of growers move from corn-bean to corn-corn-bean rotations; in the central Corn Belt you'll see a move back, putting beans back into the rotation. But some of it comes out of wheat, pasture, and cotton.
Will this relieve anxiety farmers currently feel about a slowdown in exports to China?
Roberts: Maybe. It depends on how many soybeans we continue to export. Some analysts think our exports drop to zero, and if so, we don't need to grow more soybeans. What does this do to our relationship with China? Does it lessen our dependence on China?
It also comes back to how fast Brazil expands. If you think renewable diesel is going to replace exports to China, you're implying China will get all its soybeans from Brazil.
Even if our exports to China decline because of renewable diesel, it does not mean we are no longer part of the global market. It still will be a globally traded commodity. If there is a short crop in Brazil we will feel it in our prices, and vice versa. So while renewable diesel may lessen exports it won't lessen our economic dependence on the world soybean market.
Will this new demand for low carbon feedstocks rekindle the food-vs.-fuel debate?
Roberts: I don't believe it will be as intense as what we saw 15 years ago, but the question will get asked. When we look at what happened in row crop production and prices in the commodity super cycle from 2006 to 2014, China played a 2 to 2.5 times larger role than ethanol did. Chinese demand growth was much larger than ethanol's demand growth.
Now, I think renewable diesel will parallel the growth we saw in ethanol. I don't think we're going to see the explosive growth from the rest of the world for vegetable protein that we saw in that period 15 years ago. So I don't believe those price spike worries are as likely to happen.
What's the most important thing farmers need to consider as they manage their farms now?
Roberts: I talked to a farmer who sold a lot of land recently, with a lot of capital to reinvest. To me the most valuable service I can provide is not giving him answers but walking him through questions: what's your succession plan? What are your goals and your kids' goals? Who is in this business? So it leads to a better decision.
Farming is the most complicated small business, bar none. Think about a $5 million revenue crop farm -- there are decisions being made by one or two people, oftentimes spouses and maybe an adult child. They're worried about international trade, wars in Ukraine, Capitol Hill, because these things directly impact their bottom line, on top of a very capital-intense business.
They rarely come from a corporate background, but now find themselves making pretty big business decisions. Having grown up in business, I'm trying to help them think through that.
There's a benefit for them to talk with someone coming in from the outside and having a new perspective to offer.
Subscribe to receive top agriculture news
Be informed daily with these free e-newsletters
You May Also Like
---