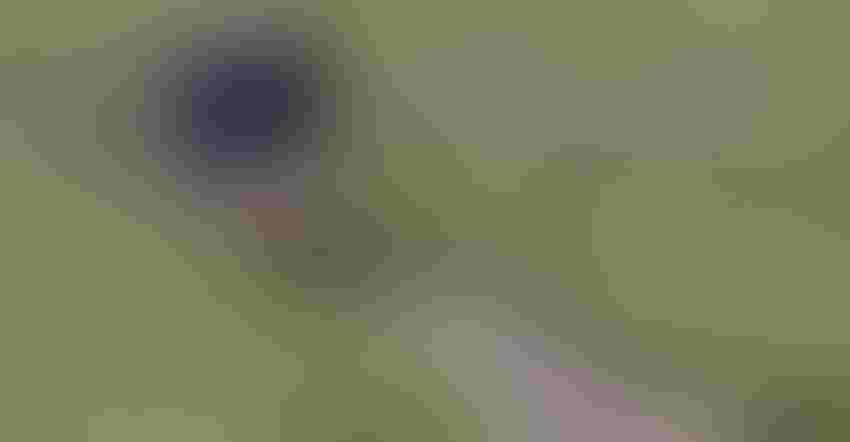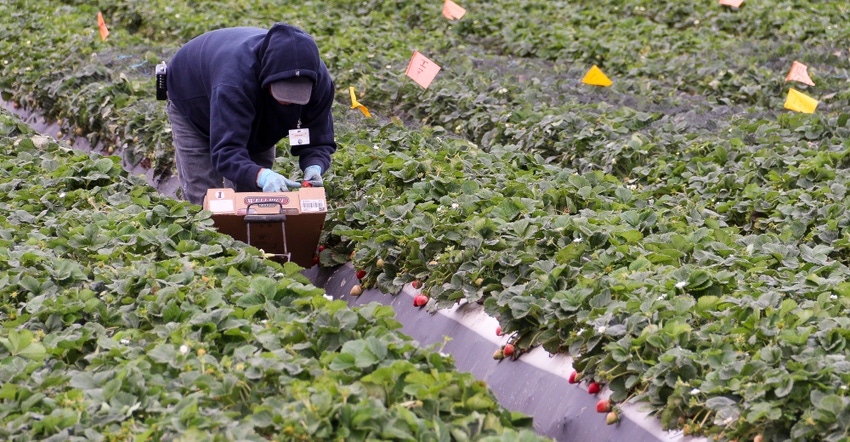 A farmworker picks strawberries on California's Central Coast.
Todd Fitchette
The United Farm Workers and West Coast agricultural groups agree on something.
Leaders of the nation's largest ag workers' union are backing a revived bill in Congress that would reform the H-2A farm guestworker program, providing a path to legal status for undocumented workers and their immediate families.
United Farm Workers President Teresa Romero and UFW Foundation Executive Director Diana Tellefson Torres heralded the reintroduction of the bipartisan Farm Workforce Modernization Act coauthored by U.S. Reps. Zoe Lofgren, D-Calif., and Dan Newhouse, R-Wash.
The bill passed the House of Representatives with a wide bipartisan majority in late 2019 but languished in the Senate.
"This bipartisan bill would give farmworkers and growers what they say they most need and want," Romero said in a statement. "Farm workers with work histories would immediately get legal status and win emancipation from pervasive fear so they can be free women and men. Growers would immediately get a legal and stable work force. Now both sides must work together to turn these goals into reality by passing the legislation through the House and the Senate." 
Related: West Coast groups laud reintroduction of H-2A reform bill
The legislation was crafted during a series of delicate negotiations between lawmakers from both parties, the UFW, UFW Foundation, Farmworker Justice and a large number of national grower associations, the union notes in a release. 
Groups in the West that have issued statements in support of the legislation include the California Farm Bureau Federation, Western Growers, the Washington Apple Commission, the Northwest Horticulture Council, the Washington State Potato Commission, Hop Growers of America, and the Washington Winegrowers Association.
What the bill does
The bill, H.R. 1537, establishes a program for ag workers to earn legal status through continued agricultural employment. Qualified applicants are provided 5-year guestworker visas they can renew by working at least 100 days in agriculture each year. Those who have ag experience but don't meet the criteria may apply for H-2A visas.
If an individual worked in agriculture in the U.S. for at least 10 years before the bill passed, they'd have to work an additional four years in agriculture before they could apply. If an individual worked in ag here for less than 10 years, they would need an additional eight years in agriculture to apply to become a legal permanent resident.
The bill also reforms the H-2A program to provide more flexibility for employers, while ensuring critical protections for workers. The legislation aims to make the program more responsive and user-friendly for employers and provides access to the program for industries with year-round labor needs. Many in the dairy, meat and processing sectors haven't been able to use the H-2A workforce because of limitations on year-round workers.
Related: Ag labor solution offered in House
The FWMA seeks to meet year-round labor needs through increased access to green cards and offering temporary three-year visas. The bill dedicates an additional 40,000 green cards per year which employers could use to sponsor workers to fill available permanent jobs. The bill also creates an option for H-2A workers to apply directly after completing 10 years of H-2A work in the United States.
Among its other provisions, the legislation also would establish a mandatory, nationwide E-Verify system that would be mandatory for all agricultural employment. It would have a structured phase-in and guaranteed due process for authorized workers who are incorrectly rejected by the system, officials say.
'A substantial difference'
"The Farm Workforce Modernization Act would make a substantial difference in the everyday lives of countless farm workers," the UFW Foundation's Tellefson Torres said. "How can we call farmworkers essential to the nation's food security yet deny them permanent protection from deportation? This bipartisan legislation addresses this cruel irony and would empower farm workers to enforce their rights and transform their lives." 
The UFW has 8,274 members in the U.S, many of whom are in the West. The union begun by Cesar Chavez in 1962 has agreements with some of the largest berry, winery, tomato, dairy and mushroom companies in California, and it has sponsored many recently enacted laws and regulations that apply to all farmworkers, the organization's website notes.
Subscribe to receive top agriculture news
Be informed daily with these free e-newsletters
You May Also Like
---