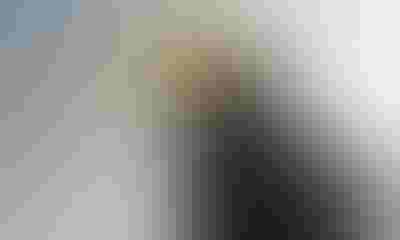 Yes, most of the Northeast's corn silage has already been packed down in bunkers or blown up into silos for several weeks. But silo gases can last 10 days to two weeks after filling, warns Dave Hill, Penn State Extension ag and biological engineer. And the safety expert advises you to stay out of silos for three weeks, for safety's sake.
Prolonged drought — or especially prolonged drought conditions followed by rain just prior to harvest of crops — often leads to high gas production, he explains. High levels of inorganic nitrates occur within the plants during those conditions.

GAS, NOT SMOKE: In high-enough concentrations, yellow to reddish-brown silo gases may be mistaken for smoke from a silo fire. Penn State photo
Take necessary 4 precautions
Reduce risks of you, your family, your employees and your animals coming into contact with the toxic gases. Here are four smart suggestions from Hill:
* Make sure all spaces at the base of silos are well-ventilated and that silo doors are closed well above the level of the silage.
Why? If a silo door is open near the silage surface, highly concentrated, heavier-than-air gas can escape through the door, flow down the chute and settle at the base of the silo in the feed room or into the barn area. "If there's little ventilation in that area," he adds, "a dangerous buildup of silo gas can occur, and it could easily affect livestock or people working there."
* Stay out of a silo for three weeks after filling, and always use the silo blower to ventilate a filled silo for at least 20 minutes before entry.
* Gas concentrations will be highest at the silage surface. That's where a person would enter. Individual reactions depend on the gas concentrations inhaled and the length of exposure.
Silo gas sometimes has a bleach-like odor, and may or may not be visible as a fog. In high-enough concentrations, that fog will appear to be yellow to reddish brown.
* Don't assume you can "weather it." Even mild concentrations have prolonged consequences.
Some may think they can stay in the area to finish the job. But that makes the effects worse, points out Hill. Immediately exit to fresh air and leave the task for another day, he adds.
Gas poisoning symptoms
Mild concentrations can cause upper respiratory congestion, watering eyes, cough, difficulty breathing, fatigue and nausea. Symptoms can get progressively worse over the next day or two.
Very high gas concentrations cause immediate distress, resulting in collapse and death within minutes. "One aftereffect of silo gas poisoning is fluid in the lungs leading to chemical pneumonia and perhaps death if not treated promptly," Hill warns. "The effects of fluid filling the lungs may not be felt until several hours after exposure. Then it may be too late." If you're exposed to gas poisoning, immediately go to your doctor or a hospital emergency room.
Call the fire department?
Sometimes, silo gas production is so great that it's mistaken for smoke from a silo fire. But it's nearly impossible for a silo fire to start so soon after filling, says Hill. "That's why we always suggest attempting to locate the actual fire location within a silo before making any attempts to extinguish it."
If the fire company is called, make sure they don't just start pumping water into the silo. Ask them to use a thermal imaging camera first, to try to identify excessive heating inside the silo, he advises. "A burning silo will give off temperatures of more than 190 degrees F at the general location of the fire as viewed with a thermal imaging camera."
Compiled by staff
Subscribe to receive top agriculture news
Be informed daily with these free e-newsletters
You May Also Like
---