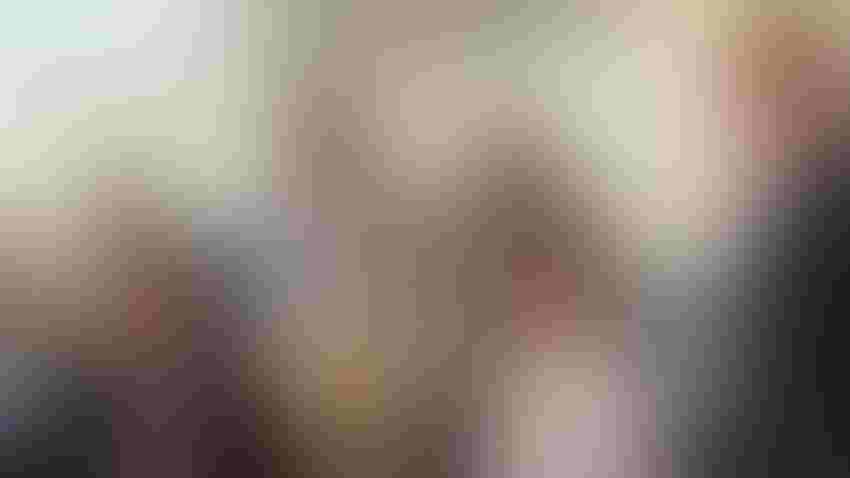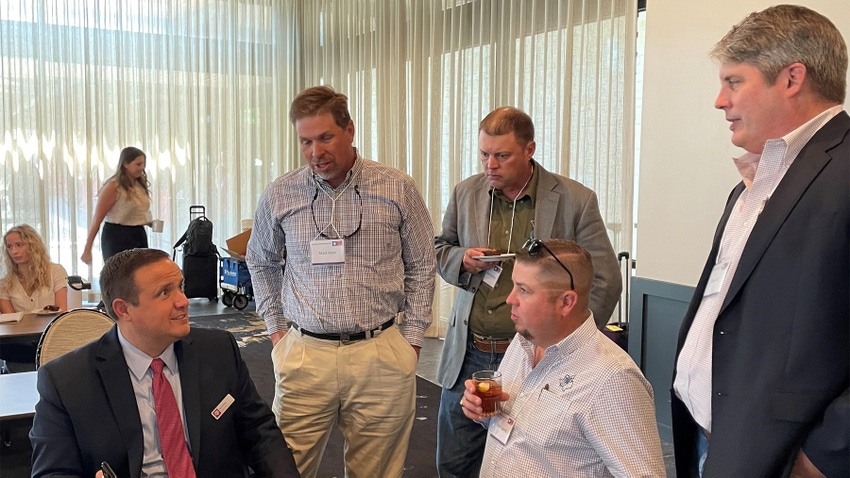 Running the numbers. Bart Fischer, co-director of the Agricultural and Food Policy Center, Texas A&M University, left, discusses farm bill budget numbers during a break at the 2023 Texas Ag Forum.
Pam Caraway
For lack of a crisis, multiple roads lead a 2023 Farm Bill to a parking lot. Speakers at the 2023 Texas Ag Forum led its farmer-heavy audience down those roads.
"I don't see a clear path to getting this done," said Joe Outlaw, co-director of the Agricultural and Food Policy Center, Texas A&M University.
"You get a Farm Bill when there's real pressure and there are farmers in Washington, D.C., saying we need something. We're not there," said Scott Brown, interim director of the Rural & Farm Finance Policy Analysis Center, University of Missouri.
The Forum was called in mid-August for "Envisioning the 2023 Farm Bill," but the perspective of those who have traveled this road before was not promising.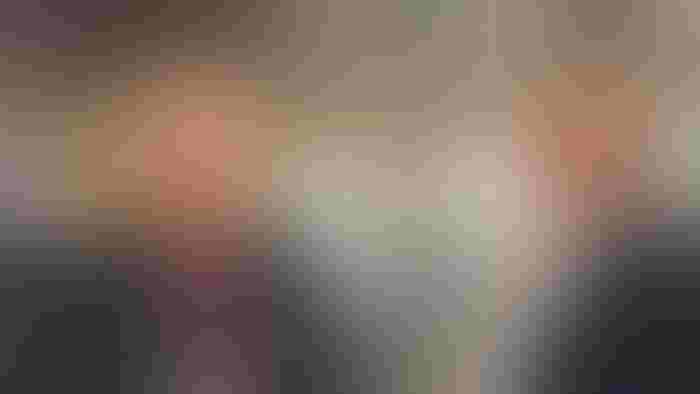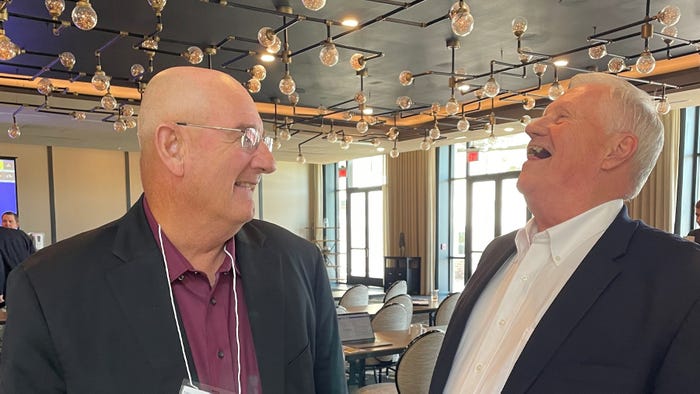 Joy in Mudville. Texas Farmers Union President Mike Oldham (left) and former House Ag Committee Chair Collin Peterson catch up during the 2023 Texas Ag Forum, a serious foray into the limited options available for a 2023 Farm Bill. (Photo by Pam Caraway)
For instance, former House Ag Committee Chair Collin Peterson was loathe to speak to extending the Farm Bill but was quick to point out that such a move would protect what's in place.
"I think this extra money talk has muddied the waters," Peterson said. "You've got a backlash waiting there if you go too far."
On the other hand, the farm-kid-turned-political powerhouse noted: "It would not be the end of the world if we in the Midwest lived with this for another five years."
Low yield for hard-won harvest
The second question is whether the reward is worth the effort. The likelihood of getting a Farm bill that tightens up a tattered safety net is dubious, several speakers noted. For several Southern commodities, the conundrum is that what they need most – an increase in reference prices – isn't likely to happen at a level that will make an economic difference.
"If you don't make significant improvements to Title 1, what's the point?" Outlaw asked. Reference prices are a Title I issue.
To move reference prices to a realistic number based on cost of production is a $45 billion to $60 billion proposition, depending on which ag policy organization is doing the math, and that references prices are about 30% below the cost of production, particularly for peanut and rice farmers.
Cost of production conversations happen frequently in farm country, but less often in the halls of Congress, said Bart Fischer, Outlaw's co-director of the Agricultural and Food Policy Center, Texas A&M University. 
"It's interesting to me that we haven't heard much lately about cost of production adjustments," Fischer said. "To me, it's a consequence of budget." 
Extension could manage risk
Given limited opportunity for legislation that moves the needle toward a tight safety net, what is the impact of extending current legislation? If the Sept. 30 deadline for a new farm bill passes without an extension, grower facing programs aren't impacted until 2024. Funded efforts that aren't tied to commodities, such as the feral swine program, will be paused if a farm bill isn't in place.
As Peterson noted, not much for Midwest growers largely focused on corn, soybean, and wheat markets. For peanuts and rice, the current reference prices offer little to no support.
However, an extension would maintain current levels, reduce opportunities for political maneuvering by members of Congress who lack agricultural knowledge, and leave the door open to ad hoc support when crisis do occur. Ad hoc spending data over the last four years across two Presidential administrations shows a significant increase in ad hoc spending to support agriculture.
"They always find money for a disaster program or some other thing that's out there," Peterson said.
Recent history also shows that extensions as a game plan can deliver a winning score. The 2012 draft Farm Bill underwent two extensions, underwent changes that benefitted agricultural producers, and finally passed as the 2014 Farm Bill.
Subscribe to receive top agriculture news
Be informed daily with these free e-newsletters
You May Also Like
---