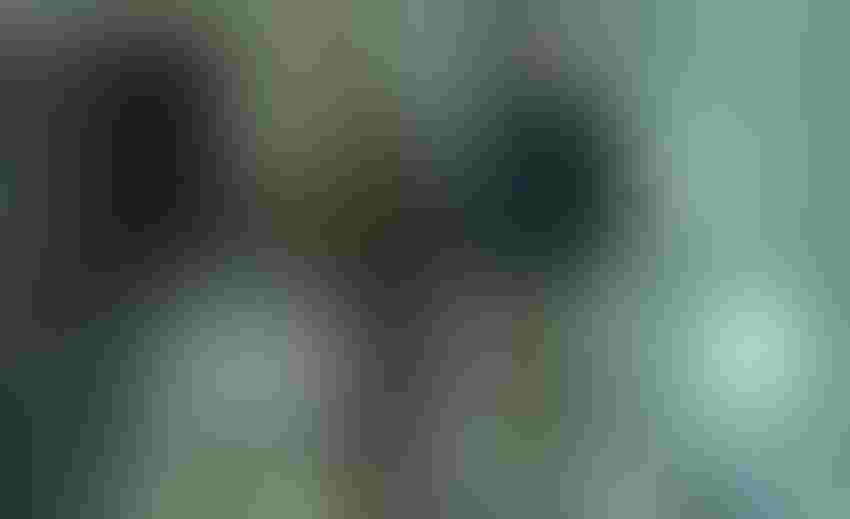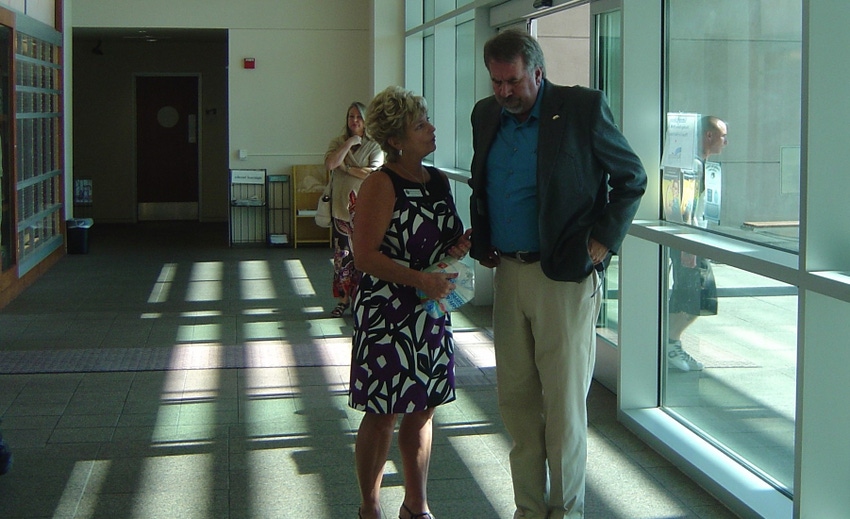 U.S. Rep. Doug LaMalfa, right, talks with field representative Brenda Haynes outside a hearing in this file photo.
Tim Hearden
Northern California's U.S. Rep. Doug LaMalfa has been doggedly in pursuit of help for rural areas amid the coronavirus crisis, seeking more water for farmers, money for medical clinics and access to aid for rural residents, according to news releases.
The Richvale, Calif., rice farmer, a Republican, has sent letters to California Gov. Gavin Newsom asking the state to maximize water deliveries to growers to stabilize the food supply chain and to create a streamlined process for smaller towns and counties to receive aid from the state's coronavirus relief fund.
LaMalfa stressed the importance of a domestically grown food supply to national security, noting that some residents are continuing to panic-buy at the grocery store because they fear for the stability of the food chain.
"For similar reasons, foreign countries will likely limit their exports to America as they experience their own uncertainty and try to feed their people," LaMalfa said. "The American farmer is the best solution to keeping food on the shelves in the United States. Yet Klamath Basin, Sacramento Valley, and San Joaquin Valley farmers are falling victim to environmental regulations and allocations that prevent them from receiving a rightful, ample water supply.
"Many crops have one planting window per year," he said. "Dithering on allocations during that timeline means those acres are not planted and that opportunity is lost. If fallowed from lack of water, they lose a full year's production and employment as does the nation's domestic food supply. If we want to keep America fed and supplied, and not rely on questionable quality and quantity of imported food, our farmers need the greatest possible water allocations to maximize production and national food security."
Related:Lawmakers seek aid for rural health programs
On coronavirus aid, LaMalfa asked Newsom to create a streamlined process for small counties and towns to request funding from California's estimated $15.3 billion allotment of the $150 billion relief fund established by the Coronavirus Aid, Relief, and Economic Security (CARES) Act.
Currently, local governments above a 500,000 population threshold can receive 45% of their funding from the U.S. Department of the Treasury, but counties and towns below 500,000 in population must receive their funding directly from the state, LaMalfa argues.
Rural health providers
LaMalfa's letters came after he and Rep. Xochiti Torres Small, D-N.M., led a bipartisan group of 28 colleagues in the House of Representatives urging their leadership to preserve long-term funding and resources for rural health programs serving vulnerable populations during the COVID-19 crisis.
The push for rural health assistance was at least partly successful, as the lawmaker announced Wednesday that the U.S. Department of Health and Human Services (HHS) released $6,848,479 to health centers in his First Congressional District.
The aid includes $703,685 to Mountain Valleys Health Centers, $772,760 to Western Sierra Medical Clinic, Inc., $532,670 to Shingletown Medical Center, $622,910 to Hill Country Community Clinic, $622,190 to Sierra Family Medical Clinic, Inc., $567,755 McCloud Healthcare Clinic, Inc., $717,530 to Northeastern Rural Health Clinics, $576,815 to Karuk Tribe, $625,790 to Greenville Rancheria, and $1,106,374 to Shasta Community Health Center.
These grants were also part of the CARES Act, which authorized $1.32 billion in immediate additional funding for health centers nationwide to respond to coronavirus.
"These grants will provide timely critical aid to Northern California health clinics that are on the front lines of this pandemic," LaMalfa said. "Our health care workers are doing heroic work taking care of our neighbors, friends, and families during this difficult time. I appreciate the Trump administration for providing these resources to our health centers so that they can provide their patients with the highest level of care."
LaMalfa, a former state legislator, was first elected to Congress in 2010. His district includes Butte, Glenn, Lassen, Modoc, Nevada, Placer, Plumas, Shasta, Sierra, Siskiyou and Tehama counties.
About the Author(s)
Subscribe to receive top agriculture news
Be informed daily with these free e-newsletters
You May Also Like
---