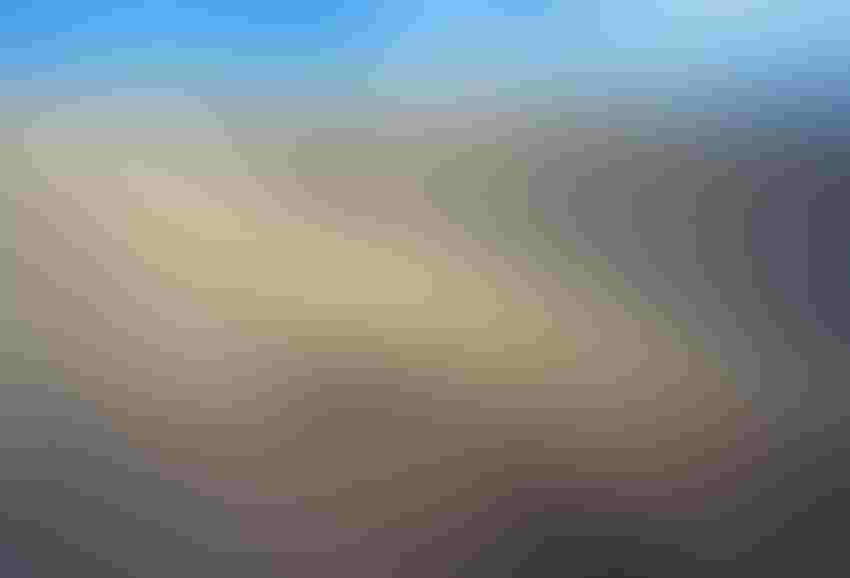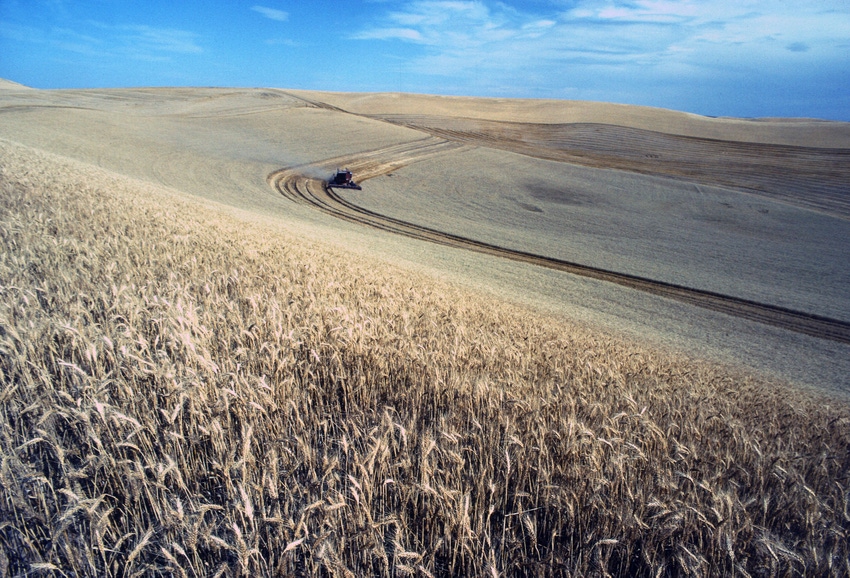 Wheat is harvested.
USDA ARS
The rate of inflation may ease a bit in the coming months, but that won't come as much relief for growers and consumers still facing mounting costs, two financial experts acknowledge.
The most recent CoBank quarterly report sees inflation trending lower in the coming months as the U.S. economy slows amid interest rate hikes that come as consumers are relying more on credit to pay their bills.
But while the trajectory of inflation may flatten, actual costs – including for agricultural inputs – are still going up, concedes Nathan Kauffman, senior vice president of the Kansas City Federal Reserve Board.
"As we look ahead, it appears inflation in some areas is likely to ease, but that doesn't mean prices will decline," Kauffman said. "When we talk about inflation at the Fed, this is referring to gains in prices over time. But it's not that they're going to be level."
Despite rising commodity, labor and energy costs, the farm value of retail food prices has remained low, noted Joe Glauber, senior research fellow at the International Food Policy Research Institute.
"Post-farm gate costs and drivers really have a big impact on food inflation," Glauber said. "Because we saw the overall macroeconomy heat up (after pandemic-related shutdowns), food prices were really high there.
Related:Inflation begins to loosen its grip
"The real problem is what it means for chronic hunger," he said, noting that it was on the rise again after many years of decline even before COVID-19 and the war in Ukraine made matters worse.
Recession acknowledged
Kauffman and Glauber made their remarks Jan. 18 during an online news conference on inflation and agriculture hosted by the North American Agricultural Journalists.
Their comments come as Federal Reserve boards across America are beginning to ramp up talk of recession as a bulwark against inflation, which averaged above 10% for some sectors last year. Labor shortages have contributed to the woes; the Federal Reserve Bank of Philadelphia recently admitted that the federal government's original estimate of over 1 million jobs created in the second quarter of 2022 largely failed to materialize.
Inflation rates were stable even as the U.S. was seeing among the largest economic expansions in its history before the pandemic, Kauffman noted. The growth resumed when the economy reopened; the U.S.' gross domestic product increased 5.6% in 2021, he said, but it slowed to 1.9% last year. Inflation before the pandemic was growing by 1.5%, but by the end of 2021 it had jumped to 7.5%.
There were two major factors behind the rise of inflation, Kauffman said. The first was that rapid demand growth after the pandemic outpaced growth in production, and the second was supply chain disruptions caused by the pandemic and Russia's invasion of Ukraine.
Coming out of COVID-19 closures, the demand for food, feed and fuel has remained high, and supplies of agricultural products have not kept pace with growth in demand.
"Generally speaking, the economy has been operating at a high level with ongoing demand for those products not just in the United States but globally," he said.
Inventories of wheat, corn, soybeans and rice were already at historic lows before the Ukraine war, and the costs of fertilizer, energy and labor were already rising, Glauber said.
As the crisis continues in 2023, Glauber sees four impacts on nutrition:
Rising prices, especially for staples is causing a shift to other products.

Rising prices for all commodities means consumers are poorer and spend less on expensive, nutrient-rich foods.

Rising fuel cost is increasing the cost of transportation and storage of perishables, which reduces consumption of fruits, vegetables and animal-sourced foods.

There is an inequality in consumers' ability to cope financially.
Global staple food production is likely to fall in 2023 with continued high relative fertilizer prices and new weather shocks, including drought and storm damage to crops in the West, he said. Demand growth will likely slow with the global economic slowdown, he said.
There's no major risk at this point of global food shortages, but acute food insecurity affects 205.1 million people in 47 countries, and "localized hotspots" of hunger will likely continue to rise along with the need for food assistance, Glauber said.
About the Author(s)
Subscribe to receive top agriculture news
Be informed daily with these free e-newsletters
You May Also Like
---