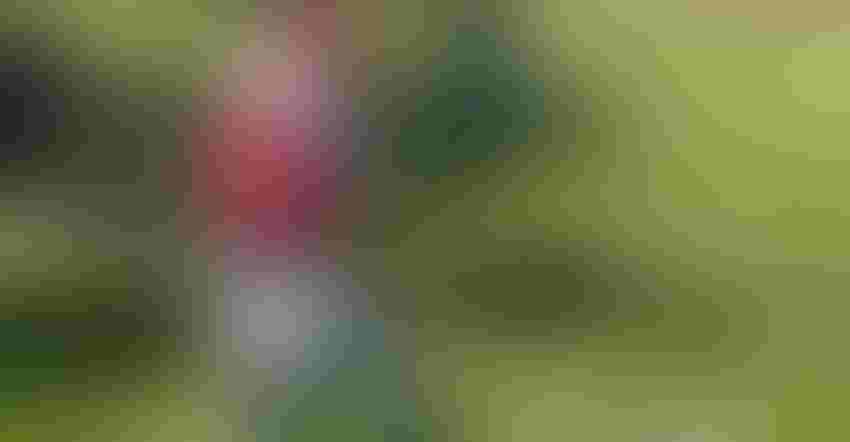 Undocumented agricultural workers could gain U.S. citizenship under plan currently in the House of Representatives.
Todd Fitchette
A bipartisan House bill appears to have wide support among U.S. agriculture and the United Farm Workers Union. A long list of supporters was included in information released Oct. 30 that included national and state associations across the country.
Dubbed the "Farm Workforce Modernization Act," the bill by Rep. Zoe Lofgren, D-Calif., and a host of other U.S. Representatives seeks to provide earned legalization for certified agricultural workers, improve the H-2A program, and establish a mandatory e-verify program for the agricultural sector.
The bill was negotiated over several months with input from agricultural organizations and labor unions, according to a statement from Lofgren's office. The act promises farmers a legal, reliable workforce while enacting the kind of merit-based immigration reform President Trump wants.
Provisions in bill include, but are not limited to:
Applicants must show at least 180 days of agricultural employment over the last two years;

Qualified applicants will receive five-year renewable agricultural visas and have an option for permanent resident status;

H-2A visa program improvements;

Language said to streamline the filing of applications.
California farm leaders and local political leaders from various San Joaquin Valley locations, including several mayors, praised the news at a press conference hosted by the Nisei Farmers League in Fresno. Several pointed out that this is the first real attempt at significant immigration reform that aids American agriculture since Ronald Reagan was President.
"It was 33 years ago that we last dealt with immigration in this country in a major way, and here we are today trying to continue with what President Reagan started," said Ryan Jacobsen, chief executive officer of the Fresno County Farm Bureau.
"This bill finally brings our priorities to the forefront," said California Fresh Fruit Association President Ian LeMay.
According to LeMay, the bill allows agricultural workers who are otherwise here illegally or without documents to come into the certified agricultural worker program, bringing their families with them. He praised the changes it makes to H-2A, which he says are "meaningful and long overdue."
On the enforcement side, LeMay continued by saying the bill's e-verify provisions will address that.
While the bill is of interest to those in labor-intensive operations that include tree fruit and table grapes, even highly mechanized industries such like the pistachio industry are backing the bill.
"What happens in one part of agriculture affects all parts of it and needed immigration reform would provide agricultural employees for all of San Joaquin Valley Agriculture," said American Pistachio Growers Executive Director Richard Matoian.
Eriburto Fernandez, United Farmworkers Foundation Regional Coordinator, said the UFW was part of the negotiations with Republican leaders and American agriculture that culminated in the introduction of the Farm Workforce Modernization Act.
"Throughout these negotiations there has been some challenging moments, but we are glad that an agreement was reached that would benefit hundreds of thousands of farmworkers throughout the United States," Fernandez said. "It's time for all American agricultural workers and their immediate families to be relieved from the palpable fear that paralyzes communities and threatens the stability of the agricultural industry."
In a prepared statement, California Farm Bureau President Jamie Johansson said the immigration bill should enhance the lives of agricultural employees and their families, allowing them to earn legal status through continued agricultural employment.
"The people who work on farms and ranches are valued members of rural communities," Johansson said. "Their contributions to our communities and our food systems should be recognized by a chance to gain legal status."
Fowler, Calif. Mayor David Cardenas says the legislation should help bring agricultural workers from the shadows of the community because of their illegal status.
"We know all the disadvantages that immigrants that are not legal in the United States face," he said. They go out to work in hiding, coming out early in the morning to try to be at the work sites before anything else can happen against their will."
Cardenas said giving a pathway to citizenship for existing agricultural workers should bring peace, harmony, trust and confidence in that community, and will benefit entire families.
Other public statements released after the Lofgren bill was announced came from California Citrus Mutual, an Exeter-based commodity-specific organization that relies heavily on manual labor, and Western Growers Association, a southern California based association representing farmers of fresh produce in Arizona, California, Colorado and New Mexico.
"This legislation is critical to the sustainability of the fresh produce industry and our continued ability to grow fresh and health citrus products in California," said California Citrus Mutual President Casey Creamer in the prepared statement.
"The Farm Workforce Modernization Act address two critical needs for American agriculture: to retain existing, experienced workers and to ensure a reliable future flow of guest workers," said Tom Nassif, president and chief executive officer of Western Growers. "What lies ahead is a very important process that will require the support of both political parties and the President."
Subscribe to receive top agriculture news
Be informed daily with these free e-newsletters
You May Also Like
---