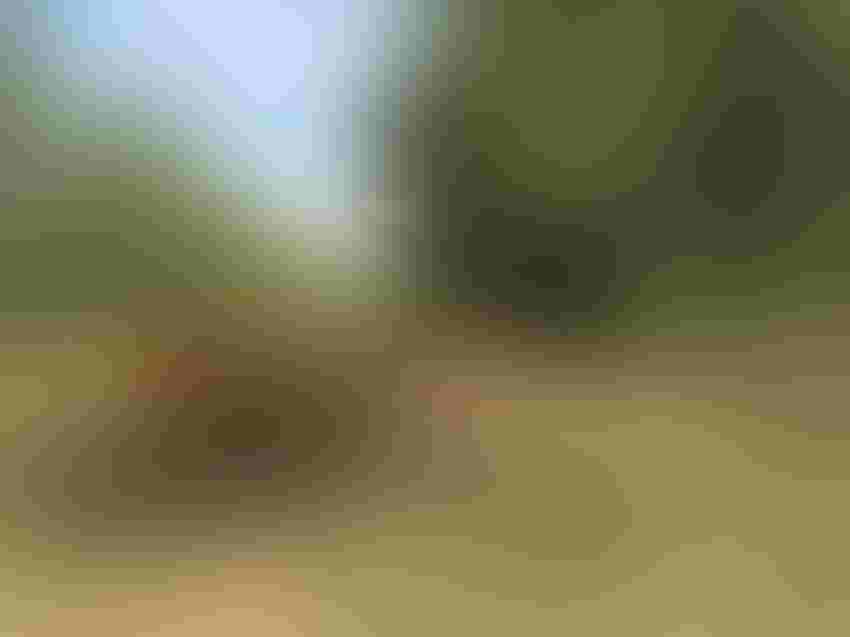 Walnuts are harvested near Red Bluff, Calif., in October 2018. Fruits and tree nuts combined to generate $17.45 billion, or nearly 39 percent of total statewide farm product sales in 2017, according to the Census of Agriculture.
Agriculture appears to be slowly receding in California.
Though it still leads the nation in production, the Golden State lost more than 1 million acres of farmland and some 7,000 farms from 2012-2017, according to the USDA's latest Census of Agriculture.
In all, 70,521 farms operated on a little more than 24.52 million acres statewide two years ago, according to census figures released April 11. The state has lost over 10,000 farms in the last decade, from the 81,033 in existence in the 2007 survey.
However, agricultural economist Daniel Sumner, who chairs the University of California's Agricultural Issues Center in Davis, isn't too concerned about the state of the industry. He points to the 19,824 farms in the state that generated $100,000 or more in gross sales in 2017, down only slightly from the 20,558 that did so five years earlier but still more than the 19,041 that earned that much in 2007.
"You could say we're skewed, but I'd say we've got very healthy commercial agriculture," Sumner tells Western Farm Press. "Certainly I'm not concerned about the 70,000 farms because I'm looking at the 20,000 that sell more than $100,000 worth of stuff. We've got a lot of little, tiny farms."
Average farms in California were a little bigger in 2017 and worth a lot more, according to the census. The average acreage went from 328 to 348 over the five-year period, and farms' $45.15 billion market value of agricultural products sold in 2017 topped the $42.6 billion generated in 2012.
FARM SALES UP
The average farm made $640,297 in 2017, up from $547,510 in 2012. However, farmers' total production expenses have ballooned, to $37.78 billion two years ago. That figure is up from $35.45 billion in 2012 and $33.9 billion in 2007.
The figures come amid a census document that spans some 6.4 million information points about America's farms and ranches and those who operate them, including new data about on-farm decision-making, down to the county level.
Farmer and rancher surveys collected by the USDA's National Agricultural Statistics Service show that both farm numbers and land in farms have declined slightly nationwide since 2012, but there continue to be more of the largest and smallest farms and fewer midsized ones.
Nationwide in 2017, there were 2.04 million farms and ranches (down 3.2 percent from 2012) with an average size of 441 acres (up 1.6 percent) on 900 million acres (down 1.6 percent), according to the surveys.
The average age of American producers at the time of the survey was 57.5, up 1.2 years from 2012.
"We can all use the census to tell the tremendous story of U.S. agriculture and how it is changing," Agriculture Secretary Sonny Perdue said in prepared remarks as he unveiled the document. "As a data-driven organization, we are eager to dig in to this wealth of information to advance our goals of supporting farmers and ranchers, facilitating rural prosperity, and strengthening stewardship of private lands efficiently, effectively and with integrity."
THE WEST
In the West, Arizona's 19,086 farms two years ago were down from the 20,005 counted in 2012 but up from the 15,637 that existed in 2007, according to the document. More than 26.1 million acres in Arizona are in farms – a figure that's remained stable since 2002.
Overall, Arizona farms sold $3.85 billion in goods in 2017, up from $3.7 billion five years earlier. But only 1,268 of the state's farms made $100,000 or more in sales in 2017, compared to 12,802 that earned less than $2,500.
In other Western states during the five-year period:
Nevada lost farms (from 4,127 to 3,123) and overall market value (from $764.1 million to less than $665.8 million) but gained acreage (from 5.9 million to 6.1 million)

Oregon gained farms, from 35,439 to 37,617, but lost acreage, from 16.3 million to 15.96 million. Unlike in many areas, Oregon's average farm size decreased, from 460 acres to 424. But the state's $5 billion in farm product sales two years ago beat the $4.9 billion generated in 2012.

Washington's $9.6 billion in marketing value of agricultural goods in 2017 was up slightly from $9.1 billion five years earlier, even amid declines in farms (from 37,249 to 35,793) and acreage (from 14.75 million to 14.68 million).
MANY CHALLENGES
While growers nationwide have faced economic challenges in recent years, California endured a historic drought from 2012-16 that caused growers to fallow as many as 1 million acres, according to some estimates. Farms also face regulatory pressures, including new surface and groundwater reporting requirements and phased-in minimum wage increases and changes in agricultural overtime rules.
Still, California remained the nation's largest provider of farm products in 2017, with its sales representing 12 percent of the U.S. total. The top seven U.S. counties were in California, and the top county, Fresno, had larger agricultural sales than 25 states, according to the survey.
Iowa was second among states with about $29 billion in sales, with Texas third at nearly $25 billion.
Among other data from California:
The state's cattle and calf inventory declined from 5.4 million to 5.2 million, as the number of ranches fell from 16,764 to 13,694.

The number of dairy farms continued a trend of declines over the last two decades, driven partly by lagging whey prices that prompted farms recently to join the national marketing order. However, the milk cow inventory has remained fairly stable and tallied about 1.75 million head in the latest census.

Grain acreage has cratered, with corn and wheat farms and acreage cut in half. But the rice acreage decline was less precipitous, with 531,075 acres in 2012 dropping to 436,710 in 2017 amid water shortages that often affected the timing as well as the amount of deliveries.

The value of the state's vegetables, melons, potatoes and sweet potatoes combined for nearly $8.2 billion, or 18.1 percent of total receipts.

Fruits and tree nuts combined to generate $17.45 billion, or nearly 39 percent of total sales. That was up from $15.66 billion in 2012.

The number of berry farms remained remarkably steady considering such industry challenges as the phase-out of methyl bromide and other fumigants. In all, 1,685 berry farms made $2.25 billion in sales in 2017, compared to 1,701 and under $2 billion in 2012.
EACH HAS A STORY
"Each of these numbers has a story behind it that I think is interesting," the UC's Sumner says. "With the consolidation question, we have to be a little careful because acreage isn't a good measurement there."
For instance, while a 1,000-acre cattle ranch would be considered small, the same acreage in almonds would be a large orchard, he says.
"I like to use sales, although sales are problematic because prices bounce up and down," he says. "But we've got about 20,000 farms with over $100,000 in sales."
To view the census and related documents, visit https://bit.ly/2GiBA1d .
Subscribe to receive top agriculture news
Be informed daily with these free e-newsletters
You May Also Like
---