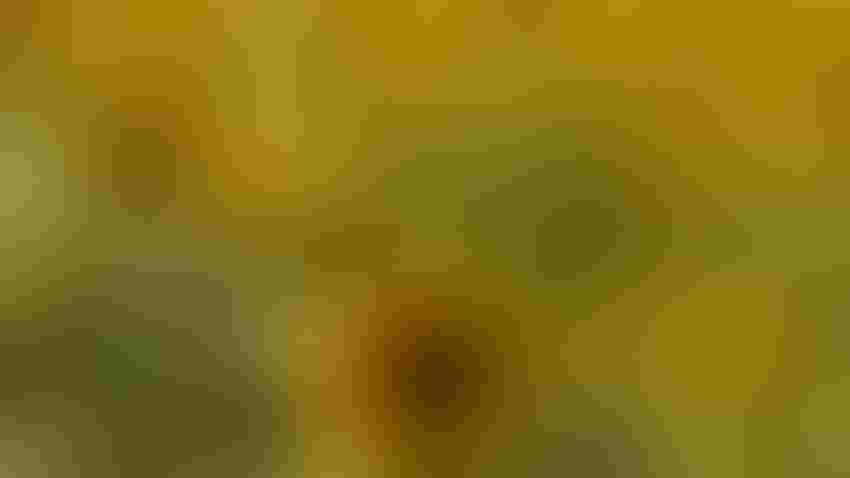 DROPPING DOWN: While USDA forecasts sunflower production to drop in 2023, some states still might reach record-breaking yields.
Joanna McCarthy/Getty Images
In October, USDA released its first production estimate for the 2023 sunflower crop pegging production at 2.19 billion pounds, down 22% from the revised 2022 production of 2.81 billion pounds. USDA cut 1.77 million pounds from 2022 oil sunflower production but added 455,000 pounds to non-oil type production from last year.
Acreage updates were made in several states. Area planted, at 1.32 million acres, is down 2% from the June estimate and down 22% from last year. Sunflower growers expect to harvest 1.26 million acres, down 2% from the June forecast and down 21% from 2022.
The October yield forecast, at 1,738 pounds per acre, is only 13 pounds lower than last year's yield and will be the third highest on record for the U.S. if realized. Higher yields are expected in California, Colorado, Minnesota, Nebraska and North Dakota compared with last year, with decreases expected in Kansas, South Dakota and Texas.
The yield forecast in Minnesota and North Dakota will be the highest on record if realized.
Production down, some yields up
The forecasted production in North Dakota, the leading sunflower-producing state this year, is 1.08 billion pounds, a decrease of 20% from 2022. Compared with last year, the average yield forecast of 1,938 pounds per acre in North Dakota is up 17 pounds. In South Dakota, the average yield is forecast at 1,668 pounds per acre, down 78 pounds from last year. The next estimates will be released in early January.
In its old-crop sunflower seed stocks report, USDA pegged old-crop stocks in all positions on Sept. 1 at 367 million pounds, up 25% from a year ago. All stocks stored on farms totaled 142.6 million pounds, and off-farm stocks totaled 224.6 million pounds. Stocks of oil-type sunflower seeds are 340 million pounds. Of this total, 137 million pounds are on-farm stocks, and 203.2 million pounds are off-farm stocks.
Non-oil sunflower stocks totaled 27 million pounds, with 5.6 million pounds stored on the farm and 21.4 million pounds stored off the farm. Stocks of oil type sunflower seed were 53% higher than last year and in line with trade expectations. Non-oil stocks were down 62% from last year and also in line with industry estimates.
As of this mid-October writing, crushers have not rolled out 2024 new-crop contracts. Sunflower prices at the crush plants have been feeling the spillover effect from weakness in global sunflower seed and oil values.
Vegetable oil prices have trended downward as the result of ample supplies, especially sunflower oil on the global market. Strong selling pressure from Black Sea region sunflower oil has been the major bearish factor in the vegetable oil market.
Key buyers such as China and India are sitting on large oil inventories, and this is adding further pressure to oil values. You'll probably begin to see 2024 contracts roll out after harvest as the industry gets a better handle on 2023 production. To keep up with price movement go to sunflowernsa.com.
Subscribe to receive top agriculture news
Be informed daily with these free e-newsletters
You May Also Like
---