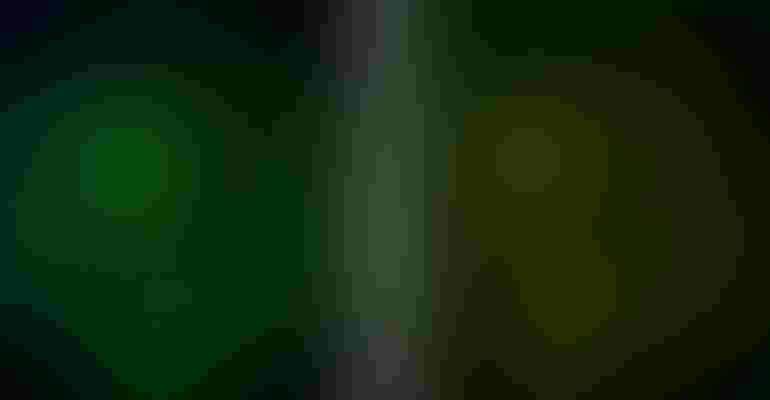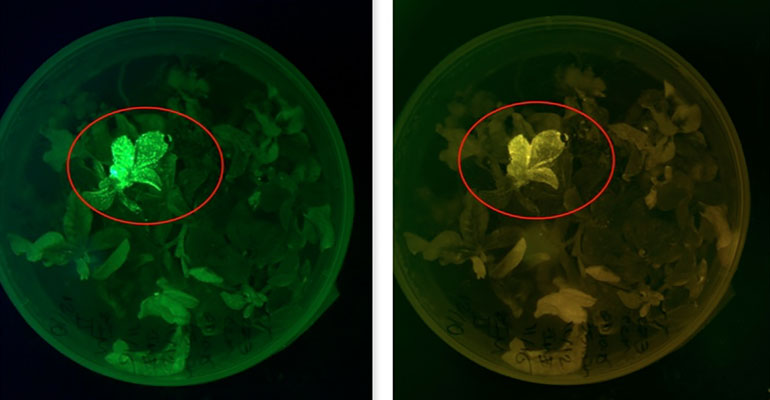 WHAT'S THE PROBLEM? InnerPlant has developed a gene stack trait that will cause a plant to fluoresce when under stress, but in a way that says "insects" or "disease," to fine-tune scouting and provide a better early-warning system for in-season action.
Courtesy of InnerPlant
While early detection of a crop under stress is valuable, knowing the specific cause of stress can help create a more precise response. A new biotech tool promises to not only tell when a crop is under stress, but also have the plant itself report what kind of stress — disease, insect, nutrient deficiency or water — much earlier than other tools.
That's the potential for InnerPlant, a Davis, Calif., startup. "Our product is a new GMO stack, and the exciting trait we're developing is that the plant becomes the sensor," says Shely Aronov, founder and CEO.
Aronov explains that the trait is embedded in the plant, and it enables the plant, when reacting to stressors, to "report" what the stressor is. "We're focused on fungus and insect pressure," she says. "When stressed the plant will generate a protein in its leaves that can be seen from as far away as satellite imagery."
Today, when stress shows up in a multispectral image from a drone, aerial image or even by satellite, you know the plant is under stress. With the InnerPlant technology, the plant emits different "colors" based on the stressor, providing a more precise idea of what's going on in the field. The plant essentially signals that it's being hurt by a fungal disease or an insect, which are the initial two detections.
If a farmer knew that the plant was being stressed by insects early, more targeted applications of pesticide can be applied, Aronov explains. This cannot only reduce the cost of maintaining crop yield, but also provide more precise use of crop protection products.
Only seen by optical equipment
A crop with InnerPlant technology is not going to "glow" in a way you can see when trouble hits. The plant will fluoresce based on the stressor, but in a color spectrum that can only be seen using spectrometers or multispectral imagery.
Aronov says they're working to make sure that imagery works even with satellites that capture the right wavelength to see the InnerPlant tech in the plant.
"It's not so much about finding 'patient zero' in a field, but it's about finding the area where things started to happen," she says. "We would be identifying trends and let farmers have the right data so they can act and prevent yield losses."
Beyond the specific signaling trait InnerPlant has developed, the company is also creating a software platform that helps identify trouble. Using the imagery provided, the system will help spot the specific problem more quickly.
With this one-two punch of a new genetic trait, along with the software to maximize the information, farmers can work to reduce the crop protection products needed while boosting efficacy. Hitting a problem early, before it takes over a whole field, can make a difference in the return.
InnerPlant is focusing on cotton and soybeans, and Aronov says the firm is in conversations with seed companies now about moving the trait into crops. "We're focusing on elite genetics for the trait," she says.
You can learn more by visiting innerplant.com.
Subscribe to receive top agriculture news
Be informed daily with these free e-newsletters
You May Also Like
---