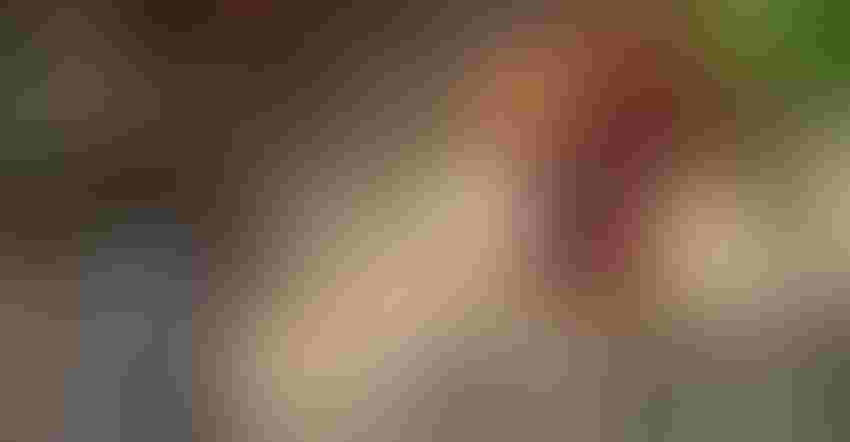 Overproduction of table grapes set some negative financial consequences into play in Kern County in 2018. Nevertheless, Kern County's overall crop value grew 3 percent to over $7.46 billion.
Todd Fitchette
Acreage of Kern County's leading crop fell 5.3 percent in 2018 in a year marked by overproduction of grapes. Still, the diversity of crops produced in the southernmost region of California's San Joaquin Valley was enough to boost the value of its crop portfolio 3 percent to over $7.46 billion.
Kern is the largest producer of table grapes in the state, accounting for the largest gross value of grapes across the three main categories of table, raisin and wine. Nearly one-fourth of the state's overall grape value comes from Kern County.
Among the county's three leading commodities of grapes, almonds and pistachios, in that order, grapes and pistachios saw marked improvements in production, while almond yields were down 6.5 percent because of poor springtime weather during bloom and nut set.
Top 3
Total grape production was up 6.2 percent to about 1.35 million tons across the three grape categories. Softer prices drew the value of this category down almost 13.5 percent to just over $1.5 billion. Kern has four commodities valued at over $1 billion in gross value. The remaining are almonds and their byproducts at $1.23 billion, pistachios at $1.14 billion and citrus production at $1.06 billion.
Kern County produces over 19 percent of the state's almond crop, putting it in second place behind Fresno County as the leading almond producer in the state. In 2018 Kern County's almond growers harvested 223,000 acres of almonds, producing 512 million pounds of almond kernels worth $1.2 billion in gross receipts. The remaining value of almonds is seen in its production of hulls and shells.
Despite having 9,000 more bearing acres in 2018, almond production was down 16 million pounds from the previous year because of weather-related events. Grower prices were unchanged at just over $2.30 per pound, on average.
The alternate bearing nature of pistachios put that crop in an "on year" for growers across the West, including Kern County. Perhaps most noteworthy for pistachio growers was the 71 percent spike in yields to a countywide average of 4,000 pounds per acre.
At 512.2 million pounds in total production, the county's pistachio growers technically produced more nuts by total weight than did the county's almond farmers due to how the product is weighed. Pistachios are weighed on an in-shell basis, as are walnuts, while almonds are weighed based on a nut meat equivalent.
Nursery stock
Cerise Montanio, deputy director for the Kern County Department of Agriculture, says the county's nursery industry of trees and vines continues to increase production as those two categories remain significant factors in the overall agriculture economy in that county and elsewhere in California.
Tree and vine production increased by about 870,000 plants, or 3.6 percent from the previous year, according to the county's annual crop report. The acreage needed for this increase was up almost 21 percent to 1,560 acres. Montanio says she expects nursery production and overall values to continue growing.
Montanio said anytime the county's total ag value can increase like it did in 2018 is a good thing given the various challenges facing growers.
Citrus
Kern is one of America's largest producers of fresh-market citrus.
Citrus acreage grew 3.5 percent in 2018, bolstered largely by an 8 percent boost in tangerine and tangelo acreage. Farmers also saw new acres of grapefruit come into production.
Navel oranges make up about one-third of total citrus production at just under 400,000 tons. Tangerines and tangelos account for another 27 percent of citrus production.
Cotton
Cotton got its start in Kern County when the Dust Bowl chased folks from their farms in the Plains states. Many of them moved west, settling in California's San Joaquin Valley, where they took advantage of the rich soils and plentiful irrigation water.
Decades later, advances in cotton technology would improve fiber length and strength as Pima, an extra-long staple of cotton used in fine apparels and linen, would become popular with growers.
Kern County cotton farmers harvested just over 22,000 acres of Pima in 2018, a reduction of about 5,500 acres from the previous year. Even so, the banner year growers had in 2018, with cotton yields averaging 1,660 pounds per acre for the ELS cotton, helped them create 74,000 500-pound bales.
Growers of Upland and Acala varieties of cotton produced 4,900 additional bales in 2018.
Kern's gross agricultural value, albeit slightly higher than its 2017 figures, was not enough to maintain its top spot among "The Big 3" counties of Kern, Tulare and Fresno. Fresno's 2018 figure of just over $7.88 million was released in mid-September. Tulare is expected to release its annual crop report in early October.
Subscribe to receive top agriculture news
Be informed daily with these free e-newsletters
You May Also Like
---