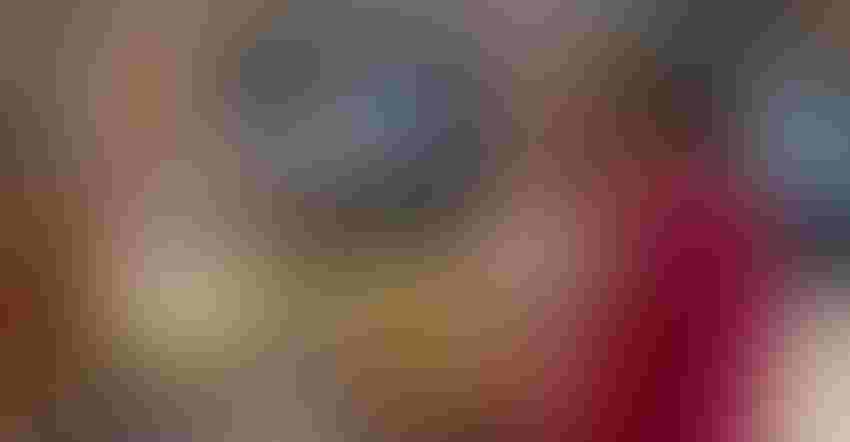 Farmers' markets were highlighted in this year's Fresno County Crop and Livestock Report. The Old Town Clovis Farmers' Market is one of six certified farmers' markets in the county and typically draws large crowds to the Friday evening events.
Todd Fitchette
Commodity prices across some crops, record cotton yields and ample water supplies combined to catapult Fresno County's gross crop value to a record $7.88 billion in 2018, eclipsing last year's figure by over 12 percent, and besting the previous record by nearly as much.
"Fresno County's agricultural strength is based on the diversity of crops produced," said Fresno County Agriculture Commissioner Melissa Cregan.
The record crop value came in a year that saw record rainfall and the rare opportunity for farmers to receive full allocations of surface irrigation water from state and federal sources, reducing their need to pump groundwater and giving them an opportunity to recover from several years of extreme drought.
"As the saying goes: 'food grows where water flows,' and this year's crop report reflects what having a sufficient water supply means economically for this region," said Fresno County Farm Bureau Chief Executive Officer Ryan Jacobsen.
Big numbers
Almonds and grapes, at No. 1 and 2 respectively in gross receipts, were each valued at over $1 billion in 2018. Cregan expects the value of pistachios to achieve the same elite status in the next few years as bearing acreage increases. It takes seven years from planting to produce the first pistachio crop.
Even at those values the bigger news came from a crop that has waned in acreage since its heyday several decades ago. Cotton farmers last year in Fresno County, and across the state, enjoyed record yields that could have had some growers fitted for new jackets exclaiming their average bale count.
Countywide, the average yield for Upland cotton jumped 64 percent to 1,688 pounds, or 3.37 bales per acre. Pima cotton farmers saw average yields even higher at 1,857 pounds, or 3.71 bales per acre as reports abounded late last year of growers exceeding four bales per acre across their farms. This news comes as total cotton acreage in the county was down almost 8 percent for a crop that once saw well over 1 million acres planted across the Golden State.
Jacobsen says it's important to watch the value of the county's 10 leading crops as they make up 75 percent of the county's overall gross ag value. Over half of the county's total crop value is spread across the production of fruits and nuts. In all, Fresno County produces about 300 different commodities, according to Cregan.
Fresno County's improved gross agricultural value in 2018 was aided by marked increases in grower prices for onions and garlic. While onion acreage and yields were little changed, growers saw a three-fold increase in the price they were paid, according to the crop report.
Garlic acreage likewise remained flat compared to 2017 as per acre yields rose nearly 50 percent to over 8 tons amidst grower prices that doubled from the previous season.
Other significant changes include:
Leaf lettuce yields jumped 68 percent as prices fell to half of what they were the previous year;

Apricot prices were up 43 percent over 2017 figures;

Cherry prices climbed 23 percent on total production that was off by 34 percent;

Lemon prices rose 39 percent;

Nectarine yields were up 48 percent; and,

Walnut prices were half what they were in 2017.
Fresno County exports food to 95 countries. Among the top destinations in 2018 were Mexico, Canada, Taiwan, Japan and Korea, Cregan says.
Farmers Markets
As is custom each year, the Fresno County Crop Report highlights a segment of the agricultural economy. This year's report spells out the efforts of county agricultural department staff to oversee and certify the 236 farmers that sell 187 different commodities at six farmers markets in the county.
The rise of certified farmers markets came about after an executive order signed by former Gov. Jerry Brown in 1977 allowed farmers to sell their crops directly to the public after a 1976 labor dispute left many perishable crops to rot in the fields. Direct marketing laws that resulted gave rise to certified farmers markets and the requirement for a certified producer certificate from the local county agriculture commissioner. These certifications verify products sold at farmers markets are grown and produced locally.
Fresno County this year was first among the "big three" counties of Kern, Tulare and Fresno to release its annual crop and livestock report. For several years now Fresno, which for decades was the leading agricultural producing county in the world, trailed behind the other two in gross value due largely to the loss of water to westside growers and the proliferation of tree nuts in neighboring Tulare and Kern counties.
Cregan said county ag department staff made a concerted effort this year to gather data from growers, which she says is basically a year-long process of requesting and receiving information and visiting farming operations to gather data for the crop report.
Cregan says growers can be assured that the information they provide county ag department staff is kept confidential and cannot be shared. The annual crop report is a conglomeration of commodity values that are first submitted to the California Department of Food and Agriculture (CDFA) before being publicly released.
Perhaps the one challenging part for the new county ag commissioner, who assumed her role earlier this year after the retirement of former Ag Commissioner Les Wright, will be in gathering dairy information going forward. Late last year California joined the Federal Milk Marketing Order, setting in motion a different way of gathering and reporting dairy data in the state. Along with setting milk prices differently than did the state under its previous order, Cregan says gathering production data from the U.S. Department of Agriculture could be more challenging for counties as the USDA does not break down production by county like the CDFA did.
At over $400 million in gross value, milk is ranked sixth on the county's list of top commodities. This figure has slowly declined over the years as national milk prices remain low and farmers find more profitable commodities to produce.
Subscribe to receive top agriculture news
Be informed daily with these free e-newsletters
You May Also Like
---