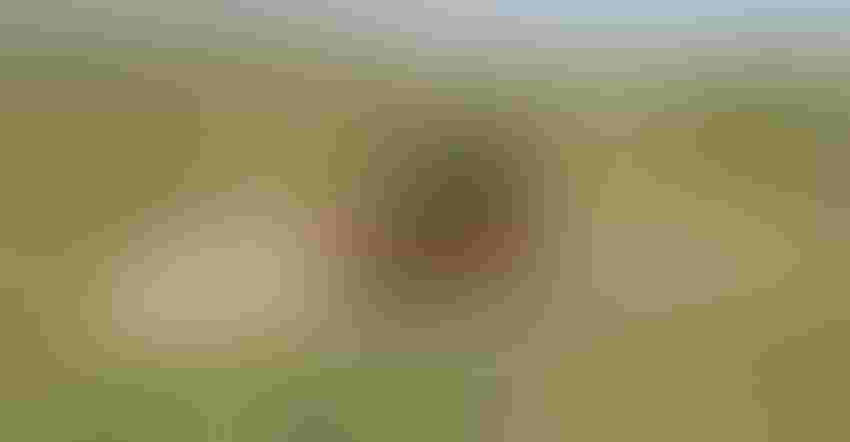 MAKING HAY: An alfalfa-grass mix is windrowed before baling. Alfalfa requires about 500 interrupted growing degree-days to winterize, translating to roughly six weeks.
Lon Tonneson
How late is too late for the last alfalfa cutting? Sara Bauder and Tracy Erickson, South Dakota Extension specialists, and Marisol Berti, North Dakota State University Extension specialist, say there are a couple of risks to weigh.
Alfalfa requires about 500 uninterrupted growing degree-days to winterize. This translates to roughly six weeks (depending on temperatures). Winterization typically begins about three weeks prior to the average date of the first 32 degrees F frost.
In South Dakota, this converts to late September and early October. Plants cut during the winterization period will attempt to put on regrowth; this takes away from their ability to accumulate root proteins and carbohydrates, which may cause poor stand and vigor the following spring.
In North Dakota, "as a general rule, we stay away from cutting alfalfa between Sept. 1 and Oct. 1," Berti says.
The more stress an alfalfa stand saw during the growing season, the more apt it is to experience winter kill after a late cutting. If a field was cut multiple times (four or more), it is more likely to have winter-kill issues than those that were cut fewer times. Younger, well-established, winter hardy disease-resistant varieties may tolerate a late season cutting better than older stands or those that experienced heavy pest pressure over the growing season.
Well-drained soils, adequate soil fertility and insulating snow covers are help reduce alfalfa winterkill.
Harvesting after winterization
Technically, it should be safe to take a cutting after the winterization period, the specialists say. This correlates to cutting after a killing freeze (23-24 degrees F for several hours) after the plant is dormant. This is not as stressful to the plants as cutting during winterization. It can be a viable option if you need feed and do not want to risk next year's stand.
"In North Dakota, cutting after Oct. 1 is usually is safe because plants won't have much time to regrow and use the  root reserves," Berti says. "But before cutting Oct. 1 I would look at the forecast to make sure that the next two weeks in October won't be abnormally warm."
Leave 5 to 6 inches of stubble when cutting alfalfa after winterization has occurred. This leaves some plant tissue and helps to reduce erosion. Having soils bare over winter is a recipe for erosion and will likely result in less snow cover with little plant residue on the soil surface. 
Alfalfa stands may last several years, according to the Extension specialist. Taking care of stands and skipping late fall cuttings can help prolong plant vigor and overall stand for years to come.
SDSU Extension Communications contributed to this article.
Subscribe to receive top agriculture news
Be informed daily with these free e-newsletters
You May Also Like
---