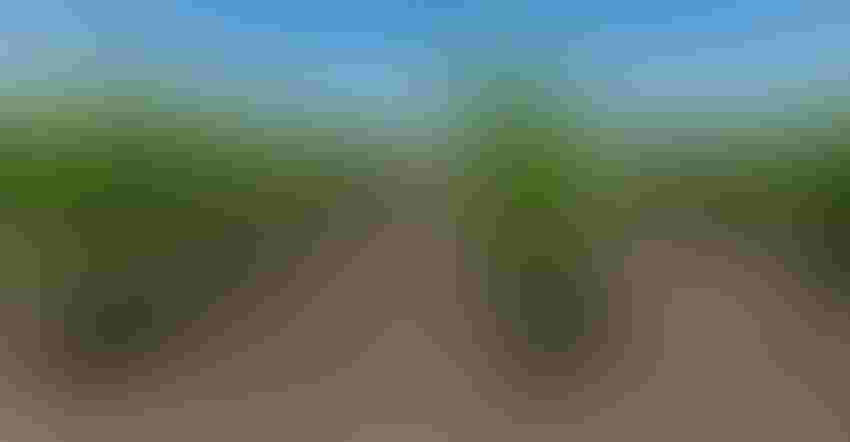 JJ Gouin/iStock/Getty Images
Editor's Note: The Feedback from the Field series is an open-sourced platform for U.S. growers to share and investigate growing conditions across the country. Want to get in on the action?! Click here to take our ongoing farmer survey on crop progress at any point in the 2021 grain season. Our Google Map, updated daily, provides all past responses for farm readers.
Corn slides on suboptimal crop development
Corn conditions tumbled last week as hot and dry weather slowed crop development across the Heartland. Yesterday's Crop Progress from USDA report saw corn ratings for the week ending June 6 fall 4% from a week prior to 72% good to excellent.
Declining ratings in the Upper Midwest and Plains paved the way for higher prices this morning. Corn crops in North Dakota and South Dakota were only rated as 42% and 46% good to excellent, respectively, in yesterday's report contributing to the weekly decline.
Feedback from the Field respondents across the country overwhelmingly agreed that corn conditions are fair, at worst. A few growers reported favorable crop development despite early season challenges.
"2 leaf stage and spraying post herbicides." – Northern Illinois

"Planted 5/17/21, up 6 days later. Rains have been enough." – Northwestern Ohio

"Growth head been slow, but overall crop is in pretty good shape." – Northwestern Ohio
But more farmers reported their struggles over the past week as cool planting conditions, frost damage, slow emergence rates, and lingering drought continue to stunt crop growth.
Frost damage from two weeks ago was further evaluated in the most recent report, with Feedback from the Field responses echoing crop damage. IN many cases, freeze damage overlapped with increasingly dry conditions in the Upper Midwest.
"Froze." – Northwestern Minnesota

"Significant frost damage." – North Central Iowa

"Frost killed 10 percent of beans; some corn damaged." – South Central Wisconsin

"We need moisture bad. Frost damaged corn and beans 10 days ago. Crops are struggling to take off." – Southwestern Wisconsin
Cool temperatures this spring slowed emergence rates across the Corn Belt, despite rapid planting progress. USDA's corn emergence data may not be as indicative of corn yield potential as its rapid rates suggest.
"I would consider it excellent if it was not late." – Northwestern Tennessee

"Slow to emerge because of coolness." – Central Indiana

"Took almost a month for some of the corn to emerge." – Red River Valley, North Dakota

"Cold temps then hot temps then cold temps again with frost! Too many bad days, we lost top end bushels this year, maybe average crop if rains return." – Northern Illinois
The combination of cool temperatures this spring and increasingly dry weather in the Upper Midwest do not bode well for corn yields. An increasing amount of Feedback from the Field respondents lamented that dry soils could further hinder crop development, especially as hot temperatures roast the Plains and Upper Midwest over the next few days.
"Very dry, really need rain." – Southeast Wisconsin

"Very, very dry topsoil. Ungerminated corn laying in dry dirt. Soon it will be too late to emerge and make a crop." – Northern Minnesota

"It's almost too dry." – Western Ohio

"Dry and very yellow." – Northwestern Illinois

"We need rain now." – Northwestern Minnesota
Soybeans struggle
USDA's Crop Progress report yesterday featured a first look at 2021 soybean conditions. USDA estimates 67% of anticipated 2021 soybean acres are rated in good to excellent condition as of Sunday, down from 72% the same time a year ago as drought, frost, and cool planting conditions hold back optimal crop development.
The reading came in about 3% lower than analysts were expecting, giving legs to this morning's price rally on the Chicago Board of Trade as tight supply expectations for the 2021 crop continue to further dwindle on crop damage in the Northern Plains.
For North Dakota #soybeans, 25% good/excellent is the WORST ever rating in the history back to 2000.

Here are the next 3 worse, listing only one per year:
Aug. 6, 2006: 31%
July 30, 2017: 34%
Sept. 8, 2013: 37%

The lowest prior June rating was 49% g/e on June 30, 2002.

— Karen Braun (@kannbwx) June 7, 2021
Soybeans crops in the Upper Midwest have struggled over the past couple weeks as extreme weather events – including frost, wind, and drought – take a toll on yields. Feedback from the Field respondents chronicled the damage over the past week, with most farmers reporting fair conditions for the 2021 soybean crop.
"Froze—replanting 100%." – Northern Minnesota

"Wind damage from blowing dirt and poor emergence from lack of rain. Driest May on record since 1880s." – Red River Valley, Northwestern Minnesota

"Frost damage and need moisture really bad. [Crop development] at a standstill." – Southwestern Wisconsin

"Very thin stand from cold ground due to heavy residue from '20 crop. Also frost damage." – North Central Iowa

"Drought conditions." – Southeastern Wisconsin
Some growers were more optimistic, though favorable geography and weather conditions gave them an advantage over peers in the Upper Midwest. "Stands are filling in and it has been cleaned up," a Northwestern Tennessee respondent observed of a soy crop in good condition, thanks to recent rains.
A Northern Illinois grower also reported good soybean stands. The farmer's soybean crop "likes the heat," and was spared frost damage that riddled the region a couple weeks earlier.
Wheat's weather woes
For the week ending June 6, spring wheat ratings tumbled 5% lower. Now only 38% of anticipated 2021 spring wheat acreage is rated in good to excellent condition, compared to last year's rating of 82% for the same period. With over 4% fewer spring wheat acres planted in 2021 compared to the prior year, Minneapolis futures prices could continue to enjoy substantial price appreciation as spring wheat yield outlooks decline.
Growers in the Northern Plains could see some drought relief this week, but with a price. Rains and severe storms are forecast in the region today and Thursday. Thursday's storms could see high winds and hail, which could further damage drought-stressed spring wheat crops in the area.
Storms are likely to ease in the region by Friday, leaving a trail of rain showers as the weather system shifts in the Upper Great Lakes States.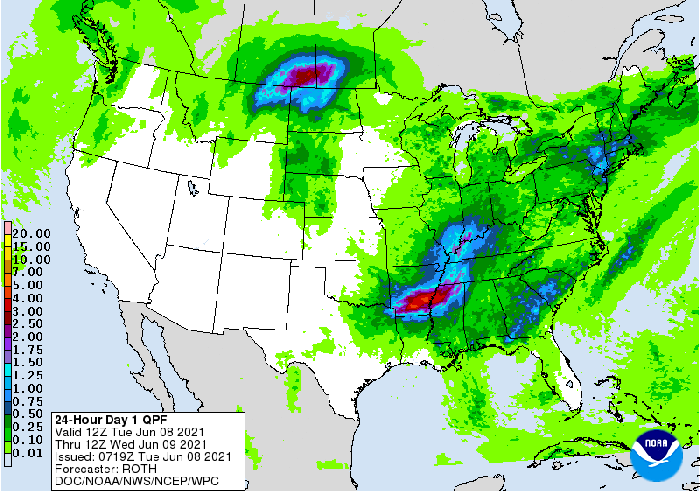 Winter wheat harvest is underway in the Southern Plains, despite some weather delays. For the week ending last Sunday, 2% of the 2021 winter wheat crop had been harvested, down from 6% a year ago and the five-year average of 7% for the same reporting period.
Cool and wet weather in the Southern Plains this spring slowed harvest paces in the region. Texas only had 20% of its crop harvested as of Sunday, compared to the five-year average of 40% for the same reporting period. Similarly, Oklahoma was only 2% complete with harvest while the five-year average stood at 17%.
The wet and cool weather this spring also bodes well for soft red winter wheat yields. Feedback from the Field respondents in Ohio, Indiana, and Tennessee all reported good to excellent conditions as harvest approaches. "[It] got a little dry at the end," the Tennessee farmer shared. "It still looks great, though."
Hope for trendline yields remains shaky
Despite a few positive outlooks over the past week, it seems increasingly unlikely that U.S. corn and soybean growers will be able to hit USDA's trendline yield forecast of 179.5 bushels per acre and 50.8 bushels per acre, respectively, this year.
Timely rains in the Northern Plains and Upper Midwest this week could provide some relief, but more moisture will be necessary in the coming weeks if corn crops are to have a fighting chance at strong yields in 2021.
And that may not happen until July. NOAA's one- and two-week forecasts suggest that hot and dry weather is here to stay for June, though more rain could be on the way to the Corn Belt as July nears.
"[The] weather goes from very hot to very cold and rainfall is either too little or way too much," a Northern Ohio grower observed. "[It's] hard to grow top yielding crops under those conditions."
Amid mounting weather variability across the country and declining crop conditions, U.S. farmers will continue to brace against hot temperatures and dry skies this week west of the Mississippi, which could potentially reverse declining drought conditions in the Plains over the past month.
"[It's a] weather year like 1988, but with 2021 hybrids the saving grace!" a Northern Illinois Feedback from the Field respondent noted.
Expect market volatility to heat up in the coming weeks as the thermometer rises.
About the Author(s)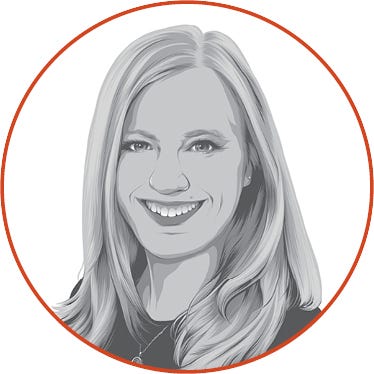 Grain market analyst, Farm Futures
Holland grew up on a dairy farm in northern Illinois. She obtained a B.S. in Finance and Agribusiness from Illinois State University where she was the president of the ISU chapter of the National Agri-Marketing Association. Holland earned an M.S. in Agricultural Economics from Purdue University where her research focused on large farm decision-making and precision crop technology. Before joining Farm Progress, Holland worked in the food manufacturing industry as a financial and operational analyst at Pilgrim's and Leprino Foods. She brings strong knowledge of large agribusiness management to weekly, monthly and daily market reports. In her free time, Holland enjoys competing in triathlons as well as hiking and cooking with her husband, Chris. She resides in the Fort Collins, CO area.
Subscribe to receive top agriculture news
Be informed daily with these free e-newsletters
You May Also Like
---