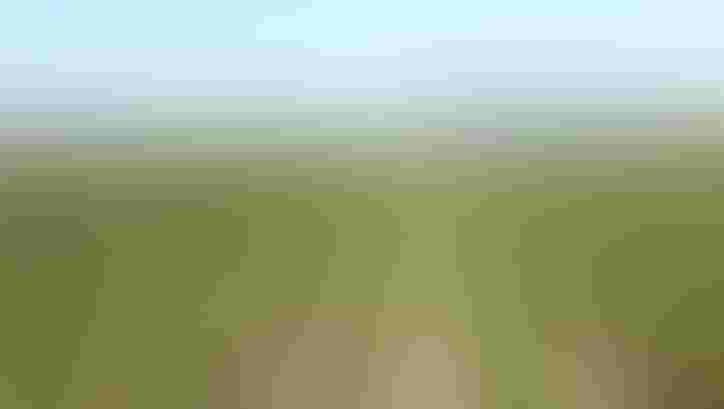 Garbanzo beans grow in the 600 certified organic acres of the 4,000 acre Ramona Farm in Sacaton, Ariz.
Ramona Farms
"We take it day-by-day, cautiously placing one foot in front of the other," say indigenous farmers Ramona and Terry Button.  
This is a husband-and-wife team and both are storytellers who farm while telling their stories about how life used to be on the reservation.  Ramona grew up sowing seeds on a small family plot in a desert landscape near an earthen-floored adobe home, raising forage for their animals and enough produce out of a small sustenance garden to feed the family.
In deference to their many years in the field, evolving from simple bib overalls and hand hoes to giant tractors and mechanized equipment, the Sacaton, Ariz., couple remain committed to what they've done since 1975: "We haven't lost that level of passion necessary for this kind of work, trying to maintain cultivation of traditional foods," they say in unison.
Related: Festival celebrates the world of agave
Not to say that the years don't add up and roadblocks don't keep popping up.  "Alfalfa hay and Bermuda grass harvests went well this year and we're optimistic for our Indian corn crop that is cob-roasted and dried before it's shelled and ground," says Terry.  "Wheat harvest went OK and we had a good Durham crop as well as a good garbanzo bean harvest."
All of that took place before the monsoon rainy season moved in and chased workers out of muddy fields.  "We got pretty frustrated by what I call 'nuisance rain' that stops us from being able to enter the fields to conduct some of our time-sensitive practices like insect control," admits Terry.
"It's good for desert vegetation and wildlife suffering from the heat and drought, but it's frustrating for agriculture.  It's two-tenths of an inch of precipitation with half-inch hail storms and high winds that work together to delay harvesting because we only get to dance between the continuous arrival of the storms."
Fallowed land
The Buttons have fallowed 10% of their 4,000 acres this year because of climate change-related weather fluctuations and other problems, including a paucity of field labor.  "It's difficult to find workers who have the skills required or the work ethic required to learn those skills.  Society has spoiled people who want more than what they're willing to work for," says Terry.
With 600 of their acres certified as organic for food crops, that's where things like garbanzo beans and their famed tepary beans are grown after they worked to bring that bean back from near extinction.  
"Bringing back the bavi" was a rallying cry in growing three types of tepary, among the most drought- and heat-tolerant crop in the world.  The black, brown, and white varieties are high in protein, low on the glycemic index, and help control both diabetes and cholesterol.
"Our Ramona's American Indian Foods label says, 'Bring Tradition to Your Table', and exposure of the tepary to the non-Indian world is increasing as people become health-conscious and make wiser food choices," says Ramona in noting that her tribe (Akimel O'odham, Gila River Pima) is now serving the tepary in large quantities in schools.  "They're learning of the history behind this bean, a native of Mexico that has been grown since pre-Columbian times before it nearly disappeared."
Busy growing crops to make a living, things like white Sonoran and Pima Club wheats, alfalfa and Bermuda, and various varieties of corn in addition to maintaining traditional foods, the Buttons (with daughters Brandy and Velvet and niece, Maria) continue, as Terry puts it, "to meander towards a goal of keeping these varieties alive and viable.  There's an ever-growing demand for these products and people continually encourage us to keep-on-keeping-on."
Troubling signs
There are some troubling signs for these veterans who have tilled and toiled at the foot of the San Tan Mountains in Sacaton for well over half a century.  As Terry notes: "We're in challenging times right now, environmentally, economically, socially, politically, and Ramona and I are concerned about the direction our politics and giant corporate bureaucracy are taking us.
"There's a major movement --- currently subterranean, but extremely powerful --- that's trying to take away individual property rights and create upheaval in our economy leaving us very concerned about the direction our country is going in.
"But in spite of our fears about what might be coming down the road, we continue to be steadfast about remaining independently free-thinking and hard-working, doing what we do with minimal interruption.  By doing so, we hope to set an example for those who follow, hopefully those among us that are bent on accomplishing something to bring our country out of the mess we're experiencing."
About the Author(s)
Subscribe to receive top agriculture news
Be informed daily with these free e-newsletters
You May Also Like
---