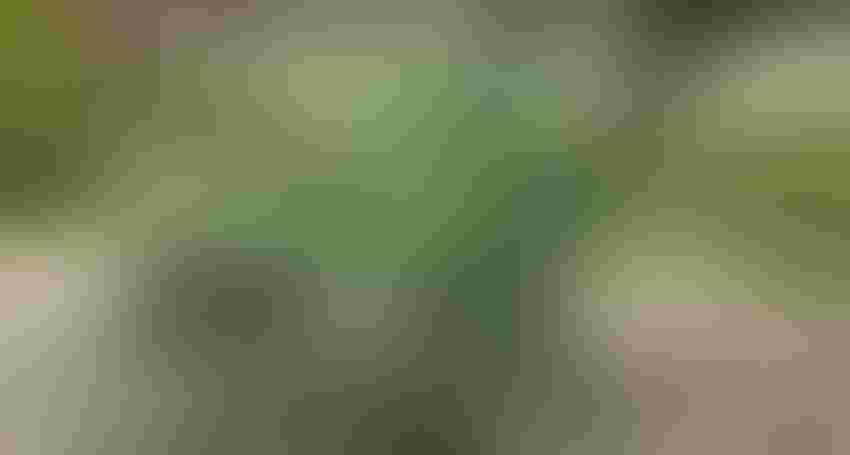 An agave plant. Drylands Farming Co. grows a dozen different agave species.
Agave are close relatives of yucca and desert spoon, members of the lily family that provided indigenous peoples with food, fiber, and beverage.  The pit-roasted heart of the agave was an important food source for Native Americans then as well as a basis for pulque, its fermented juice as an intoxicating beverage, a precursor to distillation into mescal and tequila.
Agave used to make tequila are native to Mexico's states of Jalisco, Colima, Nayarit, and Aguascalientes, but rich, sandy soils and higher elevations are good growing conditions for the plant.
Doug Richardson of Drylands Farming Company in the Mediterranean-climate area of Carpinteria says growing agave species historically used for making mescal and tequila is a new industry for the Southwest, specifically California.  And after 25 years growing hundreds of thousands of agave, he's convinced they should be a future farming commodity.
In Mexico, the only legally permitted agave to be used in tequila production is the blue agave.  "In California, we can grow whatever variety we want, but can't call our distilled product tequila because the name is protected by international law.
"But a distinctive, world-class distilled agave spirit (such as bacanora) can be made from a variety of agave species using a mix of species suitable to the property where the plants will grow, adapting to the soils and climate regime.  It's this combination that creates diversity and balance, not a monoculture."
A dozen species
Drylands grows a dozen different agave species including the blue agave, selected for their historical use in making fermented and distilled products.  Grown under organic practices, each agave adapts to its location, an appropriate crop where wildfire or erosion is an issue.
While the complete list of potential agave products is extensive, tequila and mescal receive top billing at the late-April Agave Heritage Festival in Tucson that highlights the world of the agave.  Approaching its 15th anniversary, the annual four-day city-wide festivities this year will fete women impacting the world of mezcal and how they are reshaping the agave industry and will include food and drink around an agave roasting pit, a festival showcasing over 50 artisanal and ancestral agave spirits, and a multi-course dinner pairing agave spirits.
Calling the honored beverage "a spirit without borders", Richardson --- who originally set up the first commercial banana plantation in California --- noted: "Of the more than 220 species of agave, 50 of them are distillable.  But it goes beyond production of libations because of the byproducts made from the leaves or pencas that you trim off to form the pena when you're harvesting.  Mexican agricultural professors have discovered that by shredding or chopping the leaves, then fermenting them and adding in mesquite pods, it creates an incredible stock feed that is palatable and nutritious for most all farm animals."
As one who has lead the development of this fledgling industry, Richardson says agave growing should be a crop of the future and several dozen California farmers have already seen the light, augmenting their wine grape, citrus, avocado, and tree nut crops with agave.
"These are experienced growers who are undergoing a water shortage and doing trial plantings with the future in mind.  And that future looks very promising because there's so many different things you can do with this plant aside from just drink it."
Small farms starting
Small agave farms are popping up in some unexpected places, like Detroit, home to Perennial Grove Agave Farm --- "Serving the alcoholic beverage industry by providing agave for fermentation."
Quoted in Profitable Venture magazine as a growing part of future farming, their story reads: "Five-to-ten acres is OK with 100-400 plants per acre.  Starting an agave farm may not be as easy as expected, but it can be worth it when done right (because) agave is a source of mixed fructans that boost economic importance.  As a sideline, a small, healthy, farm of just a few acres can generate $10,000 a year."
Internationally known biodiversity activist Gary Paul Nabhan, a pioneer in the local food movement and part of Sustainable Food Systems at the University of Arizona Southwest Center, works to build a sustainable, climate-resilient foodshed along the U.S./Mexico border.  "Climate change is causing widespread disruption of food production in every region of the world," he acknowledges.  "As terrains get hotter and drier, ambient temperatures are approaching the thresholds of crop plants' capacity to produce food, surpassing the threshold for flowering and fruiting."
Admitting "there is no silver bullet or quick fix," he says, "We can focus on the food-water-energy nexus with desert-adapted crops because necessity will be the mother of innovation.  One such innovation involves the use of agave and cacti in the production of fermented beverages and foods because they use only a fifth to half the water of other crops to produce the same weight of edible biomass.
"Agave and their kindred succulents are ideal candidate crops for 'slow agriculture' in a hotter, drier world."
Subscribe to receive top agriculture news
Be informed daily with these free e-newsletters
You May Also Like
---