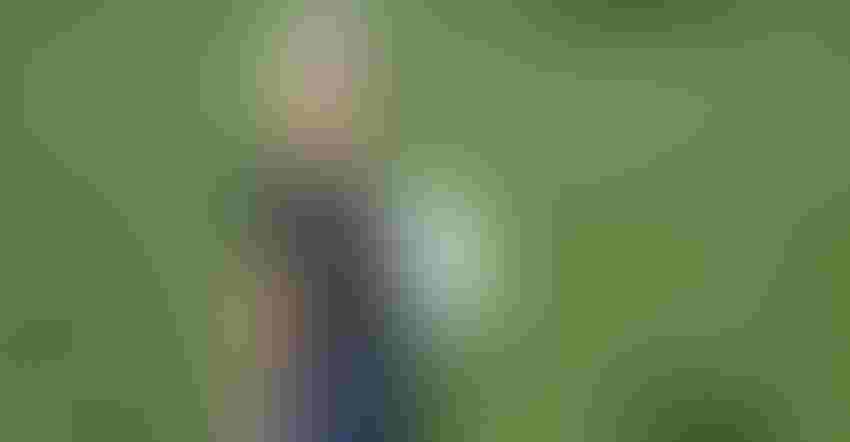 HELPING FARMERS LEARN: Ceres Solutions agronomist Betsy Bower is helping her growers learn about a new opportunity to sell carbon credits.
Tom J. Bechman
One opportunity inherent in the emphasis on sustainability is the ability for growers to sell carbon credits from carbon sequestered by adopting conservation practices such as no-till, strip till, cover crops and precision farming. But don't expect instant riches or a ride without a few potholes.
"It's the wild, Wild West," says Betsy Bower, agronomist for Ceres Solutions. "For farmers, this is the first time they've ever considered a carbon market, and they really don't know much about them.
"Plus, there are several companies offering carbon credit programs, and they all want something a little different. Every company is free to design its own program and make its own rules."
Ceres partnered with the Land O'Lakes cooperative and its sustainability business, Truterra, for the TruCarbon program. TruCarbon was launched in February to purchase carbon credits from farmers who, as TruCarbon members, made a switch from conventional tillage practices to more environmentally friendly practices between 2016 and 2020. Credits are sold to companies that need to offset their excess greenhouse gas emissions — in TruCarbon's case, Microsoft.
Related: How will 'sustainability' impact your farm?
Is switching farming practices and keeping good records worth it financially? Bower says it's very hard to figure exactly what the per-acre return might be, with lots of unknowns, one being price of carbon. But Bower says TruCarbon applicants are told that, depending on several factors, the return could be as high as $20 per acre. In times of $6 corn and $15 soybeans, that may not sound like lots of money.
"Every farmer is going to have to decide whether that's worth it for them," Bower says.
Added benefits
The program was only open to conventional growers who made the switch to conservation practices from 2016 to 2020. The companies that buy carbon credits must demonstrate that buying such credits is making a difference in the amount of greenhouse gases being emitted. Although Land O'Lakes is looking into possible ways to bring longtime conservation farmers into the program, currently those who have practiced good stewardship for stewardship's sake are on the outside looking in.
Although the number of farmers who have joined the TruCarbon program is modest, Bower is pleased, and she is hopeful that more will become interested going forward, as the concept of selling carbon gathers steam. She says the biggest payoff may not come just from selling carbon credits, but from making your farm more "sustainable."
"By adopting more environmentally friendly practices, you're building soil health, keeping nutrition in the soil, residue on the soil, reducing erosion, building organic matter, storing more water in the soil profile, which helps during dry periods — all of which ultimately are likely to make you more profitable," she says.
Bower expects the number of companies purchasing carbon credits from farmers to grow. She also believes that at some point, companies will offer more diversified options. But she says the most important factor for farmers is to examine various offerings carefully and pick the one that best matches your farm's individual needs.
She calls the development of the carbon credit market a journey that is sure to have bumps along the road as companies and farmers learn more about it. She's confident both farmers and companies will learn together, and the carbon market will become clearer and more settled over time.
"Even the Wild West eventually got tamed," she says.
Boone writes from Wabash, Ind.
Subscribe to receive top agriculture news
Be informed daily with these free e-newsletters
You May Also Like
---