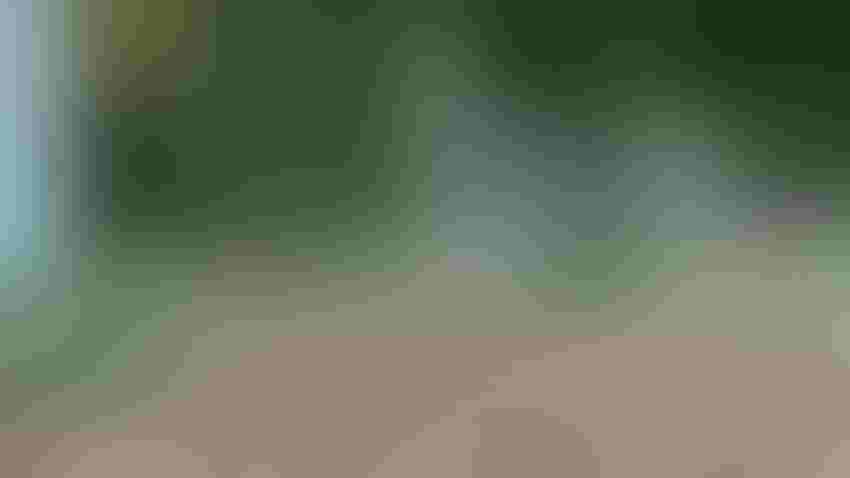 FENCING THEM OUT: On the Fraleys' farm in Irvona, Pa., Aaron, Dan and Kerry Fraley are about halfway done with a project to fence all of their acres with 6.2-foot-high woven fence.
Photos courtesy of Aaron Fraley
Problems with deer? You are not alone. It's a problem many producers face, whether on Maryland's Eastern Shore or in western Pennsylvania.
How are producers dealing with it? Depends on who you talk to. Two producers in Pennsylvania are trying different tactics, but both agree, there is no silver bullet.
Fencin' them out
On the Fraleys' farm in Irvona, Aaron, Dan and Kerry Fraley are about halfway done with a project to fence all their acres with 6.2-foot woven fence with barbwire.
The Fraleys farm 28 different parcels, 1,400 acres total — mostly small plots averaging between 50 and 100 acres. They started fencing off their farms five years ago.
About 8,000 acres of posted land surround farms the Fraleys own. Dan Fraley says many landowners don't allow hunting, allowing deer to roam for food for miles.
The deer problem got so bad, he says, that he thought of quitting farming altogether. He says he would often see 80 to 100 deer a night feeding on a 100-acre plot. He even shot 100 deer in one day. "It was nuts, and then I was getting everyone mad at me because I was shooting them," he says.
"It got to the point where I was either going to do fencing or quit farming. It got really bad," he adds.
Fraley says he and his farm partners have learned a lot since putting in the fencing. The 6.5-foot height isn't high enough to keep most of the deer out, so they added barbwire at the top. The wires are full length up and down and across. Deer have tried jumping over it, he says, but with little success.
"They either break their neck or just fall back," he says.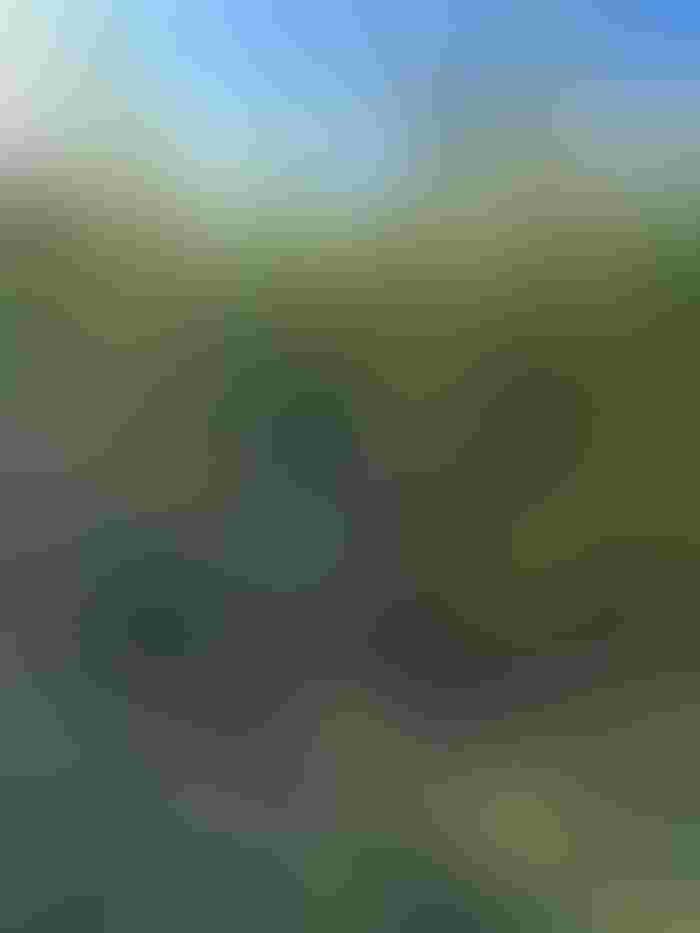 CORN DAMAGE: Deer like soybeans, but they also like corn, as evidenced by this damaged corn on the Fraley farm.
The fenced-off farms are bordered on three sides with road frontage and remain open for access. Deer can still get in the plots, he says, but at much fewer numbers. He's even considering installing small solar panels to electrify the fences where pressure is still high.
Compared to a few years ago where some plots had up to 100 deer a night, he now sees eight to 10 deer a night. The fencing cost twice as much money as anything else they could have done, but Fraley says it has been worth it.
Compared to plots without fencing, "The comparison is night and day. It can't even come close," he says. "The soybeans are waist-high; corn damage is more spotty. It's a drop in the bucket compared to the deer damage we had before. You can't even compare it."
With the savings in crop damage, Fraley calculates that he has paid for the fencing in just one year. About 50% of the farms have been fenced off.
"We're working our way around. We're probably getting really close to 600 to 700 acres fenced off," he says.
Hunters and repellant
Bryan Beck, owner of Long Wood Acres in Tionesta, relies mainly on hunters to take care of his deer problems. He allows open hunting and participates in the state's "red tag" program, which allows hunting outside the regular hunting season to control crop damage. But as much as hunters are a tool, they can also be a problem, he says.
He has started a permit card program for anyone wishing to hunt the 2,300 acres he and his family own. The permit has the hunter's name, address and car information. The permit tells them where they are allowed to hunt and where they need to stay out.  
Beck says the results have been mixed. The permit allows him to keep track of people on his land and where they hunt. It's also a good way of managing fields that have high deer populations.
But as much as people follow the rules, many do not, he says. Some hunters have allowed family members to roam his farm fields, forcing him to confront people at various times. Case in point: While he was harvesting corn last year, he was yelled at by someone hunting his ground, creating an uncomfortable situation for him.
"There's no easy solution, I guess. But what happens is when you do allow open hunting, people do have a tendency to not appreciate property rights," he says.
A lot of his acres are close to the Allegheny National Forest in Clarion and Forest counties, but some are adjacent to privately owned parcels, which in some cases either don't allow hunting or have limited hunters who pay a fee for the chance to get a trophy buck. He says this leads to more deer being allowed to grow and, as a result, roam onto his properties.
Beck even says that he's had two groups of hunters approach him for exclusive rights to hunt his farms, which he admits is tempting.
As forages have improved and protein levels are much higher on a per-acre basis, Becks says that does are producing two to three fawns at a clip. "I joke that deer are having litters now," he says.
Beck grows 1,600 acres of corn, 1,100 acres of soybeans, 500 acres of oats, 150 acres of wheat and 25 acres of fresh-packed potatoes. He also has 350 acres of timberland.
Beck says he always loses an outside row or two of his corn each year to deer. He plants corn and soybeans "super thick" to compensate for damage and to reduce the number of places deer can hide. He estimates he loses from 3% to 5% of his corn acres a year.
Soybeans are worse. More than a 10% loss from deer damage is common, he says. As a result, he has switched from planting 30-inch rows to planting narrower 15-inch rows. His thinking is that if a deer can't see out, they likely won't go in.
He plants corners and headlands extra thick, making the crop look like a green wall to keep deer out.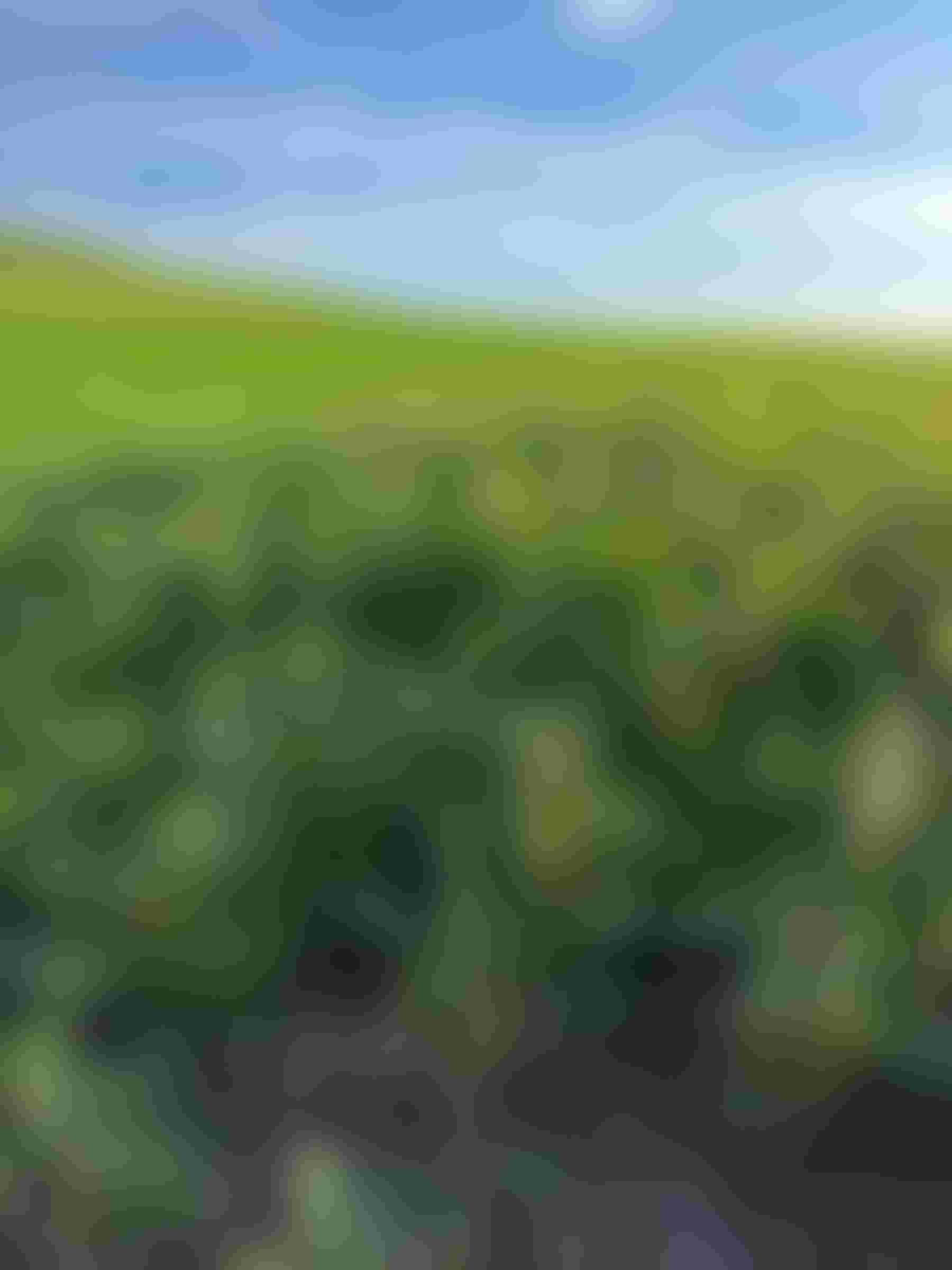 SOYBEAN DAMAGE: The Fraleys have seen plenty of soybean damage on their farms as a result of deer. They farm 28 different parcels, 1,400 acres total.
Beck is also a seed and equipment dealer, and just recently started selling a biological repellant, Penergetic B, which he says has been selling well. "It comes in a bucket and looks like talc," he says.
The repellant is mixed with water and applied to fields through a large sprayer. It is odorless and nontoxic to people and animals, but discourages deer where it has been sprayed. Beck says it can be applied to barren ground as a preemergent or onto a growing crop. What he likes about it is that it lasts all season.
"It's not going to eliminate all the deer, but it will reduce the population," he says.  
Subscribe to receive top agriculture news
Be informed daily with these free e-newsletters
You May Also Like
---