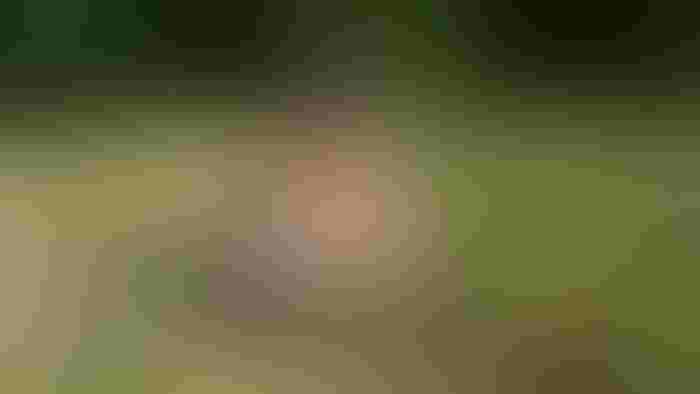 Despite its heralded tradition, hunting is waning. Baby boomers, who have supplied the sport's strength and vitality, are beginning to tap out. Those that remain are much more focused on trophy racks than bagging a doe. The quest to cultivate young and new hunters has sputtered.
Meanwhile, throughout much of the country, deer populations are reaching a tipping point, where wildlife recreation and human prosperity collide. For many farmers, deer are their most expensive pests.
Jacob Faist, who farms with his father, Andrew, and uncle David, says the deer population has exploded on the 1,400 acres they farm in Pleasant Lake in Jackson County, Mich. Most of their corn, soybeans and wheat are surrounded by woods by two or even three sides. "Historically, deer have always been an issue," he says.
The early-season drought that lasted through the middle of July may have made matters worse. "Crops did not grow; they were idled. And deer fed more, especially on vulnerable and palatable young soybeans," Faist explains, adding that the damage became worse each year and "crops could not outgrow the deer damage."
While soybeans were grazed off, damage in corn appeared later.
The Faist Farm at times has grown 200-bushel-per-acre corn and 60-bushel soybeans. With about 1,000 acres of corn, Faist says they will lose $20,000 to $30,000 in yield annually. The same for soybeans. When considering all wildlife, including woodchucks, turkeys and sandhill cranes, it costs the farm about $75,000 annually.
"We used to see a few deer at night by the edge of fields. Now, we see them during the day in our crops, in the yard and even around our grain facility — they are everywhere," Faist says.
Wildlife specialists say deer mortality during winter is less, and natural predators have decreased, creating healthier and incredibly productive deer, producing two or three fawns a year with a high survival rate.
Les Seiler, who in a partnership farms 1,650 acres of soybeans, corn, wheat, barley for malt and alfalfa in Fayette in Fulton County, Ohio, believes another component, rarely discussed, has exacerbated deer problems for farmers.
"We've always had deer damage, but the level is more extreme this year, and I believe it's because of the loss of 1,000 acres to a fenced-in solar array that took their habitat away," he says. The 134-megawatt solar farm is in Gorham Township, west of Toledo.
"I'm not against solar or green energy, but this project seemed to be rushed through without regard for long-term consequences," he says. "It seems in a hurry, as another 1,200-acre array is being planned in the same township, near the Michigan border."
More deer also make the roadways less safe. Since 2011, Michigan has recorded at least 50,000 vehicle-deer crashes each year, according to the Michigan Department of Transportation.
In 2021, there were 52,218 motor vehicle-deer crashes in Michigan, resulting in 1,449 injuries and 10 deaths.
Damage control
Farmers have come to expect some deer damage, but many are reporting catastrophic and even complete crop losses in recent years.
In 2015, James DeDecker, a Michigan State University Extension educator, led a study that used exclusion fences in 11 different fields in a northern county in lower Michigan and found a yield loss of 10%. "But it was highly variable from zero loss to 100%," says DeDecker, who is now director of the Upper Peninsula Research and Extension Center.
DeDecker has also performed several deer repellent trials. "We found that repellants can be effective in the right setting and used in the right way," he says. "But just because a product is effective in a given field in one year, it doesn't mean that it's going to be effective in a different field on a different farm, or in a different year."
He says managing wildlife damage is the "art and science" of manipulating habitats, wildlife and humans. That includes field crop selection, field buffers, managed hunting, scare tactics, exclusion barriers and repellents.
Chad Stewart is the deer, elk and moose management specialist for the Michigan Department of Natural Resources. "In the summertime, deer can consume 7 to 8 pounds of forage a day," he says, while noting the understory of forests are also hurting, which in turn challenges nesting birds and other species.
Michigan has seen a 20% uptick in permits issued for deer damage and nuisance control, which allow landowners to harvest deer out of season. Landowners who can show economic damage are eligible for the permits, which allow approved shooters to kill an agreed-upon number of deer during certain times (often in summer) and under the conditions specified on the permit.
Permits for deer management assistance are also available to farmers at a discounted fee for in-season harvest.
Faist Farm has been applying for deer damage control permits for several years, including this year where selected shooters took two deer, which were processed through Michigan Sportsmen Against Hunger and donated to charities to feed those in need.
In Ohio, Michael Tonkovich, deer program administrator at the Ohio Department of Natural Resources, says damage control permits were up over 35%. "But hunting in the summer is not a lot of fun," he adds. "It's hot and you have to drag them out of the fields, sometimes doing more damage than the deer themselves."
Faist says his family doesn't hunt, but does lease land during hunting season. He's considering putting parameters on the conditions they allow hunters. "We might start requiring them to take an antlerless deer first," he says.
Businesses such as Aaron's Nuisance Control out of Leslie, Mich., are willing to help landowners. According to its website, sharpshooters have removed 35 to 40 deer at a Michigan orchard, helping to alleviate losses to the farm, while donating 1,500 pounds of meat.
Loss of hunters
Many Midwest states have difficulty reducing whitetail deer populations through traditional hunting.
"I speak for Michigan, but you can apply this concern to Ohio, Indiana, Wisconsin, parts of Minnesota, Illinois and Kentucky," Stewart says.
Michigan alone has lost nearly 250,000 hunters since 2000 and is now down to about 600,000.
Ohio had a total of 289,000 licensed hunters in 2022 — 71,000 fewer than in 2011, a decline of nearly 20%. Many other states are reporting 15% to 20% losses and up since the turn of the century.
"We're going to have to make some radical changes if we don't start making some adjustments to the way we approach deer and deer management," Tonkovich says. "We've got a lot of things working against successful deer management right now. It's rather bleak. It's nothing short of a crisis unfolding, and we have legitimate concern.
"There are still opportunities within the regulation framework to make progress, but it really comes down to the willingness of hunters to take more deer — in particular, antlerless deer
Subscribe to receive top agriculture news
Be informed daily with these free e-newsletters
You May Also Like
---