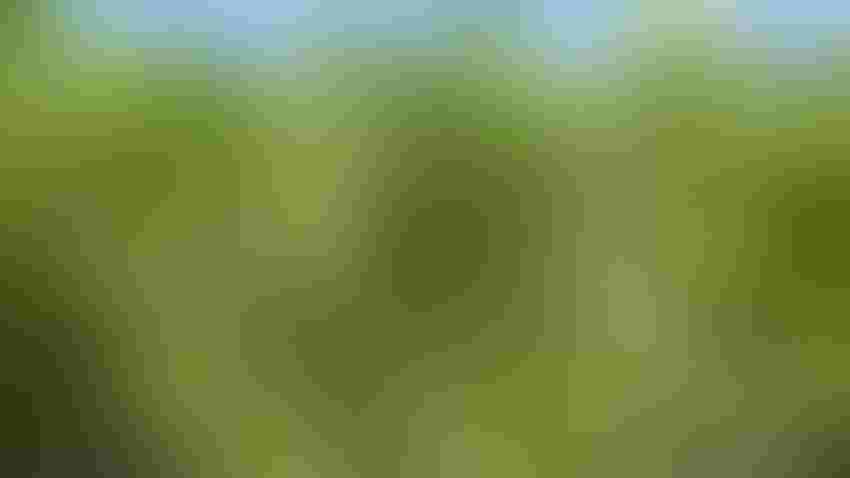 In 2023, Arkansas has more April planted bean acres than ever before. Jeremy Ross, Extension soybean specialist, says this year he has received many questions from farmers who have never had April planted beans.
Whitney Haigwood
At a Glance
The dry weather that sped up planting in the Delta now presents a unique set of challenges.

Farmers in Arkansas report delayed preemergence herbicide activation and herbicide injury.

Rice farmers battle grass problems while soybean farmers have more April planted beans than ever in Arkansas.
The dry weather that sped up planting across the Delta also presents a unique set of challenges as farmers battle the hot dry temperatures this year. Issues in Arkansas soybean and rice fields include delayed herbicide activation, herbicide injury, and nutrient deficiency – in addition to earlier than usual irrigation. 
Recently, agronomists at the University of Arkansas System Division of Agriculture shared the state's crop progress on June 8 during a production meeting in Poinsett County. They discussed phenomena farmers are seeing this year along with recommendations to carry the crops through the season. 
Extension rice agronomist, Jarrod Hardke said, "At least we got an early start on planting, but we have already pumped a lot for it to be this early in the season. It feels like we are largely two weeks ahead of schedule with irrigation, even compared to where we were last year. We are pumping fields, burning through reservoirs, and already putting stress on our wells." 
Jeremy Ross, Extension soybean agronomist, agreed and commented on the early planting window. "We have more April planted beans in Arkansas than ever before," he said. "I have had farmers calling with all kinds of questions because they have never had April planted beans." 
So how does that all shape up for the rest of the season? 
Dry conditions and weedy rice 
Hardke reported that most of the Arkansas rice crop looks good. However, approximately 20% of fields are struggling more than others in terms of weed and grass control.  
"Just take a deep breath," he said. "Because we are going to cut a little grass this year. A lot of this is due to the dry weather conditions early in the season, and nothing is going to work that well or in some cases at all." 
Some fields have bigger grass problems that will be hard to control. For conventional rice, Hardke recommends Regiment as the best herbicide option. With the dry weather, however, he said not to expect miracles out of an application. 
"If you have to go out with a post flood application on conventional rice, I recommend Regiment and Ricestar. For FullPage rice, I recommend an application of Ricestar and PostScript," he said. 
Hardke also noted that temperatures impact the effectiveness of Group 1 herbicides like Ricestar and Clincher. Herbicide activity is reduced when applied at temperatures above 90 degrees Fahrenheit. To increase effectiveness, he encouraged applications of those herbicides in the cooler part of the day.  
Early planted soybeans mean earlier harvest 
Ross is seeing similar trouble with herbicide activation in soybean fields, and he said farmers may have problems later in the season controlling some of these grasses and weeds due to the lack of rainfall on preemergence applications. However, that is not his only caution for soybeans. 
The Arkansas soybean crop is almost 20% ahead of schedule compared to the last five years, and earlier planted beans mean early harvest. 
Ross said, "I am going to preach this all summer and into the fall. If you have early planted beans, those beans are going to come off earlier. You gain in yield by planting early, but you can lose that plus more if you allow them sit out in the field too long and lose quality." 
He also noted that an earlier timeline puts bean harvest in the middle of rice and corn harvest, so it is essential for farmers to plan ahead. 
Herbicide injury reports 
This year, Hardke reported pronounced Facet response in rice even at 21-to-22-ounce rates. Additionally, both Hardke and Ross reported more calls than usual regarding injury from ALS products. 
With Facet, injury is noticeable within three days of water hitting the crop – compared to a usual week after flooding in previous years. With ALS chemistries, injury is evident when leaves take on a yellowed appearance described as "yellow flash." For each of these scenarios, Hardke offered a solution. 
"In these situations, with this kind of heat and no rainfall, there is very rapid and deep infiltration and increased root uptake as those herbicides wash into the soil. The answer is to drain the field the easy way.  
"You do not need to pull the rods and actively drain the field. Just wait and let the field drain itself. It will get back to mud quick enough on its own and that is what we really need. That muddy state will help the rice rebound. It will grow out of it, and that yellow flash will disappear fast." 
Be on the lookout for pests 
One pest showing up in rice fields is chinch bug. Hardke said they are getting calls as wheat harvest is driving the pests into rice fields. Chinch bugs may be difficult to spot, so it is recommended to scout by flipping up clods and residue. 
Hardke offered two solutions for chinch bug problems. With a moderate population, farmers can wipe out most of the pests by flooding the field. However, a pyrethroid application is necessary for thicker populations, because the pests will move higher onto the plants, above the flood. He recommended insecticides such as Warrior or Mustang to combat chinch bug. 
When it comes to soybeans, the first redbanded stinkbugs have entered the state with reports out of Ashley County. Ross said they will continue to monitor those populations, and he also cautioned that continued hot and dry weather patterns could mean grasshopper problems later in the year. 
Fertility issues in soybean 
Greater nutrient deficiency has been reported in soybean this year, and Ross attributes that to drought related stress on the crop. While rain or irrigation may eliminate the problem, he highly encourages tissue sampling to assess potassium levels. 
Samples can be pulled anytime past the R2 growth stage. If the entire field is a single soil type, then 18 leaflets can be pulled randomly throughout the field for sampling. If the field contains more than one soil type, Ross recommends breaking it into management zones and pulling 18 leaflets from each of the zones in the field.  
From there, samples can be sent for testing through county Extension offices. Results determine if the potassium level is sufficient or if an additional potassium application is necessary to maximize yield. For questions about soybean tissue testing, reach out to your local county Extension agent.  
Subscribe to receive top agriculture news
Be informed daily with these free e-newsletters
You May Also Like
---