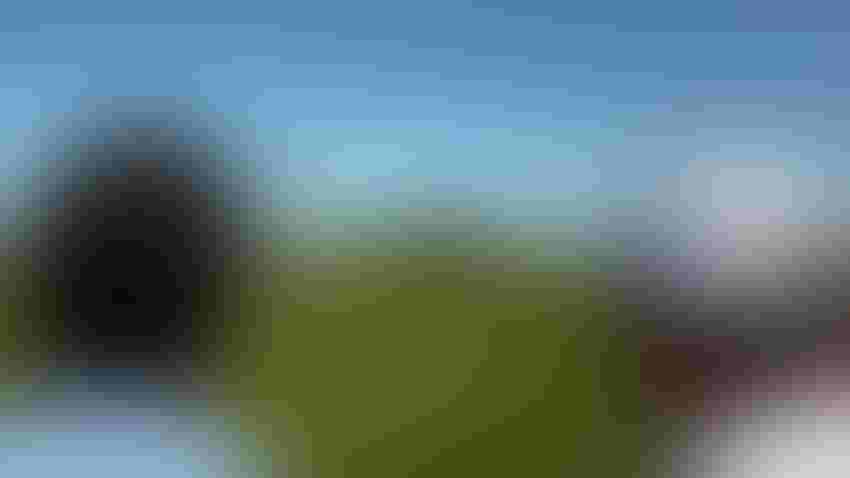 A DJI Agras MG-1 spray-capable drone flies over a Georgia peanut field.
Brad Haire
At a Glance
Growers want to know more about what sprayer drones can do.
Drones aren't new to agriculture. They've received ample attention. But drones with expanding onboard capacity to apply useful chemistry to fields and crops are recatching interest.
Simer Virk, precision ag specialist with the University of Georgia Extension based in Tifton, Ga., said spray-capable drones aren't just another precision ag tool. They also show potential to help with application problems.
"Spray drones are not here to compete with our ground sprayers or aerial applicators," he said. "With the current limitations of the battery life and the tank size with commercially available spray drones, these are a better fit for spot spraying and spraying small acreage, or high-value crops," he said.
For example, the Southeast has many vegetable and orchard operations, such as pecans, blueberries and other specialty crops.
"Some of our traditional application equipment have limitations in reaching into the crop canopy or spraying the top from above in some of our orchards. As we learn more about the best way to use this technology, that's where I see us using these more, but we are also seeing the increased interest in their usage in row crops like corn, cotton and peanuts," he said.
In June in Georgia and much of the lower Southeast, heavy rains fell for almost two weeks straight, dropping as much as 12 inches of rain in some places, halting any access by ground rigs into fields. He said after that more interest came from growers wanting to know more about what sprayer drones can do.
Virk believes the proof of concept for spraying with drones has been established. But working out the details for effective applications along with recommendations and usage is needed. He and his team are investigating and looking to develop recommendations for pesticide applications with latest spray drones, such as the DJI Agras T30 and T40 Agriculture Drones.
"One of the primary things we are looking at is the actual spray performance in terms of coverage and swath. If you're not careful during application, you can leave the field streaked all over. What's the best spray height, volume and nozzle type for obtaining best coverage and that also helps in mitigating drift to nearby fields or crops? It's not like a ground sprayer where the boom is only 24 to 30 inches from the ground or crop," he said.
Virk will discuss the application considerations and demonstrate spray drones at the annual Sunbelt Ag Expo Field Day on July 20 in Moultrie, Ga. "The Expo has been our research collaborator for many years now. We do a lot of precision ag technology evaluations there. This year, we have research where we're spraying fungicides in corn and cotton with spray drones to look at the efficacy versus ground application and also have plans to do some cotton defoliation trials with the spray drone there."
Subscribe to receive top agriculture news
Be informed daily with these free e-newsletters
You May Also Like
---