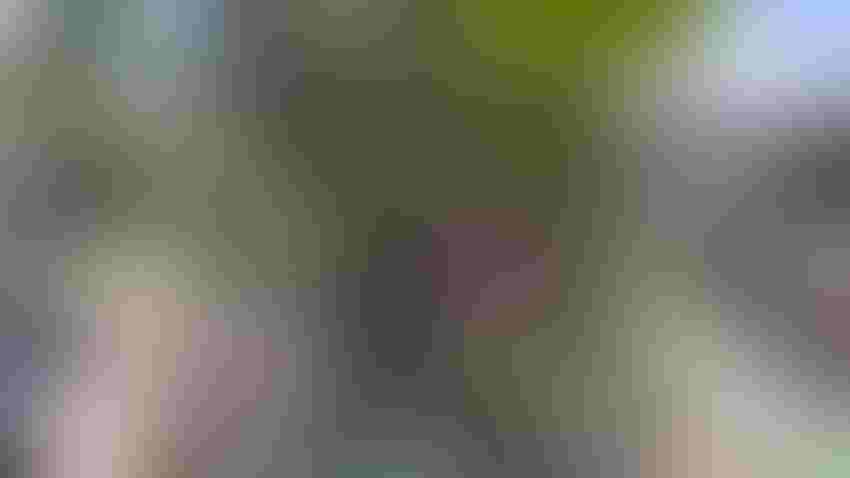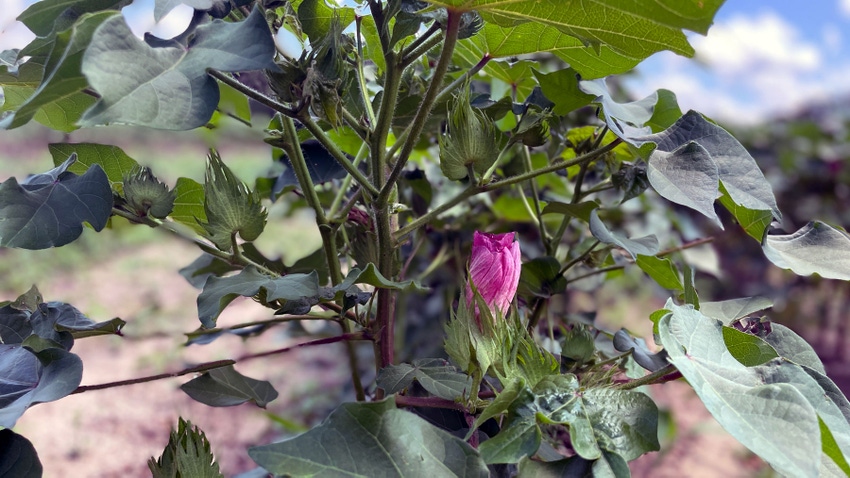 Non-irrigated in Lee County, Ga., July 11, 2023.
Brad Haire
At a Glance
We don't know what a normal year is, but 2023 has been far from normal.

We went through a significant dry spell in early June and then received an abundance of rainfall mid-June and beyond.

Enormous thrips pressure, slow growth and resistance to acephate all made for a perfect storm for thrips.
The Southeast cotton crop is later than typical, or all over the board, and nobody's seen plant bugs like this before. There's a lot going on with the 2023 U.S. cotton crop.
The first week of July, we asked cotton specialists three questions:
How does the cotton crop look in your state? 

How would you describe the growing season so far?

What are growers' concerns?
On July 7, Camp Hand, cotton specialist with University of Georgia Extension, said:
Our cotton crop is all over the board currently. Our early planted crop (mid-April/early May) is not growing off quite as fast as everyone wants. I just was able to sidedress some last week (the last week of June) that was planted late April. Yesterday, I was thinking I may need to give it some more juice to kick it off. 
Our mid-May to early June crop is growing a little faster. As a whole, our crop is behind. Looking at DD-60 accumulation over the last four years, we are about 100 DD-60s behind the average. Now, this time of year we can get 100 DD-60s in about four days of hot weather, but it would take 10 good days in October to accumulate 100 DD-60s. This is something we need to keep in mind as we are making PGR decisions, as that can help encourage earliness in our cotton crop. 
I don't usually like talking about earliness in our cotton crop in GA because I want to take advantage of our long season, but with us being about 10 days behind, we need to start talking about tools to hasten maturity. 
I don't know what a normal year is, but 2023 has been far from normal. Normally, it turns off hot and dry for us in May, and this did not happen. It was cool and rains were frequent, but not too frequent. This led to, in my opinion, some of the best stands our growers have gotten in a long time. However, this was short lived. 
My number one call this year has been on deer damage – how to prevent their feeding and how to push the crop out of damage, or if it is even salvageable. We had some hail and severe weather from Early County over to Colquitt County (in southwest Georgia), which hit some of our growers pretty hard. On top of that, it rained for about two weeks straight from mid-June until the beginning of July. So we got behind on herbicide applications, sidedress nitrogen, PGR apps, and insecticide sprays where needed. 
Some things that growers have been concerned about or should be thinking about are plant bug numbers, likely the highest they have ever been in Georgia. Dr. Ron Smith at Auburn University says this year is the most widespread he has ever seen plant bugs in his 51 seasons! If growers don't have a scout, they need to be out in their field looking for them.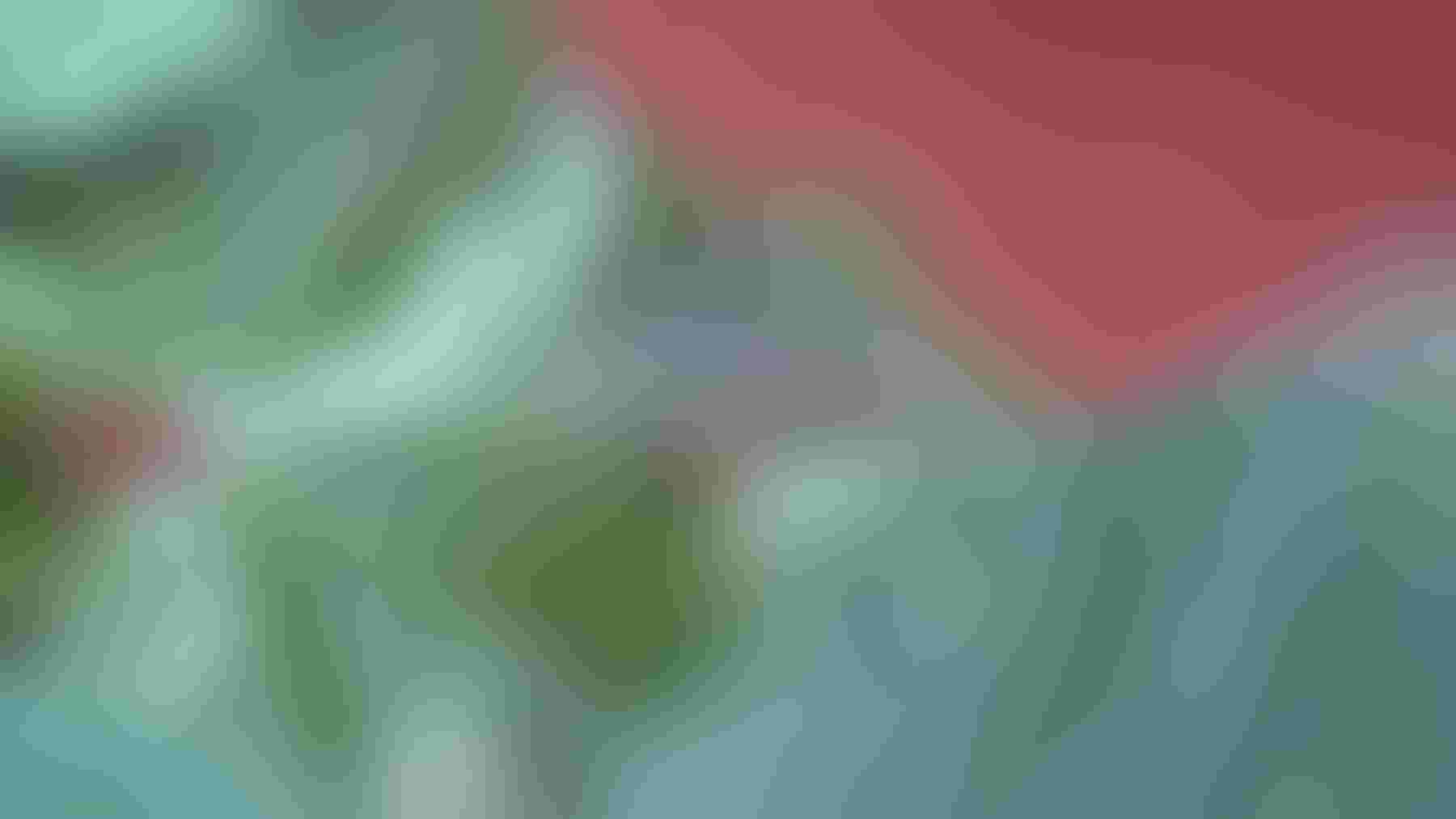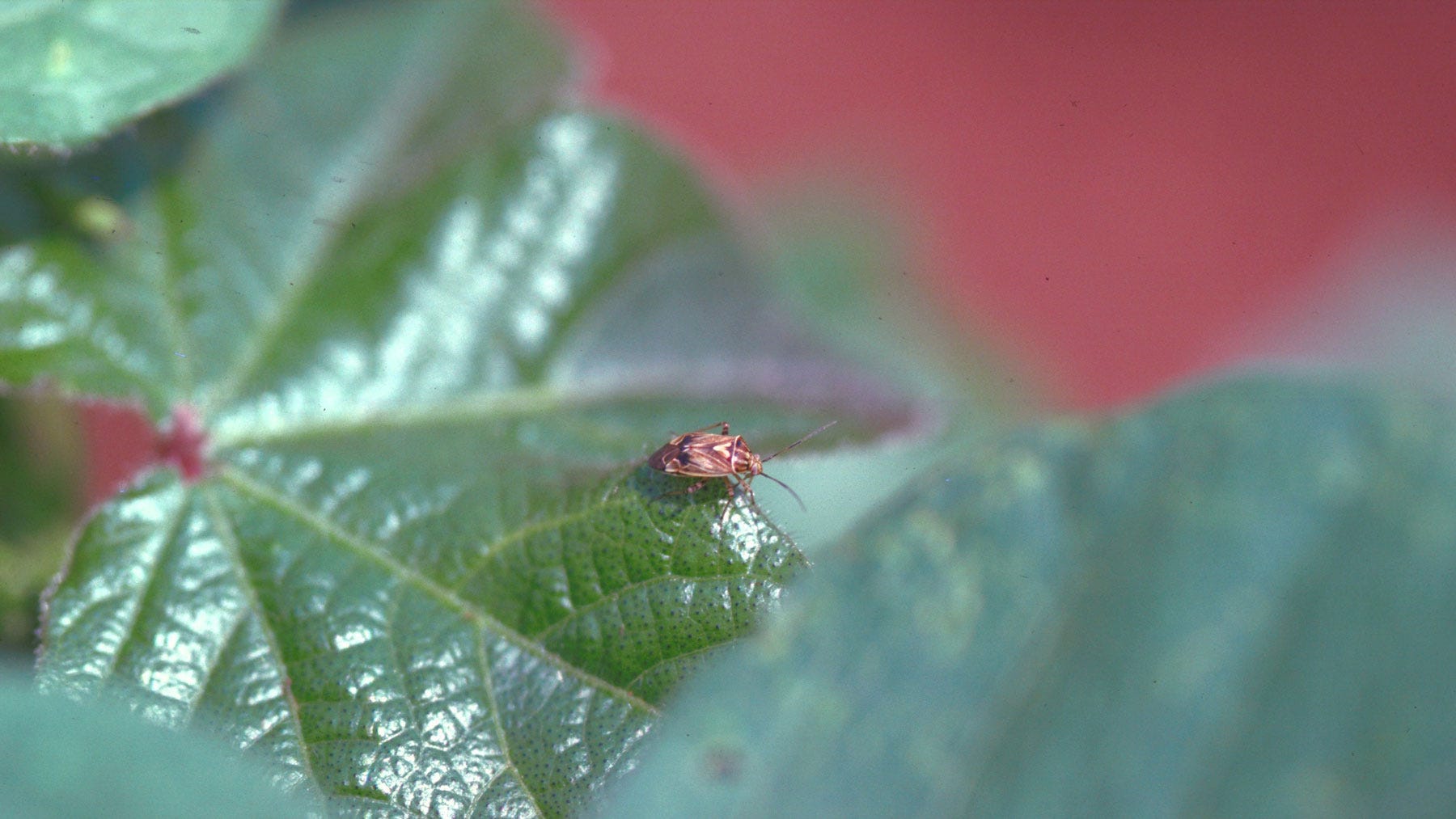 Tarnished plant bug on cotton. Credit: Ronald Smith, Auburn University, Bugwood.org
Hone in on your earliest planted cotton. Info on thresholds and treatment plans can be found in the latest edition of the UGA Cotton Team Newsletter. Our crop is behind. Based on the forecast it looks like we will have a hard time making up that lost time. I think we need to seriously consider being more aggressive on our PGR management strategies to encourage earliness in our crop. Some of Dr. John Snider's data shows you can reach cutout in a cotton crop quicker, at least seven days sooner, by being more aggressive in PGR management strategies, regardless of variety or irrigation strategy.
On July 7, Steve Brown, cotton specialist with Alabama Cooperative Extension System, said:
USDA estimates our crop at 380,000 planted acres. Alabama is extremely diverse in soils, climate, production system, etc. Cool, wet weather brought about a LATE and SLOW start for us. Few acres were planted in April. Most went in May through the first week of June, though a handful of fields were planted in the final days of June. 
Overall, the crop is a little late. Normally, we expect to reach 1st bloom 50-60 days after planting, but this year we've seen that stretch to 65+ days to bloom. We went through a significant dry spell in early June and then received an abundance of rainfall mid-June and beyond. The last days of June brought elevated temperatures, mid- to upper-90s. Now we've settled into common summer-like conditions, hot and humid. 
The BIGGEST aspect of recent management decisions has been plant bugs. Plant bug pressure – numbers and damage – has been unprecedented in distribution across the state. Lots of applications have been made, probably more will be needed. Many are taking a first look at the ThryvOn technology and are trying to figure out how to use the tool in plant bug management. ThryvOn worked very well for thrips. 
Soon we'll overlap into stink bug controls, and treatments (Bidrin, pyrethroids, acephate) that target stink bugs will also control plant bugs. We will see higher-than-normal costs for insect management.
Long way to go. We have good cotton and great potential mixed with some stressed areas, marginal stands, and LATE cotton. We'll need a great August and a good fall to harvest a strong crop.
On July 6, Guy Collins, cotton specialist with North Carolina State University Extension Service, said:
Our crop is extremely late. Our crop came up on time, and we've got good stands. But then late May and early June was abnormally cool. Cotton just sat there for a while and didn't grow. Thrips took a toll on some of our acres, but nearly everyone combatted thrips to a degree. 
Enormous thrips pressure, combined with slow growth and the fact that we now have resistance to acephate, all made for a perfect storm for thrips. Late-June brought warmer weather, and cotton is growing, albeit late. We typically like to see blooms by the 4th, but the only blooms I can find are some in our early season April 12-20 plot work. 
We can still make a decent crop this late, but we are working with a compressed bloom period (4-5 weeks this year vs 7-8 weeks in a normal year). We can't have any major hiccups related to drought, plant bugs, which we expect to be a challenge, or other insects. Timely rains for July and August and a warmer fall would sure help things.
Subscribe to receive top agriculture news
Be informed daily with these free e-newsletters
You May Also Like
---