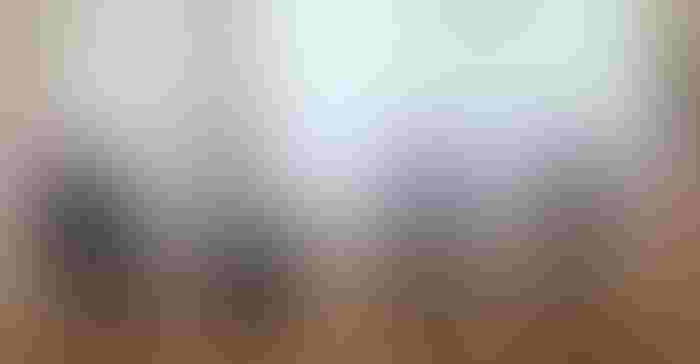 Katie Lewis, left, panel moderator and associate professor of soil fertility, Texas A&M AgriLife Research and Texas Tech University, with Swisher County producer Barry Evans and economists Joe Outlaw, Texas A&M University professor and co-director of the Agricultural & Food Policy Center, and Jason Troendle, The Fertilizer Institute, participate in a panel discussion at the West Texas Agricultural Chemicals Institute Conference. Shelley E. Huguley
Fertilizer prices and availability topped a panel discussion at the recent annual meeting of the West Texas Agricultural Chemicals Institute. The sharp rise in natural gas prices, the primary input used to produce ammonia, is of great concern.  
"Two years ago, natural gas in the U.S. was $2.35 per MMBtu. Last Wednesday (Sept. 7), it was $8.14," said panelist and economist Jason Troendle, The Fertilizer Institute. "We've seen a huge cost increase in terms of what's going on with inflation in our country and in our world."
Natural gas is dramatically higher in Europe. "You think it's bad here? About a month ago, it was $115 per MMBtus for natural gas in Europe. $115 MMBtu is a record. Absolutely crazy."
Natural gas, the key feedstock for ammonia, is the building block for nitrogen fertilizers, Troendle explained. "It makes up anywhere between 70% to 90% of the cost of production of ammonia."
Europe has shut down about 70% of its ammonia production. "That means they can't produce the 9% they historically have globally, so they have to turn to the global market and try to buy nitrogen the rest of the world historically has bought. Again, more buyers, same amount of product, natural upward pressure on price."
Global market
Fertilizer is a global market. "When we think of cotton, corn, soy, wheat, about a quarter of all of those crops grown globally are exported. For fertilizer, it's almost double that -- 44% of all fertilizer leaves the country where it was produced and moves to another country where food is grown."
Changes in U.S. fertilizer prices often reflect global rather than local shifts. For example, Belarus, which supplies about a fifth of the global potash, has sanctions imposed by the western world, Troendle said. "All of a sudden, you take a fifth of any product off the market, what is that going to do? It's going to increase the price."
China makes up 25% of the global phosphate market. "Last year, China put in an export quota that greatly reduced, almost shutoff, their phosphate exports. Again, anytime you take 25% of a product off the market, it's going to have upward pressure on price.
"Unfortunately, China was supposed to come back to the market in June, and they've essentially extended those quotas, so we're watching to see what's going to happen, specifically on the phosphate side."
High prices
Economist Joe Outlaw, Texas A&M University professor and co-director of the Agricultural & Food Policy Center, also participated on the panel, along with Swisher County producer Barry Evans. "Every time commodity prices start moving up, the products that you sell and buy go up with it," Outlaw said, based on his 30 years of experience working in policy and studying markets.
"I've talked to enough people in industries to know that it's a lot easier to pass on higher costs to your consumers, meaning you, Barry, whenever you have higher prices coming. I've just watched it and marveled at how that works."
Sometimes prices decrease. "Commodity prices come down like a drop of lead," said Outlaw, who described input costs as sticky. "They don't go down very fast."
Outlaw and his AFPC team, on behalf of the corn industry, studied the dramatic rise in fertilizer prices. "This is a very complicated problem. There is no answer. There's a lot going on, but one equation drives most of the anhydrous price in this country.
"Anhydrous is the function of corn and natural gas. Those two variables describe about 90% of the variability in anhydrous. Why? Because corn, up until recently, was the biggest crop in this country and used a lot of fertilizer, a lot of nitrogen and obviously natural gas. So, you start asking questions, a lot of questions."
The bottom line is a lot of factors are involved, more questions than answers, he said. "I still fall back to my gut [instinct], which is there's a tendency for prices to move up on all inputs when things are going a little bit better; they were going a little bit better. But you can certainly say there were all kinds of disruptions, weather disruptions and everything else. And if you ask me about the rail system and how fertilizers are going to get to anybody that needs it this year, I have no clue how this is going work.
"But the producers in this room, in this state and other states, deserve answers. We have a lot to talk about and not a lot of answers."
Fertilizer on the farm
Evans grows no-till cotton, sorghum, and wheat. "I grow bulk commodities and we don't set our price," he said. His goal is to be a low-cost producer. "Not low-cost per acre but low-cost per unit of whatever I produce," he said.
His farming theory is that revenue for each input he uses will be greater than the cost. "So, like this summer, I kept holding off on fertilizer. I could have put it down earlier. Then you look and cotton is $1.25. I could buy 32-0-0. It costs about $1 per unit of N. So, you choke and do it. And like you said, if cotton had been 65 cents, it wouldn't have happened, and the price probably would've come down. When cotton's that high and corn's over $6, that's probably what drives (the price) more than anything."
The return on fertilizer is difficult to quantify. "You don't get that direct relationship to know what you have but you've got to do it."
Water is different. "When I put out an inch of water, I know pretty well what I'm going to get. And even though our irrigation cost was up, somewhere around 60-70%, it would still pay to do it, so we kept irrigating."
Herbicides are different, too, he said. "It doesn't matter what herbicides cost, if you don't control your weeds, you'll totally lose a crop. So, once you get down that road, you're committed and can't back out."
This last year, Evans said he worried not only about the cost of herbicides, which increased 300% to 500%, but also the availability.  
Looking forward
As Evans looks to 2023, he said he won't alter his management strategies much. "I'll fertigate my nitrogen and put out a little at a time. The mistake I made this year is I put it out a little too late. It was an emotional decision because after I looked at the price of fertilizer, I did wait. I don't know that I got my best out of it because I waited so long.  Going forward, I don't know what we'll do next year; it all depends on how that price relationship is."
As for natural gas prices this winter, Outlaw, who often apologizes in his presentations for being a Debbie Downer, said he has serious concerns. "Prior to Russia attacking, Europe got their natural gas from Russia, largely. That's been restricted because of this invasion. If that doesn't subside before the peak heating season in Europe, there's going to be more and more demand for energy from friends of Europe and that would be us.
"So, I have this strange feeling that we're going to be in for worse times on the natural gas front. Barry, hopefully, it's over with by irrigation season next year. But I can see this winter getting to be a beast in that regard. I hope I'm wrong, but everything is looking exactly like that's what's going to happen."
View photos from the conference including the West Texas Agricultural Chemicals Institute's award recipients.
Subscribe to receive top agriculture news
Be informed daily with these free e-newsletters
You May Also Like
---