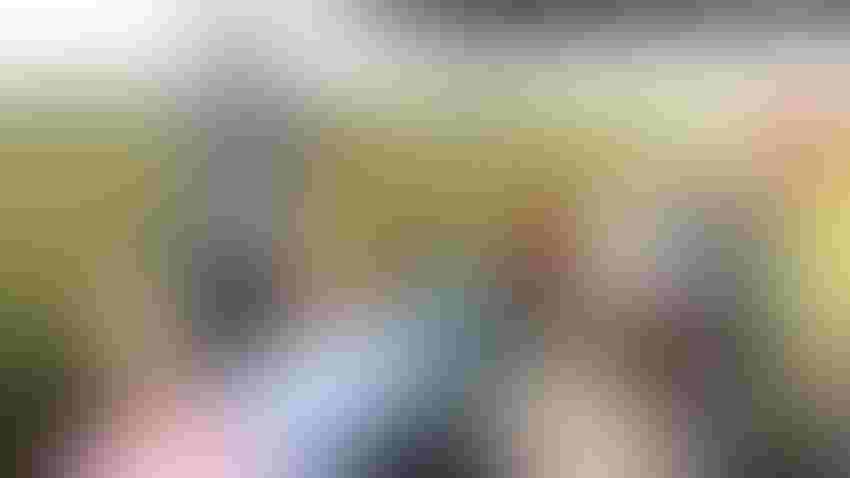 Speaking at the North Carolina Cotton Field Day Sept. 14 at the Upper Coastal Plain Research Station in Rocky Mount, North Carolina State University Extension entomologist Dominic Reisig urged cotton farmers to use the thrips infestation predictor tool to help them make spray management decisions on controlling thrips in cotton.
John Hart
Back in 2009, when Dominic Reisig began his career as an Extension entomologist at North Carolina State University, there were several insecticidal products that farmers could turn to control thrips in cotton. But things changed in 2010 when Temik was taken off the market. 
"We had a number of different in-furrows in 2009.  We had seed treatments. We had foliar sprays. That all changed when Temik was removed from the marketplace. Temik was a very effective in-furrow insecticide. The offshoot of that is we did a lot of research in thrips control in cotton," Reisig said at the North Carolina Cotton Field Day Sept. 14 at the Coastal Plain Research Station in Rocky Mount. 
"An outcome of that was probably the biggest major blunder of my Extension entomology career. We recommended an insecticidal seed treatment with Admire Pro in-furrow as a one-and-done solution. I think we accelerated resistance as a result because what we were recommending was the same active ingredient on the seed as we were putting in the furrow that we were also using in other crops, like soybeans, that tobacco thrips a major thrips pest in cotton, used as a host," Reisig said. 
More changes 
Change in the system came again in 2016 when Temik came back on the market labeled as Aldicarb. Reisig said Aldicarb cost double the price of Temik so there was a bit difference in usage due to that. Reisig and his colleagues continued their research on thrips in cotton, especially on the resistance situation. 
Anders Huseth, an Extension entomologist who spends most of his time on research and works out of the Plant Sciences Building on N.C. State's Centennial Campus in Raleigh, discovered in research conducted with his colleagues that thrips move into cotton early season with a preference to lay their eggs on the cotyledons. 
"Thrips lay eggs in the cotyledons; they move directly to the growing point of the cotton. Based on the knowledge of that in the system, we were able to recommend to growers more targeted foliar sprays. We found out if we targeted that spray, right as that first true leaf was poking up through the cotyledons, we would have more effective thrips control than if we delayed the spray or sprayed earlier," Reisig said.  
"What we found out in terms of thrips biology is there is an interaction between environment both for the thrips as well as the cotton plant. Cotton grows based on growing degree days. Here in North Carolina, we are on the northern edge of where we can grow cotton. A lot of times we get cool growing conditions in the early season. When we get those cool growing conditions, cotton doesn't grow quickly," he said.  
This year's cool planting conditions in May demonstrated this. Reisig said cotton was slow to start in North Carolina this year and the "thrips went in and laid their eggs on those fleshy cotyledons and just pounded on that cotton."  
Using the predictor 
Reisig said another offshoot was the research that went into the development of the thrips infestation predictor tool. He encourages cotton farmers to go to the North Carolina Extension cotton portal and use the tool. He noted that this year's cool growing conditions early in the season demonstrate the value of the tool. 
"We can predict where cotton is going to go based on growing degree days. We can also take advantage of the thrips biology. We know that thrips are affected by certain growing conditions in the winter. Things like rainfall and temperature that affect their development throughout. It helps us predict when thrips flights occur. When those thrips flights occur at the same time that we have slow growing conditions in cotton, that's where we have our highest risk for thrips injury," Reisig explained.  
Reisig said farmers can go to the thrips infestation predictor tool, put in their planting date for a given location, click on the map and select that location, and the tool will spit out a prediction for thrips risk. 
"If you have that thrips dispersal interacting with slow growing cotton, you've got high risk. If you've got relatively quickly growing cotton, no thrips dispersal, you have lower risk," Reisig said. 
Subscribe to receive top agriculture news
Be informed daily with these free e-newsletters
You May Also Like
---