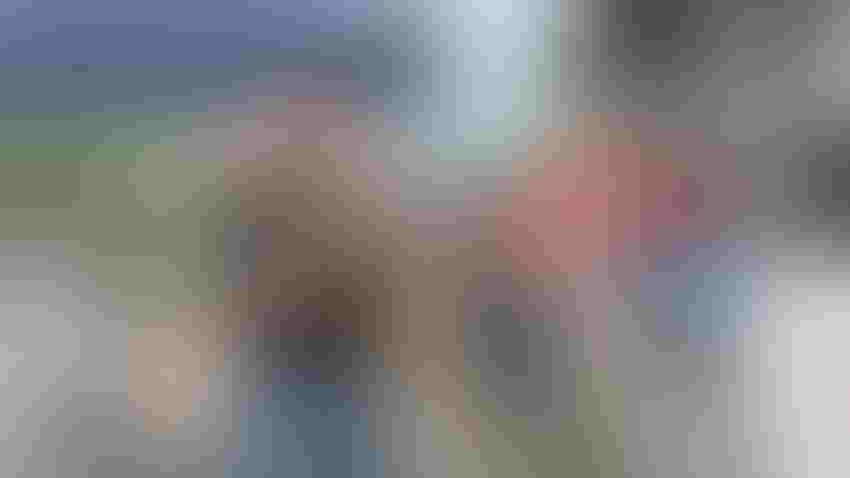 Speaking at the Blackland Farm Managers Tour Aug. 2 at Middle Creek Farms in Engelhard, North Carolina State University Extension Weed Specialist Charlie Cahoon explains that herbicides have an affinity or don't have the affinity to bind to soil.
John Hart
At a Glance
Prowl or Treflan aren't used on high organic soils that have really high KOCs, or adsorption coefficients.

Group 15 herbicides offer weed control to crops grown in the Blacklands.

Soybeans may be a better choice than corn for Blackland farmers with a doveweed problem.
The North Carolina Blacklands, with its rich, dark soil high in organic matter, presents unique challenges that farmers in other parts of the Southeast often don't have to deal with when it comes to fighting weeds.  
One challenge that Blackland farmers need to be on top of is the fact herbicides used in the Blacklands can often bind to that type of soil and therefore not be available for weed control. Charlie Cahoon, North Carolina State University Extension Weed Specialist for corn and cotton, said this is especially true for residual herbicides. 
Cahoon said the reason such products as Prowl or Treflan aren't used on high organic soils is that they have really high KOCs, or adsorption coefficients, that is included for most herbicides. The KOC represents how strongly an herbicide adsorbs to the soil when normalized for the amount of organic matter in soil. KOC values less than 300 indicate a high potential for leaching. 
"Herbicides have an affinity or don't have the affinity to bind to soil. Some are more tightly absorbed to soil. Your soil has exchange sites on it, and that's how it holds nutrients. When you put calcium and magnesium out there liming it, those are held onto the soil and can be released later on if the plants need it. The same thing can happen with herbicides. The problem with that is if that herbicide is bound to your soil it is not available for weed control," Cahoon said at the Blackland Farm Managers Tour Aug. 2 at Middle Creek Farms in Engelhard. 
Group 15 herbicides 
Cahoon did say that Group 15 herbicides do offer some weed control and can be used in the Blacklands. Group 15 includes such products as Dual, Warrant, Outlook, and Zidua. Cahoon noted that Group 15 herbicides have a relatively low to moderate KOC and have a potential fit in the high organic soil of the North Carolina Blacklands. 
Cahoon explained that the lower the KOC of a herbicide, the less affinity it has for being absorbed by the soil colloids, which means they should work better on high organic soils compared to herbicides with a higher KOC. For example, Cahoon said the herbicide Harness contains the active ingredient acetochlor which has an average KOC of 1.5, a fairly low number. 
"If you call me in this neck of the woods for a recommendation for Group 15s, I have steered you toward acetochlor.  That's not because I'm trying to sell Harness. It's because science says it should work better on these higher organic soils," Cahoon said. 
Cahoon did point out that some herbicide labels restrict use where soil organic matter is greater than 10% because the herbicides will tightly bind to soil organic matter. He urged Blackland farmers to read the label to determine if an herbicide can be used in high organic soils and then take that into consideration when choosing products, especially residual herbicides.  
At the Blackland field day held in Hyde County, Cahoon rang warning bells on doveweed and field pansy, two weeds that are becoming more of a worry in the Blacklands. He urged the use of Group 15 herbicides for doveweed in the Blacklands, due to the soil binding challenge. 
"Doveweed is particularly problematic here in Hyde County, but it's starting to move west. I'm getting more and more calls from places outside of Hyde County having problems with doveweed. The main reason why is people spray Roundup on it two or three times, and they don't kill it. It is not easily controlled with Roundup," Cahoon said.  
Doveweed control in corn 
For corn, Cahoon said the best way to control doveweed is to use post-emergent herbicides. He said the only control options in corn are atrazine and Evik. Dicamba and 2,4-D are not a post-emergent option for doveweed control in corn. 
"We really don't have that many good post-emergent options. In my opinion, that's not where we should focus our attention on doveweed anyway. We really need to attack doveweed from the residual standpoint, and the thing about doveweed that folks may not understand is that it's one of our late emerging species. Some weed species come up early, some come up late, and doveweed is one that comes up late," Cahoon explained. 
Cahoon said this means that a residual applied in April won't work on doveweed because it typically doesn't start coming until late June. The residual won't be available in June to control the doveweed. That's why it is important to target your residual controls for doveweed in early to mid-June, just ahead of the emergence of the weed. 
Cahoon said the residual options for doveweed control are Group 15 herbicides, Warrant, Dual, Outlook, and Zidua. Thankfully they work on a range of soil types including the high organic land where we typically have more of an issue with doveweed. So that's a good option. But remember the timing part of it is more important."  
Soybeans vs. doveweed 
If a farmer has a really bad doveweed problem, Cahoon advises them to plant soybeans instead of corn. 
"We have a really good post-emergent option in soybeans. And that is FirstRate. FirstRate works really well and is one of the best products we have for controlling doveweed, so if you've got a problematic farm, rotate to soybeans, use a residual. FirstRate is really going to be the ticket for getting rid of that doveweed," Cahoon said. 
Field Pansy is another weed that is popping up in the Blacklands, particularly in no-till production systems. Cahoon said farmers who have issues with field pansy say it is a nightmare to plant through because it can often get as big as a basketball. 
"It is another one that Roundup does not work very well on.  Dicamba and 2,4-D don't work well on it at all. Our standard has been Gramoxone, but not Gramoxone by itself.  We really needed Gramoxone plus atrazine or Gramoxone plus metribuzin or Gramoxone plus Diuron. We need something to heat that Gramoxone up," Cahoon said. Outside of Gramoxone tank mixes, Cahoon's research suggest newer PPO-herbicides, like Sharpen and Reviton, combined with high rates of Roundup (> 1.125 lb acid equivalent per acre) plus MSO and AMS may have a fit for fall or early spring applications targeting field pansy.
Subscribe to receive top agriculture news
Be informed daily with these free e-newsletters
You May Also Like
---