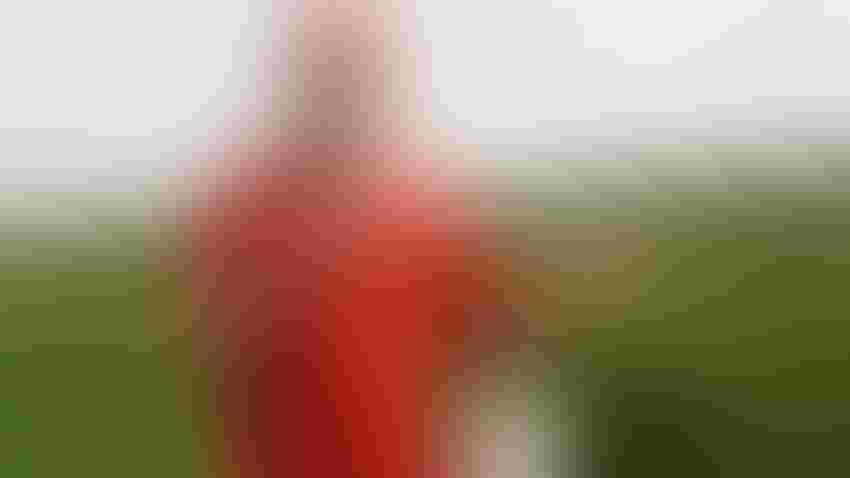 North Carolina State University Extension Entomologist Dominic Reisig offered control guidance on three troublesome soybean pests: corn earworms, stinkbugs, and the Southern corn billbug, during this year's Blackland Farm Managers Tour at Middle Creek Farms in Engelhard, N.C Aug. 2.
John Hart
At this year's Blackland Farm Managers Tour at Middle Creek Farms in Engelhard, North Carolina State University Extension Entomologist Dominic Reisig waved warning flags on troublesome soybean pests corn earworms, stink bugs, and soybean looper, and his concern about the Southern corn billbug in field corn. 
During the Aug. 2 field day, Reisig noted that corn earworms love to lay eggs in early blooming soybeans, and farmers need to manage accordingly. He urged farmers to go to N.C. State's soybean portal or IPM (Integrated Pest Management) portal to check out N.C. State's light trap catches. Reisig said when light trap catches are increasing or peaking, you will know that moths are flying in the fields and laying eggs in blooming soybeans. 
"Watch those beans over a period of time because we can't infest a plot with enough corn earworms in blooming beans to cause a yield loss. They can eat flowers, and that plant produces many more flowers than it needs. Once you get one to two weeks past that flowering period, watch those numbers start to build. We can then make a decision whether or not we need to spray those insects, if they reach our thresholds," Reisig said. 
Insecticides
Recommended insecticides for corn earworms in soybeans include Intrepid Edge, Steward, Tracer, and Denim, which is newly registered in soybeans. However, Reisig stressed that N.C. State does not recommend insecticides that include the active ingredient chlorantraniliprole. Chlorantraniliprole is the active ingredient in Vantacor, formerly known as Prevathon.  
It is also the active ingredient in Besiege and Elevest. Chlorantraniliprole also has awesome residual activity. 
"It's a very effective insecticide for corn earworm. But there are a couple of reasons why I think you shouldn't use it. Number one is it has awesome residual. So why would I tell you not to use an insecticide that has awesome residual?  It's because we don't need the residual. If you spray an insecticide and you have a residual, and you've got pods on the beans, very likely corn earworm is not going to enter that crop again. You're paying for residual you don't need," Reisig explained. 
Reisig noted that this is a particular issue in North Carolina's Blacklands which has lots of migratory insects and sticks out in the ocean like a sore thumb. 
"We tend to catch a lot of these migratory insect flights later on in the season. Soybean loopers tend to be particularly problematic in this area, so if we've got a product that we use for earworms in August, that's got a good residual carrying us into September, what are we doing? We're selecting for resistance because over time as that product is metabolized in the plant, we get less and less product out there. We're essentially using a cut rate, and we're selecting for resistance," Reisig said. 
Stink bugs are another problematic soybean pest across North Carolina, especially in the Blacklands, given the wide range of planting dates and maturity groups planted in the region. Because of that, Reisig urges soybean farmers to hire a professional scout to scout for stink bugs, especially later in the season. 
Reisig noted that soybean farmers are busy that time of the year and would benefit from a trained scout who can check for stink bug presence and damage and make necessary insecticide recommendations. 
"We can take advantage of their biology as well to help us get a clue as to what is happening in the field. They tend to move across the cropping season. They tend to be prevalent in wheat and corn early season, they move among crops early season and then stinkbug numbers tend to build in soybeans later in the season," Reisig said. 
Reisig explained that most stink bug species produce two generations per year. The second generation will appear in soybeans. Importantly, Reisig noted that soybeans are basically the only plant for stink bugs to feed on in cropping landscape in the fall since corn has been harvested and cotton is unattractive to stink bugs at that time. 
He said soybeans need to be scouted and sampled, especially later in the season. Soybean plants are most susceptible to stink bug injury from the R3 to R5 growth stages. 
Billbug
Finally, Reisig noted that the Southern corn billbug has been a problematic pest in the Blacklands for a long time. He said it is one of the few incidences that he can point to where crop acreage was actually reduced due to an insect. The other big one is the boll weevil in cotton. 
"The boll weevil is gone. We had 1.8 million acres of cotton in North Carolina in the 1920s; it dropped down to maybe 70,000 acres in the mid-1970s due to the boll weevil. We got rid of the boll weevil, cotton acres shot back up," Reisig said. "Southern corn billbug in the Blacklands was our boll weevil for corn." 
The good news is that the insecticide Poncho 1250 is very effective in controlling the Southern corn billbug in soybeans. However, Reisig cautions that its efficacy has decreased over time, and Poncho 1250 is not working as well as it once did. 
"It's still our premier product. It still works well. It just seems like something that could use a little bit of help."  
Reisig and his team are actively screening for other insecticides to use for the Southern corn billbug in soybeans. "We're taking everything off the shelf that we can, putting it in furrow, putting it on the seed, working with companies to try and see if they have something that is effective. There are not a whole lot of options out there, unfortunately." 
Reisig did say that applying the old standard, Counter, in furrow is an effective complement to Poncho 1250, but he did caution farmers against applying too much Counter in furrow and on the seed. "Our recommendation is to avoid this is to drop the rate of that seed treatment down. Drop it down to the 500 rates. Use the full rate of Counter. We'll keep looking for something else to control this insect in the future."
Subscribe to receive top agriculture news
Be informed daily with these free e-newsletters
You May Also Like
---