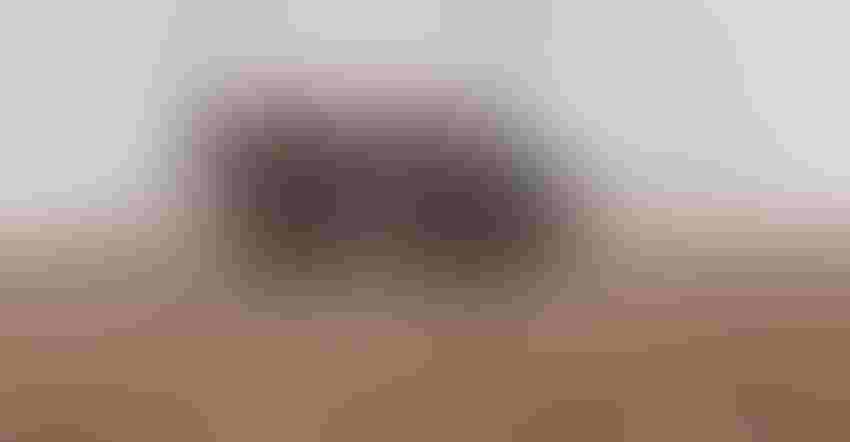 NO CHANGES: The partnership between Anuvia Plant Nutrients and Novozymes will provide added crop nutrients with out adding more synthetic fertilizer, or changing from the current practice. Anuvia's SymTrx product line is a granular product spread with conventional equipment.
Courtesy of Case IH
The global crop nutrition market is looking more closely at biological solutions to boost plant yields. At the same time, innovation in the fertilizer area has brought new products to market. Recently, a collaboration between Novozymes and Anuvia Plant Nutrients, shows promise for a new sustainable approach to boosting crop output.
The two firms are leveraging their expertise. For Novozymes it's the development of biological products that can enhance a plant's ability to leverage available nutrients, which its current products already do for certain crops. For Anuvia, it's rethinking the way fertilizer is made using a bio-based substrate to create a new granular product. The collaboration would bring Novozymes biologicals to Anuvia's SymTrx products.
"We're going to take their microbial technology and put them on our granular fertilizer product," says Hugh MacGillivray, chief commercial officer. "What that technology will do is deliver more nutrition to the plant without adding more synthetic nutrition."
Related: From zero to 400,000 tons of production
Thomas Batchelor, vice president for agriculture marketing and strategy, Novozymes, explains his company has developed microbial products to improve yield on top of the normal chemical input regimen used by farmers, but has been looking for other ways to deploy the technology to substitute fertilizer inputs directly with no impact to yield. "We're going into fertilizer replacement and the benefit of our technology is seen by growers. We are substituting an input and we've been looking at that for some time," he says.
Anuvia became an interesting partner, Batchelor says, because they have the ability to put the technology into the market at a fast pace and they are providing a sustainable fertilizer alternative based on their technology. "We can plug into their portfolio and it's a good fit for us," he says.
Innovating a fertilizer market
Essentially, the microbes added to the Anuvia product will raise the available crop nutrition with no need for farmers to change anything – they simply apply the granular product as they would normally.
MacGillivray explains that the relationship will involve an evolution of products over time. "The first generation will add the equivalent of 10 units of phosphate to our product," he says. SymTrx 10S with 14-24-10 would act like a 14-34-10 in the field, the 17-1-20 would become a 17-11-20.
He explains that the long-term plan is to go through three generations of development adding more nutrition to the base SymTrx product. The Anuvia product is unique because it can use about any type of biological material – food waste, animal waste – as the base for making the final product. It's an innovation in the fertilizer market.
The evolutionary approach allows for testing and validation of the idea of microbes being added to the Anuvia SymTrx line. "We'll see how the first phase evolves, but we see great potential in the segment," Batchelor adds.
MacGillivray adds that the evolutionary approach has a benefit for customers too. "We want to take the risk out for the grower. We don't want to swap out 50 units, we want to take the customer on a journey of change and introduce them to the technology."
Batchelor adds that subsequent products and their capabilities will develop over time. Boosting phosphate availability is just one solution. The companies are looking at ways to boost other macro and micronutrients with microbial based technology.
The timeline is to introduce, in limited quantity, the phosphate-enhanced Anuvia production 2022, ramping up to commercial supply levels by 2023. In the subsequent two years the companies will explore if more microbial products can be added with the eventual aim at a product to boost nitrogen and other macro and micronutrients, MacGillivray says.
"We have a functional granular product that is a good host for these technologies, it's a friendly host," he says. "We're really working toward this idea of using less synthetic nutrition and driving the same or better outcomes."
Adds Batchelor: "We are working with what we have in our hands now for phosphate efficiency. But this technology requires us to look at the broad portfolio of microbes and enzymes we have now and the mid to long-term horizon for developing new solutions."
Learn more about each company at anuviaplantnutrients.com and novozymes.com.
Subscribe to receive top agriculture news
Be informed daily with these free e-newsletters
You May Also Like
---