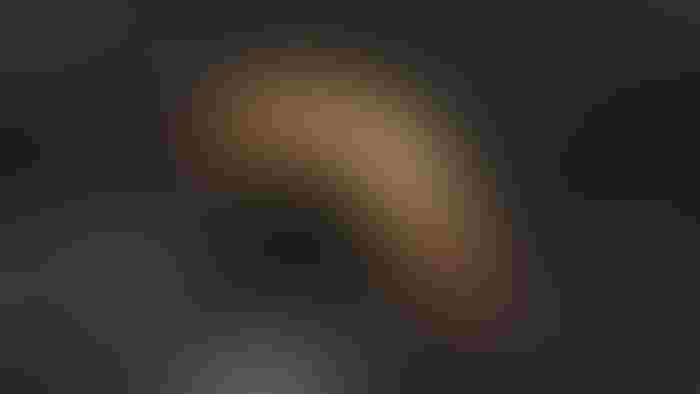 While yield-robbing wireworms are often found in fields during spring, identifying the pests in the fall can help suppress further damage.
While the worms are small, their impact can cause up to a 50% yield loss and stunt remaining plants. Bait traps can help you determine if worms are in your field. Even if only two worms are found, you should put a treatment plan into place.
Sarah Voglewede, a business representative for BASF, says baiting for wireworms can be done in spring or fall with success. "If you have a suspicion of wireworms or if you know you have them, creating the bait ball traps will help you discover the population you have in your fields," she explains.
Making bait balls
Creating a wireworm bait ball can be easily done with items already found on many farms.
"You start with a disposable nylon stocking, about 6 to 10 inches long," Voglewede says. Pour about 2 cups of a mixed grain, such as spring wheat, oats and barley, into the stocking. Then soak the stocking in water for at least 24 hours. She says the soaked grain emit carbon dioxide, which will attract any wireworms to the bait ball.
BASF representatives placed bait ball traps in the spring in fields near Washburn and Hazen in North Dakota and near Wolf Point and Miles City in Montana. Voglewede and her team have found wireworms in all types of fields and soil types, which means many growers should be baiting to find populations in their fields.
"We've been surprised with the number of wireworms we've been finding," she explains. "They weren't just in heavier clay or rocky soils. We found them in sandy soils and in the hilltops and the lower pothole areas, too."
The soaked bait balls are buried in fields anywhere from 3 to 6 inches deep, depending on soil temperatures. "When we placed balls in the spring, the soil temps were all different. And before we place the bait, we dig around 10 inches deep, just to get the soil disturbed," she says.
Once bait balls are in place, cover the ball with around 3 inches of topsoil in a mound shape. Traps stay in the fields from 10 days to two weeks.
"We also added a small piece of black gardening tarp over the mound, to give a visual, as well as to increase soil temperature resulting in higher CO2 being released."
You found them, now what?
Voglewede says Montana State University and North Dakota State University agree that a wireworm population of one to two per trap means the treatment threshold has been reached.
"Once we establish that population in the field, the next step is talking with our retail partners and the growers to determine treatments," she explains.
Cereal crops are the food of choice for wireworms, but with a two- to nine-year life cycle, worms can persist even through crop rotations.
"Just because you don't see it in your wheat doesn't mean you won't see continuing problems," she says. "We worked with a grower where we found 13 wireworms in his fields, so tenfold the recommended treatment levels. His rotation consisted of a spring wheat to soybeans or sometimes sunflower, then back to wheat or barley."
BASF offers the Teraxxa seed treatment to combat wireworms in cereal crops. Broflanilide, its active ingredient, eliminates wireworms by binding directly to a specific site on their central nervous system.
"We have a discussion with growers about not planting wheat back to back, and then the options for the next couple years are seed treatments for suppression," Voglewede explains.
Fall trapping can especially help identify treatment plans in winter wheat crops, with seed treatments that can protect the new crop. "We can often see more damage in winter wheat crops versus a spring wheat crop, just because wireworms have multiple opportunities to chew the roots of wheat in the fall when it's established," she says.
Local BASF representatives can help growers find what's in the soil impacting crops and find a product to help boost yields while ensuring wireworm mortality.
"Everyone should have the ingredients on the farm to make a bait ball trap, and everyone has a shovel," Voglewede says. "Then you're good to go and find wireworms if they're in your fields."
Find out more about Teraxxa and Teraxxa F4 seed treatments and wireworm suppression from your local BASF representative, or at BASF online.
Subscribe to receive top agriculture news
Be informed daily with these free e-newsletters
You May Also Like
---