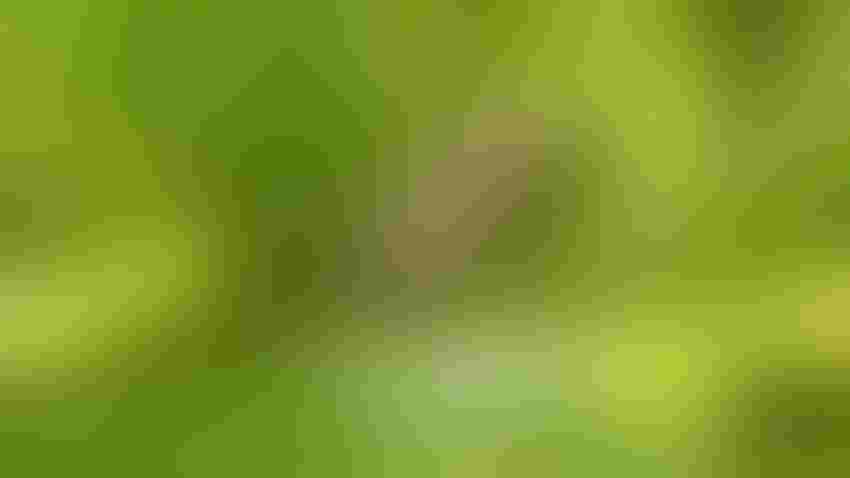 Asian citrus psyllid.
USDA ARS
The discovery of an insect carrying the bacteria linked to huanglongbing in citrus in a residential tree in Santa Paula, Calif., has prompted a state-ordered quarantine.
The quarantine will restrict the movement of citrus fruit, trees and related plant material within a five-mile radius of the find site, the California Department of Food and Agriculture announced Oct. 3.
The CDFA will work with the USDA and Ventura County Agricultural Commissioner Korinne Bell on the project.
"This really is a devastating find," Ben Faber, a University of California Cooperative Extension crop adviser, said in late September. "It means that Asian citrus psyllid that is infected with the HLB bacteria is present in the middle of a citrus-growing area that is currently and historically important for lemon production."
The quarantine area is bordered on the north by Ojai Road; on the south by East Los Angeles Avenue; on the west by Wells Road; and on the east by Balcom Canyon Road. Maps are available online.
Another HLB quarantine already exists in parts of Los Angeles, Orange, Riverside, San Bernardino and San Diego counties, where more than 6,300 trees have tested positive for the disease and have been removed.
HLB, a bacterial disease, does not pose a threat to humans or animals but is deadly to citrus trees and plants, affecting their vascular system. The Asian citrus psyllid is a carrier of the Candidatus Liberibacter asiaticus (CLas) bacterium and can spread it by feeding on citrus plant material.
The tiny insects can fly short distances and are known to hitchhike on citrus plants and fruit that is moved around the state by consumers and in commercial trucks.
Watching for HLB
The Santa Paula discovery comes after University of California officials conducting research in Ventura and San Diego counties thought they discovered the state's first infected commercial citrus trees during their studies.
State officials followed up with official tests based on regulatory protocols and determined that the trees in question were not infected with HLB.
This quarantine prohibits the movement of all citrus nursery stock, host plants, or plant parts out of the quarantine area, the CDFA cautions. Provisions exist to allow the movement of commercially cleaned and packed citrus fruit.
Fruit that is not commercially cleaned and packed must not be moved from the property on which it is grown, although it may be processed and/or consumed on the premises. This includes residential citrus such as oranges, lemons, grapefruit and kumquats.
Subscribe to receive top agriculture news
Be informed daily with these free e-newsletters
You May Also Like
---