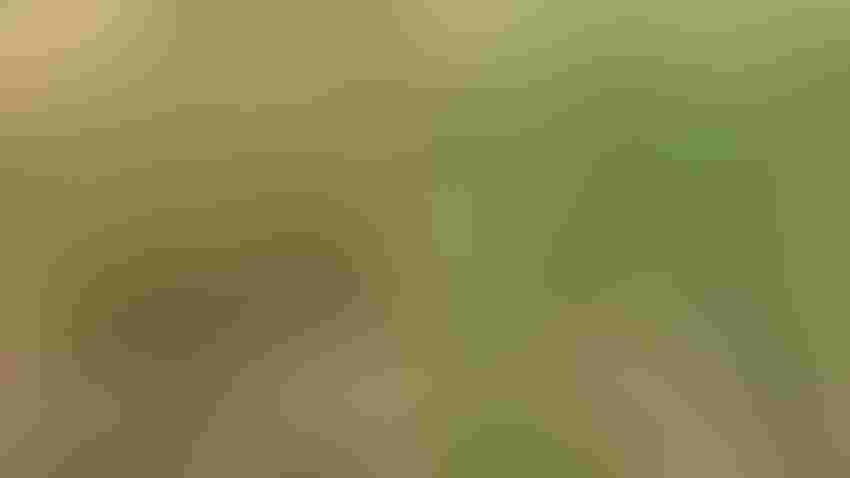 Weed control is covered. Farmers who plant cover crops can add another benefit to the regenerative practice: improved weed control options. Effective weed management is easy to see in this trial managed by LSU AgCenter weed specialist Donnie Miller. Cereal rye was planted on Oct. 27, 2022, and emerged four days later. The photo on the left is untreated. In the photo on the right, Dual Magnum was applied at 1.3 pt/A on Nov. 15. The pictures were taken in April 2023.
Photo courtesy Louisiana State University
Add weed control to the documented benefits of cover crops.
As herbicide resistance expands across chemical classifications and geographical locations, farmers across the Midsouth are searching for an effective way to control weeds.
That may not be a new chemical. Or another trait in the stack. It may be different timing with a tried-and-true herbicide.
In the quest to hold onto over-the-top tools, LSU AgCenter weed scientist Donnie Miller suggests adding old modes of action into a herbicide rotation that extends outside the cash crop season. That's right, Miller encourages farmers to consider herbicide applications in conjunction with cover crops.
As more farmers adopt cover crops, Miller's research shows managing weeds, in particular Italian ryegrass, in those fields benefits the subsequent cash crop. Miller sometimes calls the combination of cover crops and weed control a win-win. Other times he refers to it as a good marriage. In some presentations, he said it's the best of both worlds. He always calls it effective.
"The biomass from grass cover crops helps control weeds. A small grain cover crop, such as cereal rye, by itself can greatly reduce an Italian ryegrass population" Miller said. "Put the cover crop in, let it germinate and emerge, then go over the top with the residual herbicide and we have observed 90 to 95% control."
Weed control lifeline
In some cases, weed control in cover crops is a lifeline. Miller points to multiple-herbicide-resistant Italian ryegrass as an example. "Given the resistance issues with glyphosate, ACCase herbicides, ALS chemistry, and recently paraquat, we're running out of over-the-top materials that we can use both out of and in season to control ryegrass. So, control prior to emergence is the key to a successful management program. Successful management for a 3-year or so period can greatly reduce Italian ryegrass issues in production fields."
In cover crops, however, farmers have multiple soil-applied herbicide options. When reviewing the label, Miller said, a cover crop that is not going to be harvested or used for forage should be considered fallow ground. For specific questions about a product label, he suggests farmers consult the appropriate sales representative about this interpretation and the individual label for any plant-back restrictions.
The timing for cover crop application syncs well with the ryegrass lifecycle in Louisiana, he said.
 "The residual herbicide helps combat the fall population that emerges, and the cereal rye is very effective in competing with any spring emerging ryegrass or plants not controlled in fall," Miller said. "Ryegrass in Louisiana typically emerges in mid-October - or until adequate rainfall is received - until mid- to late December when temperatures get colder then again in mid- to late February as temperatures begin to moderate. It can germinate when temperatures are below 90 degrees for 10 or so days, however lack of moisture most years in September/early October is its limiting factor."
Herbicide control
Miller recommends applying herbicide once the grass cover crop has emerged, similar to a spike application in certain grass crops, about two weeks after the cover crop is planted and well emerged and growing. Research has shown any s-metolachlor herbicide, such as Dual Magnum or Zidua SC, are effective in this scenario. Preliminary research has shown that Command and metribuzin, although causing initial transient minor injury to the cereal rye, are also effective.
Adequate rainfall is needed to activate any residual herbicide applied. Command is particularly effective due to its high water solubility. "You don't need a large rainfall event to activate Command," Miller said. "Herbicides such as s-metolachlor and Zidua will need about 0.5" rainfall for proper activation while Command generally requires less." 
Tillage, he said, is not a better solution. Though weeds lose in a battle with steel, Miller said tillage is not effective for long-term weed control. "Discing is going to help, but it's not going to stop weeds from emerging. Ryegrass not controlled in fall will produce a large root mass that reduces the effectiveness of spring tillage" he said. "You need a residual herbicide."
One of the advantages of fall weed control in cover crops is that transient crop injury isn't a major issue. "It's a cover crop," Miller said. "You're not worried about dinging it early as long as populations are not impacted."
After the cover crop grows out of any herbicide injury, he said, the benefits of the cover crop remain. "The cover crop is still there to do what a cover crop does," Miller said. The cover crop will help increase organic matter, improve soil biodiversity, improve infiltration of excess surface water, help reduce soil compaction, and leave residue that helps preserve soil moisture.
Weeds cost more
For those looking at a financial spreadsheet, Miller said the question of whether to spend money on weed control in cover crops isn't about the outlay in the fall. It's about the economic advantage in the spring. He uses corn as an example.
"The weed control options in corn once it's up aren't great," Miller said. "Ryegrass can be very competitive with your young corn. If you want to get a good yield, you need to limit that competition."
Subscribe to receive top agriculture news
Be informed daily with these free e-newsletters
You May Also Like
---