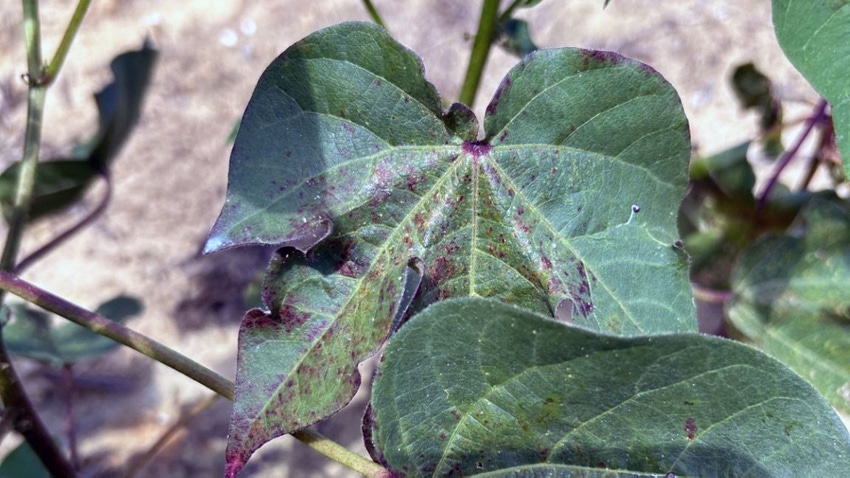 Spider mite damage to cotton.
UGA Extension
By Phillip Roberts, UGA Extension Entomologist
2023 has been a learning year for many in terms of cotton pests. We experienced high tarnished plant bug populations in some areas during June and July, even in areas where growers have never treated for this pest.  Now growers are dealing with spider mites, which historically is an occasional pest with relatively few acres requiring treatment in most years.
August is considered the stink bug month, which we are very familiar with, and we are seeing silverleaf whiteflies build in areas we would expect to see them.
Spider mites
Spider mite infestations are unusually common in many areas of Georgia. Although still a relatively small percent of acres, we will likely treat more acres for spider mites in 2023 than any year of my career at UGA. So why are mites more common this year? I am not sure we know the exact answer to the question, but we should consider a couple of things.
First and foremost, we treated a significant acreage for plant bugs in June and July. Many of the insecticides we use for plant bug control also reduce beneficial insects, so we disrupted the "system" with plant bug treatments and this increased our risk of spider mite infestations. For several years we have noticed that low levels of mites are present in most fields in the state and perhaps disruption allowed these populations to reach more noticeable and sometimes damaging populations.
Symptomatic plant
It also appears to me that rainfall events do not suppress spider mite populations like they once did. The threshold for mites is "apply when 50% of plants are symptomatic and populations are increasing". So, what is a symptomatic plant? Spider mites are very small and feed on the underside of leaves, often in the folds of the leaf or near the base of the leaf where it is attached to the petiole. Early symptoms include yellow spots or stippling on the upper leaf surface, especially on the folds of the leaf.
These early symptoms are what we should be scouting for. In time areas of leaves which are damaged will turn reddish and if populations are high and the mites are not controlled, damaged leaves may defoliate.
When scouting, it is important that you confirm the presence of mites on damaged leaves which will require magnification with a hand lens. Severely damaged leaves (reddish symptoms) may no longer have mites so be sure to check leaves with mild symptoms of injury.
Subscribe to receive top agriculture news
Be informed daily with these free e-newsletters
You May Also Like
---