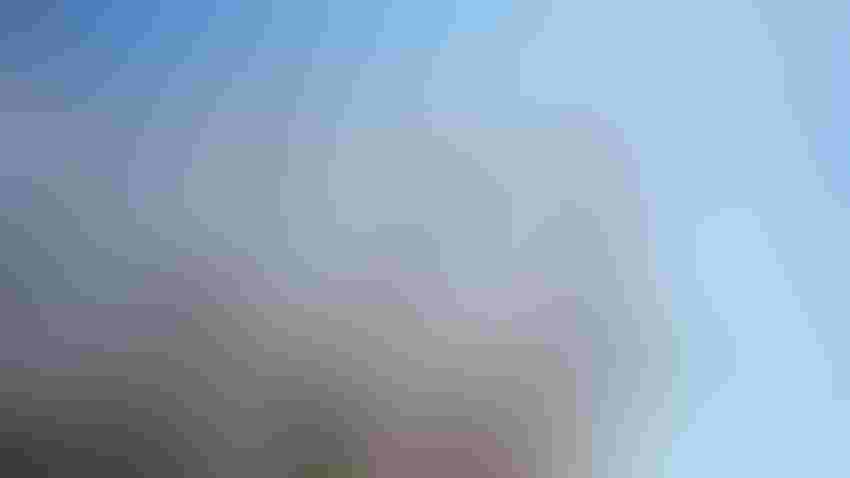 ThryOn cotton, the first technology of its kind to offer built-in thrips and plant bug protection, looks to be a game changer in the future of cotton management.
Bayer Crop Science
At a Glance
The 2023 growing season was the first for full commercial availability of ThryvOn cotton technology.

Thrips protection is the biggest benefit for ThryvOn cotton growers.

Research will confirm plant bug thresholds, effective insecticides, and potential changes in PGR rates for ThryvOn cotton.
ThryvOn cotton is the first technology of its kind to offer built-in protection against thrips and tarnished plant bugs. Bayer Crop Science celebrates the technology's first year of full commercial availability, and judging by the success, ThryvOn looks to be a game changer in the future of cotton management.    
It also marks the first year ThryvOn varieties were included in university on-farm variety trials (OVTs). This provides valuable information to growers, comparing the yield and field performance of ThryvOn varieties to other candidates in standard OVT testing. 
Recently, specialists from across the Midsouth gathered for a panel discussion at the Scott Learning Center in Mississippi. They shared feedback from the ThryvOn growing season and discussed management updates for the technology. In addition to the discussion, a tour of the research site showcased the performance of Deltapine Thryvon cotton varieties.  
The greatest benefit of ThryvOn technology is protection from tobacco thrips and western flower thrips. ThryvOn is designed with a protein that interrupts the life cycle of those thrips species, hence reducing crop damage.  
Tim Dabbert, cotton traits and agronomic systems manager at Bayer, said, "The thrips choose not to lay eggs in ThryvOn cotton fields. So, we are seeing a reduced number of insects and about 73% reduction in damage from this trait alone," Dabbert reported. 
The protein in ThryvOn also impacts the life cycle of plant bugs, causing mortality to small nymphs that feed on the cotton plants. Likewise, populations of large nymphs and adult plant bugs are reduced along with the damage they cause. As a result, ThryvOn cotton plants are healthier with better square retention. 
Thrips control with ThryvOn 
ThryvOn technology works so well to combat thrips that insecticide treatments are not recommended, even if thrips are present. Dominic Reisig, Extension entomologist and plant pathologist at North Carolina State University, explained the reasoning.  
"We have not been able to show a yield response when spraying insecticides on Thryvon cotton to control thrips. If you can't show a yield response then you can't set a threshold. So, we recommend that our growers not use any additional insecticides for thrips on ThryvOn cotton," Reisig said.  
Of course, no solution is bulletproof, but Louisiana crop consultant, Hank Jones contended, "For thrips, ThryvOn technology is the closest you can get to a guarantee." 
Jones represents RHJ Ag Services and has worked with ThryvOn cotton for the past three years. This includes the current season and the two years before – when ThryvOn was introduced into Deltapine's New Product Evaluator (NPE) program.  
Jones said, "From a thrips standpoint, this is the most amazing thing we have ever seen. In five years from now, I think I will have scouts who don't even know what thrips damage looks like." 
This is especially good news for Midsouth cotton growers who battle thrips populations that are resistant to acephate, once a primary insecticide to control the pests. Tyson Raper, Extension cotton specialist at the University of Tennessee Institute of Agriculture, emphasized the significant value that ThryvOn brings to this issue. 
Raper said, "The last two years were very tough for us, because we lost acephate as an effective herbicide for thrips. I think the rapid adoption of ThryvOn, particularly in Tennessee, has been driven by the value of thrips protection, and I suspect an increase in those cotton acres next year." 
Ben Thrash, Extension entomologist at the University of Arkansas System Division of Agriculture, reported the same acephate resistance in northeast Arkansas. The problem seems to be spreading farther into the state, and Thrash noted the tremendous benefit ThryvOn provides with early season thrips control for growers impacted by that resistance. 
Reduced sprays for plant bugs 
For plant bugs, ThryvOn growers can expect improved control, however, there is still a need to scout and spray. Thrash noted that location matters and determines the value growers get out of ThryvOn cotton for plant bug control. 
"I tell people to place ThryvOn cotton in areas with heavy plant bug pressure," he said, "because it seems like we save more insecticide sprays in heavy pressure areas than we do in low pressure areas." 
Regardless, the plant bug control gives farmers and consultants peace of mind. Jones sprays for plant bugs but said he has never been behind on controlling the pests in ThryvOn cotton.  
Jones said, "I can sleep better at night knowing that. Then, when I do have to spray for plant bugs, those insecticides work better on ThryvOn cotton because there are fewer plant bugs in those fields." 
Management flexibility 
When a farm spreads across a large acreage, it takes more time to get the farthest fields. That is where ThryvOn cotton steps up to improve efficiency and flexibility during the first 30 to 40 days after planting. This timeframe is critical for insect control, and Thryvon cotton allows farmers to eliminate or reduce timely insecticide applications at those locations. 
Reisig said, "It can be difficult to be timely with insecticides when farming across a large span of farmland with limited equipment. Weather can also be an issue, and ThryvOn provides growers with some flexibility to do some things they were not able to do before." 
Dabbert added, "If it is cool and wet early in the growing season, you can't get a sprayer across the cotton field but those thrips are out there feeding. When the thrips protection is built in the plants, you don't have to worry about that." 
Thrash added that another benefit of the the built-in protection is elimination of chemical wash-off issues and any insecticide loss caused by a big rain. 
Recommendation changes 
Researchers say more data is needed before plant bug thresholds are adjusted for Thryvon cotton. Thrash described a study he conducted to investigate feeding habits of tarnished plant bugs. This study was steered by observations in smaller research plots where ThryvOn cotton retained twice as many squares as non-ThryvOn cotton. 
"For these studies, we caged plant bugs on both Thryvon and non-ThryvOn cotton. Even when the plant bugs had no option but to feed on the Thryvon cotton, the technology was providing a benefit. We still only lost half as many squares on the Thryvon cotton compared to the non-Thryvon cotton," Thrash explained. 
This gives him hope that the scenario will remain true on a typical farm acreage scale.  
It also presents questions about plant growth regulator (PGR) recommendations for ThryvOn, because greater square retention gives rise to a more vigorous, early maturing ThryvOn crop. 
Raper has seen this firsthand in Tennessee with defoliation nearly a month earlier on some cotton acres, and he attributes this to huge adoption of ThryvOn technology in the state. 
"We are ahead, and part of that is clearly because 40 to 50% of our cotton acres are ThryvOn varieties this year. We lose less to thrips damage at the beginning of the season, and the crop is fruiting earlier than usual," Raper said. 
Finally, panelists said cheaper insecticide options are being investigated to determine if they provide the same percentage of plant bug control on ThryvOn cotton as compared to more expensive alternatives. 
No doubt, ThryvOn technology brings a positive impact to cotton management. Raper said, "A trait like this is a big investment and the cotton industry is very grateful for the commitment Bayer made to the commodity in bringing this technology forward." 
Subscribe to receive top agriculture news
Be informed daily with these free e-newsletters
You May Also Like
---