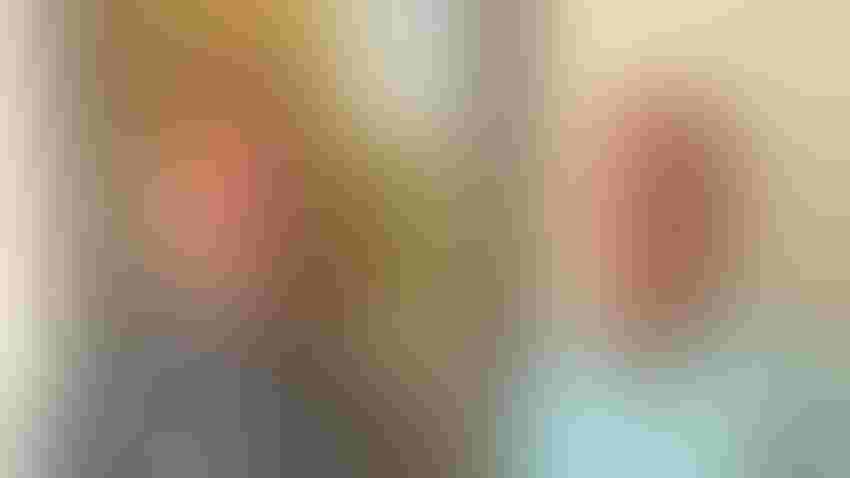 Dave Ruppenicker, left, joins Jim Davis at the office of Southern Cotton Growers in Dawsonville, Ga.
Dusty Findley/Southeastern Cotton Ginners Association
At a Glance
Back in 1980, a bag of cottonseed was $25, and you bought it by the ton.

Cotton farmers in Louisiana had voted down a referendum that would fund the boll weevil eradication program in the state.

Proudest career moments was work on the 2002 farm bill that created base acres for cotton returning to the Southeast.
Dave Ruppenicker has held three jobs since beginning his career in 1980 at the Louisiana Farm Bureau Federation. In all of his roles, Ruppenicker has maintained the same mission: being an advocate for farmers. 
Ruppenicker will retire as CEO of Southern Cotton Growers on December 31, after more than 23 years of service to the largest cotton farmer association in the country. Ruppenicker went to work with Southern on Aug. 1, 2000, moving his family from his home state of Louisiana to Dawsonville, Ga, where Southern Cotton Growers is headquartered. 
Ruppenicker says the cotton industry has become a second family. "I have stayed with many of Southern's board members at their homes. Cotton farmers are unique and special." 
For nearly seven years before joining Southern, Ruppenicker worked in the heart of Louisiana cotton country in Monroe, where he was CEO of the Louisiana Cotton Producers Association, the Louisiana Cotton Ginners Association, and the Louisiana Independent Cotton Warehouse Association. Ruppenicker was the first staff person hired to lead the three organizations. 
Prior to that, Ruppenicker worked in commodities and legislative affairs for the Louisiana Farm Bureau in Baton Rouge for 14 years. When he joined Farm Bureau in 1980, after earning master's degrees in agriculture business and biology from Southeastern Louisiana University in Hammond, he worked in sugarcane.  
Craig Brown, who was in cotton for the Louisiana Farm Bureau, left to join the National Cotton Council in Memphis, so the opportunity to work in cotton was offered to Ruppenicker.  
Ruppenicker's father, George Ruppenicker, 95, is a retired textile scientist. He worked in cotton fiber quality for USDA's Agricultural Research Service in New Orleans for 40 years, before retiring in 1993. He now lives near his son. 
"Before my dad retired, I went to a couple of Beltwide Cotton Conferences where he made presentations. He was on the textile research end of cotton, and I was on the grower production end of cotton. It wasn't intentional for me to work in cotton, it was fate, I guess," Ruppenicker says. 
Evolving industry 
Ruppenicker has seen tremendous changes in the cotton industry. 
"Back in 1980, a bag of cottonseed was $25. Back then you bought it by the ton, you didn't buy it by the bag. Today, a bag of seed is upwards of $700," Ruppenicker says. 
Biotech cotton seed, which offers greater yields, as well as better insect protection and weed management options, contributes to the higher price, he says. The launch of improved, biotech cotton seed in 1996 may well be one of the most significant changes and improvements for cotton farmers. 
Farm policy has also changed drastically since the 1985 farm bill, the first farm bill Ruppenicker worked on in his career.  
"That's where they instituted the marketing loan program for most title I commodities. That was also the advent of sodbuster and swamp buster which put a stop to busting out any highly erodible lands or any wetlands. They are still in effect as of today," Ruppenicker says.  
"Back when I first started, four out of five bales produced in the U.S. stayed in the U.S. because we had a very vibrant textile industry back then. But over the years, because of the advent of NAFTA, and other things too, our textile industry started moving south of the border. Today, for all practical purposes, we basically export 100 percent of what we produce."  
Boll weevil
It could be argued that the biggest change that came to the cotton industry during Ruppenicker's career was the boll weevil eradication. Ruppenicker credits the leadership of the cotton industry for launching the program.   
Cotton farmers in Louisiana had voted down a referendum that would fund the boll weevil eradication program in the state. This concerned the leaders of the Louisiana Cotton Producers Association who knew the program was a must in Louisiana to rid the state of the boll weevil. 
"It was our turn in Louisiana to vote the referendum in so we could rid the United States of the boll weevil. That first time, the referendum failed in Louisiana, even though it was proven that 10 states eradicated the boll weevil because of the boll weevil eradication program," Ruppenicker said. 
Despite this, academics and crop consultants questioned the boll weevil eradication program, mainly due to the cost it would bring to Louisiana cotton farmers. "People were working against it. There was no way that a referendum that would cost $30 an acre over five years ($150 total) was going to pass," Ruppenicker said. 
But thanks to a cooperative lobbying agreement with both the horse racing industry in Louisiana and the Louisiana Association of the Blind, as well as the support of then Louisiana Gov. Mike Foster, a sugar farmer, the Louisiana Cotton Producers Association was able to obtain $50 million in cost share funding from the Louisiana Legislature for the boll weevil eradication program in Louisiana during the 1998 session of the Louisiana Legislature. 
The coalition of the three different interests worked. Ultimately, Louisiana cotton farmers passed the referendum to fund boll weevil eradication in the Bayou State. 
"We were able to eradicate the boll weevil, and the rest is history Now, the Rio Grande Valley is the only place you can still find the boll weevil, so it all worked out pretty well," Ruppenicker says. 
Farm Bill
Ruppenicker says one of his proudest career moments was his work on the 2002 farm bill that created base acres for all the new cotton acreage returning to the Southeast since the boll weevil was eradicated.  
"This accomplishment continues to give, resulting in twice as many generic base acres in the 2014 farm bill," Ruppenicker says. 
"Cotton came back with a vengeance. A lot of the cotton that was planted didn't have any base. If prices were low, and potentially payments were made available, only about half of the cotton was eligible for it. The other cotton acres didn't have base and even though it cost just as much and they lost just as much, it was not eligible for any of these support payments," Ruppenicker says. 
Leaders of Southern Cotton Growers worked with then-Congressman Saxby Chambliss of Georgia, the chairman of the general farm commodities subcommittee of the House Agriculture to change the 2002 farm bill to allow for an update of base acres for cotton in all six cotton-producing states in the Southeast. 
Ruppenicker says Southern Cotton Growers, the largest cotton producer organization in the country, remains a credible and effective voice for the cotton farmers in the six Southeast states, Alabama, Florida, Georgia, North Carolina, South Carolina, and Virginia, that fund it.  
'In good hands' 
Ruppenicker says Southern Cotton Growers is in good hands with its next CEO, Jim Davis, a fifth-generation cotton farmer from New Market, Ala. Davis came on board with Southern on Oct. 1 and officially became CEO on Jan. 1. Davis will be Southern's fourth CEO since the organization's beginning in 1964. 
"Jim brings a lot of positive attributes to the job. He's very well qualified. He's been with the National Cotton Council for 30 years working in the region, so he knows the leadership," Ruppenicker says.  
As for retirement, while Ruppenicker plans to stay part time with Southern a few months into the new year, he hopes to do more hunting, fishing and household projects. With wife Regina Shawn, Ruppenicker has four children and three grandchildren, all within a two-hour drive from their home in Gainesville, Ga, so he plans to spend more time with his family as well.  
"Hopefully whatever I do moving forward, I'm hoping it's going to be meaningful to somebody. I want to give back, whether it's to the cotton industry, or missionary work, whatever.  I'm going to continue to try to be a good citizen," Ruppenicker says.  
Subscribe to receive top agriculture news
Be informed daily with these free e-newsletters
You May Also Like
---