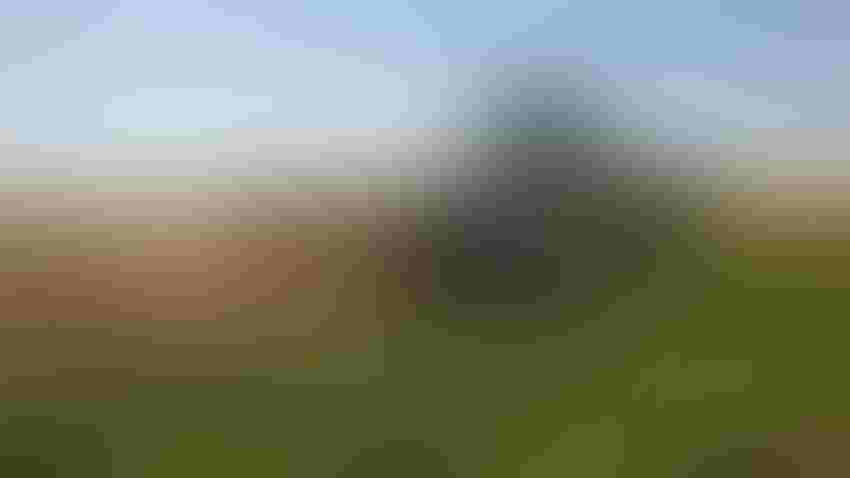 Crop rotations like cotton and peanuts can help with nematode management but it has its limitations, specialists say.
Shelley E. Huguley
Nematode infestations are not as obvious as armyworms, thrips, or fleahoppers, but the damage they cause to numerous crops can be devastating. Farm Press called on Extension and Research pathologists From Texas to Georgia to ascertain the damage nematodes can cause, the symptoms to look for in-season, sampling recommendations, and management options. Also, new research seeks to find more varieties resistant to nematode damage.
Resistant varieties top the list of management options for several nematode species, but rotation and chemical treatments also play a role, say Research and Extension pathologists across the Sunbelt.
"The main thing for a grower who has a nematode infestation in one field or in many fields is to do something to protect the coming crop," says University of Georgia Extension Plant Pathologist Bob Kemerait, Tifton.
"If you're going to fight them, and you should, you have to get it right before covering the seed. There aren't many options after the furrow closes."
Options depend on the crop, availability of resistant varieties, and the nematode species present.
Resistance best option
"Resistant varieties are the best answer for both root-knot nematode and reniform nematode in cotton," said Texas A&M AgriLife Plant Pathologist Terry Wheeler, Lubbock. "We have good choices with Deltapine, PhytoGen, and BASF for root-knot nematode, and Deltapine and PhytoGen for reniform nematode resistance."
The key crop for Arkansas farmers is soybeans, says University of Arkansas Division of Agriculture Plant Pathologist Travis Faske, Lonoke. "So for us, the best choice you have with soybeans when you get a serious nematode problem is resistance.
"The seed industry is starting to recognize that need," Faske added. "For years, we've had limited sources of resistance. And the maturity groups may not be the ones we like to grow. So, soybean farmers are kind of limited." He tests varieties every year, analyzing resistance. "We provide updates from Extension on our blog website and on Twitter. Farmers can use that information to select varieties for areas where they know they have a serious problem.
"We could always use more resistant varieties," he said.
He added that seed production for resistant varieties is not always a guarantee. "Each year we look at varieties marketed as having resistance. Some of them hold up, many do not."
Rotation
Crop rotation offers another option but also has limitations. Some farmers will not be set up to produce some non-host crops, for instance. And some nematode species infect multiple crops.
"The southern root-knot nematode species on cotton does not go to peanut, while the peanut root-knot nematodes do not go to cotton, so that is a good rotation," Faske said.
"Corn is a very good host for the southern root-knot nematode, so corn is a bad rotation crop with southern root-knot nematode, but it is a good one for reniform nematode. 
"Sorghum is a moderate to good host for southern root-knot nematode but a non-host for reniform nematode. So, for the cotton root-knot nematode, peanut is one of the only rotation choices, while for reniform nematode, grain crops like corn and sorghum are good rotation crops."
Faske said nematodes that infect multiple crops pose significant problems. "In the Mid-South, we never rotate out of root-knot nematodes. If a farmer plants soybeans, corn, or grain sorghum, they're all hosts. Although they're diversifying by planting a different crop, those crops are susceptible."
He said some farmers will assume they have rotated out of root-knot infections and will plant corn for a couple of years and come back to soybeans and their soybeans start dying. "They wonder why. It's usually a root-knot issue.
"Corn would be a non-host for Reniform," Faske said. "Peanut would be a non-host and any of the grass crops."
He added that technology may also limit variety choices, especially with dicamba-resistant crops. Some of those varieties might not carry nematode resistance.
Species identification
Knowing the nematode species is crucial.
"You can plant peanuts or corn if you know you have a problem with reniform nematodes," Kemerait said. "Crop choice and nematode species may dictate planting decisions."
If rotation and resistance are not viable options, effective chemistry is available.
"Producers have several choices for chemical treatments," Wheeler said. "Those include seed treatment nematicides; liquid at-plant, in-furrow treatments; granular, at-plant in-furrow treatments; and over-the-top products, once the plant is 25 to 35 days old."
She cautioned that chemical products need adequate rainfall or heavy irrigation to move the chemistry into the soil profile. 
Kemerait said if producers do not have good rotation or resistant variety options, chemistry is the next best.
"They can fumigate with Telone or apply a granular, liquid, or seed treatment," he said.
Which is better? It depends on several factors.
"Telone provides the most absolute efficacy, but producers need to look at cost and the level of nematode pressure. With heavy pressure and a non-resistant variety, the expense of Telone could be justified."
For moderate pressure in a cotton crop, Kemerait says AgLogic or Velum could be effective to protect yield and profit. A seed treatment is also a possibility for light infestations. "For moderate pressure in a peanut crop, recent research indicates that Vydate CLV may also be an effective tool for growers, in addition to AgLogic and Velum.
"The best choice depends on the level of nematode infestation and what a grower is equipped to apply. Some might have no equipment for granular, for instance. The best option is one he's able to apply properly to the specific nematode species."
Faske said seed treatments have limitations.
"I don't think they're utilized a lot because by the time a farmer sees that he has an issue, it's pretty serious, often to a point where seed treatments will not be as effective."
Chemical options are pretty limited for soybeans, Faske said. "We could use a really good nematicide."
Awareness, all three pathologists say, is crucial in preventing nematode losses. Sampling for nematodes should be a critical part of management.
Subscribe to receive top agriculture news
Be informed daily with these free e-newsletters
You May Also Like
---