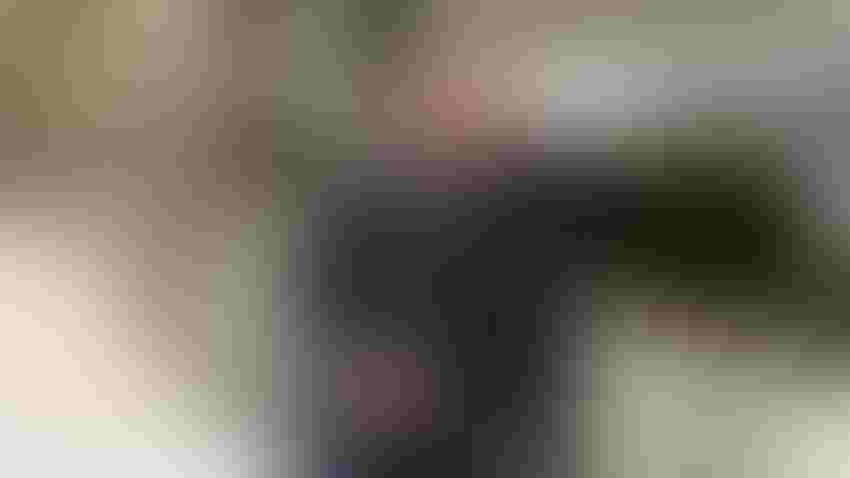 Calloway's family has been in the ginning business since 1951.
Brent Murphree
This article also appears in the 2023 Mid-South Farm and Gin Show program. The farm and gin show takes place in Memphis at the Renasant Convention Center on February 24 and 25. Admission is free, but advance registration can be made at: www.farmandginshow.com
Tom Calloway, outgoing president of the Southern Cotton Ginners Association, started his visit with Farm Press by saying, "If you don't like the weather in the Delta, just hang on. It will change in a minute."
He was speaking of a series of storms that had rolled through the area in early December, but it was a great analogy for the cotton environment in the Delta in 2022 and during his term as the association's president.
Calloway, who is the gin manager at Rayville Producers Gin, in Rayville, La., spoke about the uncertain year for his ginning operation, as well as the ginning industry at large.
"There was a great learning curve," Calloway said. "Things kept changing. We were faced with higher insurance premiums, higher electrical costs and natural gas costs."
He also noted that it was hard to keep labor on hand.
"They just didn't want to stay hooked up and engaged," he said.
August rains
Then there was the actual weather. A cold, wet planting season was followed by a warm dry summer. The crops looked good until rain hit in August, continuing for an extended time and leading to some major crop losses in Louisiana.
"The guys that got it in earlier were the ones that got hurt bad," he said. "They got hit when the cotton was starting to open. The guys who planted later weren't hurt as bad."
Calloway equated it to roughly a 20% yield loss for cotton growers who gin at Rayville Producers Gin. For some individual cotton operations, it was much worse. Soybeans were also hit hard, with some fields sustaining total losses.
Following the rains and into harvest the growers in the region worked through a mostly dry and warm picking season.
"By the time growers could get back in there and go to picking, we probably had one of the driest picking seasons that I've seen," Calloway said.
Safe ginning season
For other cotton ginners in the region, that translated to a relatively successful and safe ginning season, which is an overreaching goal of Calloway.
He is a third-generation cotton ginner and doesn't plan on stopping anytime soon. You can tell he honestly loves his job.
He has brought value and productivity to the operation at Rayville, increasing the capacity and customer base of the grower-owned gin.
"I'm a gin manager," he said. "It's my job to keep working on efficiencies in the gin and to help hold the cost of production down."
And that's also a mission of the ginner's association – helping Midsouth gins operate more effectively to increase their bottom line.
"He's sort of a generous ginner," said Tim Price, executive vice president of the Southern Cotton Ginners Association. "Tom practices what he preaches, that is he believes in an up-to-date gin. He is investing all the time in newer and safer technologies."
In Calloway's role as association president, Price notes that he took the time to visit many of the gins and gained respect for his leadership abilities related to the association activities.
"Tom is a busy man who took volunteer time away from his gin," Price said."I saw his leadership abilities, which expanded in a broader sense into the industry, and he has really gained respect in that expanded role.
Calloway has said that he thinks his term as president has gone pretty smoothly and he has enjoyed his term. He gives much of the credit for that to the staff of the association.
"With Tim Price at the helm, he's a very thorough guy," Calloway said. "He is always calling and making sure things are running well. I kept asking, 'What to I need to do?' He'd tell me, 'We're doing alright.'"
Association meetings
The many association meetings that are held throughout the year – board meetings, district meetings, the summer meeting and safety meetings – went smoothly considering the pandemic issues of previous years.
"I got to make all the district meetings except one," Calloway said. "I got to go visit some of my counterparts at their own gins. It was really a joy to go see them, see how they were doing things and see how things were done differently in parts of the Midsouth."
William Lindamood, safety director of the Southern Cotton Ginners Association, noted Calloway was very engaged with the ginners in the Midsouth while traveling during his term.
"He visited with some of the local ginners before and after those meetings," Lindamood said. "He really made an effort."
Calloway has served on the association's safety committee, speaking with Lindamood on a regular basis and offering input.
The opportunity to travel gave Calloway an insight into the operations of the gins outside of northern Louisiana.
"In a lot of ways, we had a lot of the same trials, but different regions have different approaches," he said. "That was good to see."
The association's 2022 annual summer meeting was held in Muscle Shoals, Ala., for the second year in a row.
"It was a really good meeting," he said. "We had some good, informative speakers."
Hot topics
The hot topics at the meeting included insurance, labor and cottonseed size. Calloway stressed how important it is that the speakers presented ginners information that benefits the business side of their ginning operation.
"We have to be better at getting our gins more efficient to stay in business," he said. "At the summer meeting that Tim and his team pulls together, the information helps with that, and I think we all benefit from it."
Calloway is excited to get to the gin show this year. It is an opportunity to see the new technology, visit with old friends and see folks he only sees once a year at the show.
"It's a great show," Calloway said. "Tim Price and his staff put a lot into the show, and it's been a tough couple of years.
"We've settled out of Covid a little bit, and we've settled out of that transition into the new building. We've got to get people reconnected to the show and my expectation is very high. It's going to be a good, I mean great show."
Overall, Calloway enjoyed his year as president of the ginners' association and the opportunities it has given him.
"I've been in a cotton gin 40 years," he said. "And I have really been honored by being able to be the president of the Southern Cotton Ginners Association. It was kind of on my bucket list and it's a great group of people.
"My family has been in the ginning business since 1951, in Bosco, La. The first gin I ran could produce 12 bales an hour. The one I'm running now can produce 75. That's like jumping from a one-row picker to a six-row bale picker. There's no comparison. It's great to have come from that."
Subscribe to receive top agriculture news
Be informed daily with these free e-newsletters
You May Also Like
---