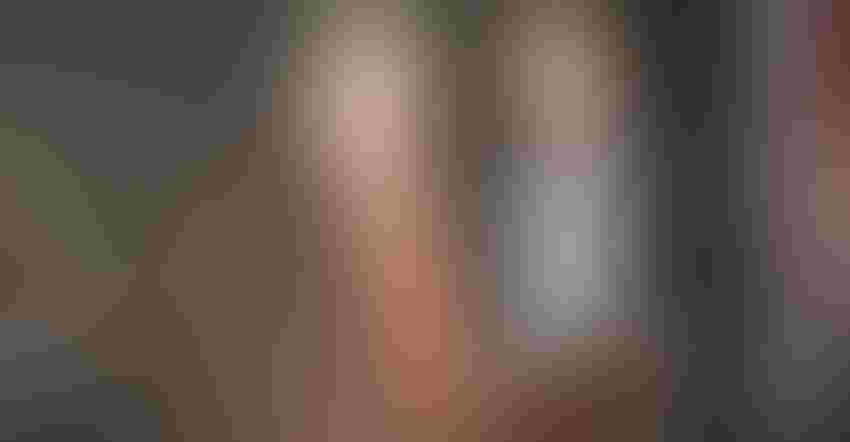 Allen King, left, a producer from Brownsville, Tenn., accepts a plaque from Boyd Barker, BWEP administrator, Tennessee Department of Agriculture, commemorating King's 26 years of service as chairman of the Tennessee Boll Weevil Eradication Foundation and board of directors.
Brad Robb
The Lower Rio Grande Valley (LRGV), a four-county region on the southernmost tip of the Lone Star State is the most talked about region for boll weevils in the country and has been named by the Boll Weevil Action Committee a national buffer zone for the entire Cotton Belt.
Speaking at the 2019 Cotton Focus Meeting at the West Tennessee Research and Education Center in Jackson, Tenn., Jim Brumley, executive director of the Boll Weevil Eradication Program (BWEP) since 1995, turned heads when he told the crowd, "Last year, 93,000 boll weevils were trapped in the valley. The year before, a third of that number were trapped."
He intended his comment to be a little scary. He also shared news that 300 weevils were captured in pheromone traps around cotton fields on the outskirts of the Corpus Christi area. "That's 100 miles north of the LRGV — and 100 miles closer to you! In 2006, over 3.5 million weevils were caught in that area, and while numbers trapped since that time have gone down, they have hit a plateau and the program's effectiveness has become almost stagnant."
Over 870,000 acres of cotton were treated for boll weevils last year in the RGV where 40 percent of the cotton acreage is still infested with boll weevils. "Spraying that 40 percent of infested cotton cost $14 million," says Brumley. "I don't have any news or data that indicates that cost could go down anytime soon."
Mexico and management
Twice as many boll weevils were trapped in Mexico last year as compared to the year before — 27,000 versus 56,000 in 2017. "In many respects, the future success of our eradication efforts here in the U.S. lies in the hands of the eradication program in Mexico," explains Brumley. "Cotton fields in Mexico are just across the Rio Grande River and continue causing headaches for our growers in Texas."
Five years ago, U.S. growers started paying 50 cents an acre for BWEP assessments. During that five-year contracted period, the assessment was lowered to 25 cents. Today, that money ($15 million) is still in the bank and controlled by the Boll Weevil Action Committee Protection Fund.
"Texas has not drawn from those funds because they've been blessed to receive $7 million a year of state money," adds Brumley. "But, when that $7 million is gone, that $15 million won't last long when you consider the costs associated with current eradication efforts."
Brumley says he gets frequent questions about the apparent lack of effectiveness by the eradication program in Mexico. In addition to the 22,000 acres of cotton in Mexico, there also seems to be sizeable numbers of voluntary and/or wild cotton growing on roadsides and creek banks according to Brumley. "They do seem to be doing a little better job controlling this, but this is yet another influence hampering the eradication efforts on both sides of the river."
Texas state officials have quarantined the Rio Grande Valley, and any custom harvesters from that area trucking equipment out must be granted a permit before leaving that region.
"I know most of you saw the article in the Delta Farm Press about the two weevils trapped on a rural backroad around Batesville, Miss. When we got word of that, we followed our protocols and set up traps every 350 feet around all cotton fields within a 2-mile circle of where they were found," says Brumley. "We checked those traps all the way up until Christmas and had no additional weevils."
Ornamental cotton grown for decoration or education must have a pheromone trap in its proximity. "This type of cotton is grown in many of our Cotton Belt states," adds Brumley. "If you know someone is growing it, please let us know and we'll get out there and place a trap."
Another area of concern is the state of Kansas. With 165,000 acres of cotton in 2018 and a 3 percent increase (based on the NCC's Planting Intention Survey) planned for 2019, Brumley sees this as an impending problem. "They have no formalized program and that's a recipe for trouble."
Tennessee Referendum nearing
Based on the rules and regulations governing the Tennessee BWEP, a continuance referendum is to be conducted every 10 years. Producers must go into their local Farm Service Agency (FSA) offices to cast their votes. The referendum will be conducted from March 11 until March 22. "Ballots will not be mailed, so I encourage all cotton producers to make an effort to visit their FSA offices and vote," says Brumley.
Tennessee producer Willie German took the podium and reinforced the horrendous impact boll weevils had on cotton production before the BWEP started. "We would have to take whisk brooms and sweep thick blankets of weevils from the radiator screens of our pickers," says German.
"We want you to know how important it is to keep this buffer zone intact and help those growers in Texas so they can continue their eradication efforts to keep weevils as far away from us as possible."
Brownsville, Tenn., producer Allen King was recognized at the end of the Cotton Focus Meeting for the decades of leadership and service he dedicated to the BWEP not only in Tennessee, but across the Southeast. "He has been a great leader for us, and his efforts should be applauded and never forgotten," concluded German.
About the Author(s)
Subscribe to receive top agriculture news
Be informed daily with these free e-newsletters
You May Also Like
---