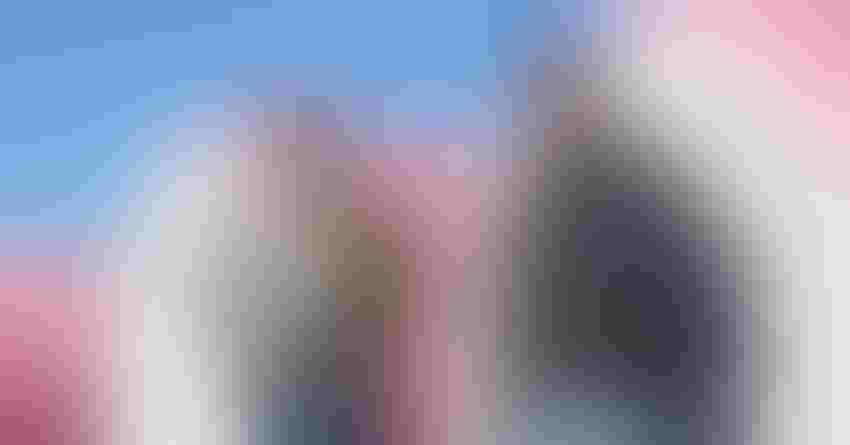 Mississippi farmer Gary Bailey, along with independent consultant Tim Sanders and Mississippi State University are the 2022 recipients of the Mid-South Farm and Gin Show's Ag Achievement Award.
Ginger Rowsey
Mississippi farmer Gary Bailey, along with independent consultant Tim Sanders and Mississippi State University are the 2022 recipients of the Mid-South Farm and Gin Show's Ag Achievement Award.  
The award recognizes farm families who work with land-grant universities for their contribution to research and support of the commercial viability of innovative farming operations. 
"Here we have an example of a producer, a consultant and university researchers working seamlessly to tackle farming challenges," said Tim Price, executive vice-president for the Southern Cotton Ginners Association and show manager. 
Bailey and Sanders have worked closely with MSU research and Extension specialists for years, starting in the early 2000s at the onset of the resistant weed epidemic. Bailey's farm in Tunica, Miss., was an early hot-spot for glyphosate-resistant marestail and Palmer amaranth. 
"About 16 years ago we had a couple clumps of Palmer amaranth that we knew we had sprayed with Roundup, but they survived," Bailey recalled. "My consultant, Tim Sanders was the first to recognize that we had an issue." 
Sanders added, "My first call was to someone at Mississippi State. I knew they could confirm if the weeds were resistant." 
Sanders dug and bagged the weeds himself and delivered them to MSU specialists. They were confirmed to have resistance. Bailey's farm, located in a hotbed for resistant Palmer amaranth, was considered a natural laboratory for scientists as they scrambled to find solutions to this superweed. 
Farmer-university partnership 
Bailey partnered with MSU to do multiple herbicide trials, application timing trials, equipment trials, and more. Working with the university to conduct on-farm trials required a great deal of coordination and effort, but Bailey saw it as a beneficial partnership. 
"Having them come on the farm and do the studies helped us figure out which tools could be incorporated to manage this weed," Bailey said. "It saved us some money on trying things that weren't going to work, and I felt they put us on the front end of getting ahead of the most prolific weed in the Mississippi Delta." 
No doubt Bailey's willingness to share his land for research helped many other Midsouth farmers, too. 
"We have worked closely with Tim Sanders over the years on a variety of issues related to herbicide-resistant weed management," said Jason Bond, Extension weed scientist with Mississippi State. "We first discovered glyphosate-resistant Palmer amaranth in Tunica County, and Gary was an early adopter of the management programs designed by Mississippi State Extension to address that problem. Farmer-university partnerships are vital because the information flows both directions.  The farmers and consultants help us identify and prioritize problems.  Hopefully, in turn, we help them identify solutions to those problems." 
Since the first on-farm trials, Bailey has continued working with the university on numerous other projects, including a recent study evaluating irrigation scheduling technology. 
Farming in the Delta 
Bailey and his family — wife Lee, father-in-law Brad Cobb, brother-in-law Bradford Cobb and mother-in-law Brenda Cobb — farm across Tunica County. Cotton is their largest crop. 
"Cotton has been the mainstay," Bailey said. "Even in years where it was down, we hung in there and stuck with it. Cotton has been really good to us." 
"We have diversified in the past 15 years into rice and soybeans. Corn is in the mix at times, too, but our biggest crop by far is still cotton," he added. 
"Cotton has a personality," Bailey continued. "Especially compared to the other crops we grow here in the Midsouth. Cotton goes through all these physiological changes from pinhead, to flower, to boll. In the beginning, you're working so hard to protect the plant, and at the end of the season you're having to shut it down. It's a challenge to grow cotton, but it's a fascinating crop." 
One thing Bailey said he has learned through his work with the university specialists is the importance of keeping his fields free from weeds. Even if that means using "cold, hard steel." 
"A lot of people put their plows in the sales … we put them in the weeds," Bailey said. "We realize that's a practice for emergency situations. It's not something we want to do, but we can do it when we have a weather event that gets us behind." 
"That is something a lot of people have gotten away from, but it keeps his crop clean and allows him to maintain his weed control," Sanders said. 
Bailey didn't grow up on a farm, but he has been scouting cotton since before he had a driver's license.  
After graduating MSU in 1999 and marrying his wife, Lee, he joined the family farm. He counts his father-in-law, along with Cobb's late uncle, Dutch Parker, as his farming mentors. 
"If I had any advice to give young farmers it would be listen to the people who came before," he said. "Listen and listen good. Anyone who's been there and been successful, you pick those people out and be close to them." 
His next piece of advice is having a good relationship with a consultant and the land-grant university. 
"A hard-headed person can go out and spend a lot of money without having positive results. Taking research results to heart and keeping open lines of communication with your consultant are best practices," he said. 
Communicate with consultant 
Bailey has a good working relationship with his consultant, Tim Sanders of Sanders Ag Consulting. He estimates they speak by phone twice a day during the crop season. Sanders looks at the cotton crop twice a week. 
"Gary is a very proactive farmer," Sanders said. "If I say, 'Gary, I think this field needs to be sprayed,' it's not going to be a week later that it gets done. He's probably going to beat me off the farm getting to the field to do it. That's important for maintaining clean fields." 
"If I'm not done with his first report when his second report comes out on Thursday, I'm not doing a good job," Bailey said. It's that proactiveness that keeps us on the same page. It makes both our jobs easier to have that trust and communication. I let him know every time we finish a report. One, for safety and two we don't want to get ahead of ourselves." 
"Trust has to be there between the farmer and consultant for this partnership to work," Sanders added. 
Sanders has been scouting crops for nearly 30 years. He's owned his own consulting business since 2003, servicing Tunica County and surrounding areas. Sanders often acts as the link between the farmers he serves and university specialists — sharing reports from the field and finding answers for the more difficult challenges. 
"The relationship with the university is huge. They are constantly testing things that apply to you or will apply to you in the near future," Sanders said. "It's important to be open to the research and be humble enough to try a new idea." 
Subscribe to receive top agriculture news
Be informed daily with these free e-newsletters
You May Also Like
---