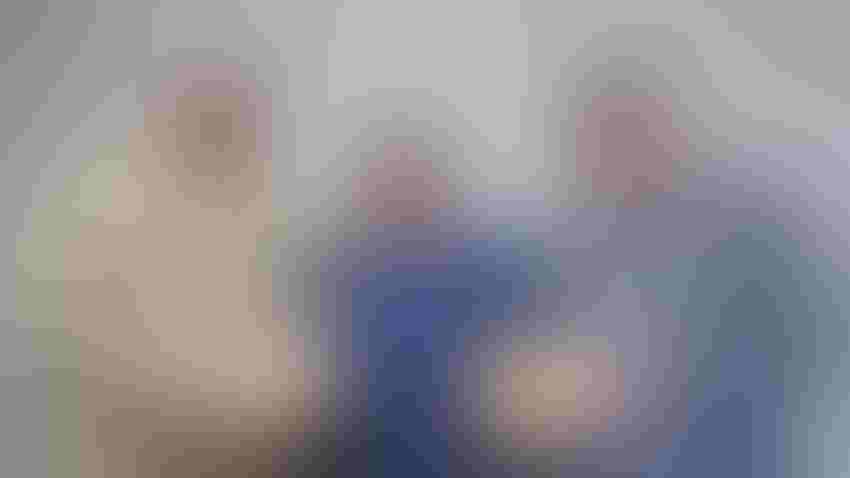 Stoneville Legacy Club recognized Arkansas farmers Wade Spikes (left) and Wythe Spikes (right) for achieving top cotton yields in the North Delta region. Shannon Bentley (center) encouraged their entry in the BASF program.
Whitney Haigwood
At a Glance
The BASF Stoneville Legacy Club celebrated 34 qualifying entrants for high yielding cotton achievements.

Spikes Brothers Farm Partnership in Monette, Ark. took top honors in Arkansas and the North Delta region.
BASF has recognized high-level cotton production through the Stoneville Legacy Club since 2016. This past March, 34 qualifying entrants were celebrated for their outstanding yields in 2022. Out of 179 total entries, Spikes Brothers Farm Partnership in Monette, Ark., took top honors, not only in Arkansas but also in the North Delta region.  
Brothers Wade and Wythe Spikes ranked fourth out of all winning entrants, ringing in with a yield of 2,026 lint pounds per acre. They were recognized with award plaques and sportscoats, distinguishing them as first-time winners in the Stoneville Legacy Club. 
Shannon Bentley, Agronomic Solutions Advisor at BASF, noted that another part of the prize package included a trip for two to Henderson Beach Resort in Destin, Florida, which the Spikes brothers politely declined. 
Bentley said with a smile, "Wade and Wythe are super great guys with a growing and successful operation. They were honored to receive the award, but they were not looking for that kind of recognition." 
Spike Brothers Farm Partnership 
Wade and Wythe have lived their lives centered around agriculture, but only recently began farming together in 2020. They mostly grow cotton on their northeast Arkansas farm. Corn and a few acres of peanuts are also grown on their acres. 
For the Stoneville Legacy Club, the Spikes brothers achieved their award-winning yields with Stoneville cottonseed variety 4595 on center pivot irrigation. 
"It was a good crop," Wade said. "We are mostly irrigated on our farm, so we made it alright through the drought." 
Shannon noted that this was the first year for Stoneville 4595, with limited supply and a soft launch to bring the variety to market. He described the Bollgard 3 XtendFlex variety as showy, with medium height and early to mid-season maturity. The cotton stays in the boll well, and the crop is easily managed with little plant growth regulator.  
"Stoneville 4595 is the latest and greatest, and since it is an early to mid-season variety, we had a little more time to open up that top crop and the late rains helped with those money bolls toward the end of the season," Shannon added. 
Wade and Wythe said they could tell the field's potential to win, and with encouragement from Shannon, they entered the yield contest. 
Stoneville Legacy Club 
There are two categories in the Stoneville Legacy Club, irrigated and dryland. To qualify, farmers must plant Stoneville cotton on a minimum of 20 acres in any of the cotton-producing states.  
Applicants are grouped by region throughout the Cotton Belt, and winners are selected by harvested yields in the top 10% of the entries submitted from their state. Enrollment opens in the fall, and entry forms are required along with gin sheets to verify yield.  
The trip for two included in the prize package gives Stoneville growers an opportunity to network with other cotton producers, and the event culminates with a celebratory awards ceremony. Cotton producers in the Stoneville Legacy Club are awarded colored sportscoats, with brown going to first time winners and orange designated for multi-year winners. 
"Our growers expect a certain level of quality and performance from the cotton they grow, and we're proud to offer the kind of consistency and quality they're looking for with Stoneville cotton. The bonus is getting to celebrate those high-yield achievements with them in person through the Stoneville Legacy Club," said Justin Jones, cotton marketing manager for BASF, in a press release. 
Additionally, other cotton producers in the North and South Delta regions received top honors. These include: 
Newby Farms in Tennessee, ST 4595 B2XF irrigated, with 2,020 lint pounds per acre
Newby Farms in Tennessee, ST 4990 B3XF dryland, with 1,890 lint pounds per acre.
Mike and Les Sides in Missouri, ST 4990 B3XF dryland, with 1,503 lint pounds per acre.
To see a full list of winners across the Cotton Belt, visit the Stoneville Legacy Club webpage on the BASF website at Agriculture.BASF.us. A submission form is also available on their website for those interested in entering the contest in 2023, or you can contact your local BASF representative to learn more.
Subscribe to receive top agriculture news
Be informed daily with these free e-newsletters
You May Also Like
---