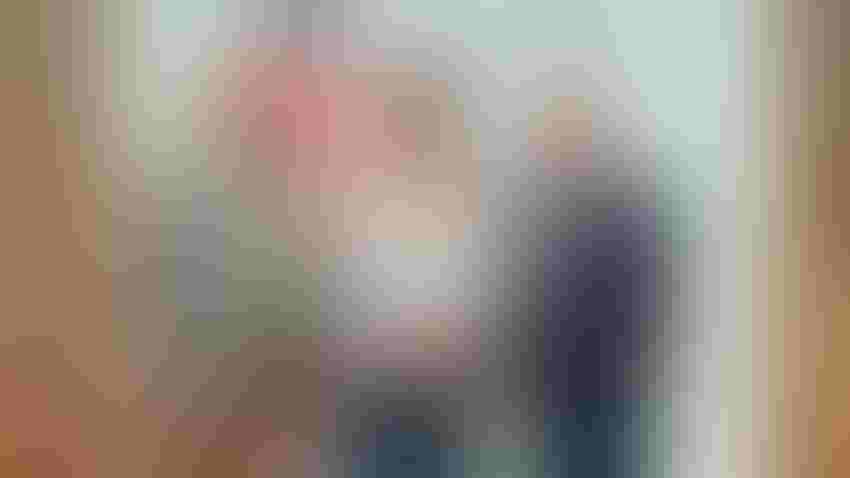 Jadee Rohner, center, was hired in January as the new executive director for the Arizona Cotton Growers Association. She is pictured here during the Arizona cotton industry's annual meeting with Arizona Cotton Growers Association President Jerry Rovey, left, and Arizona Ginners Association President David Hardin.
Todd Fitchette
Jadee Rohner has taken her passion for teaching high school ag students to a new level. She now uses that training and experience to educate policy leaders on behalf of Arizona cotton growers.
What started as a quest to become a veterinarian ended instead with a degree from the University of Arizona in ag education and a later job teaching agriculture to high school students in Gilbert and Payson, Arizona.
"I thought if I couldn't work with animals, the next best thing would be to teach about them," she said of the transition.
Rohner now educates politicians and policy leaders on behalf of the Arizona cotton industry as the new executive director of the Arizona Cotton Growers Association. The path from ag teacher to industry lobbyist wasn't a direct one, she admits.
Along the way she left the classroom and became an instructional specialist to teachers. She saw that as a path to furthering her administrative career in public education.
Rohner admits some soul searching began to challenge her thinking when a good friend and cotton gin manage mentioned a job opportunity right up her alley.
"After a few gentle pushes, I applied for it, and it was amazing," Rohner said of the interview process for the job she now holds with the Arizona Cotton Growers Association.
The Arizona cotton industry had been without an executive leader since early 2022 when Kevin Rogers, the association's chief executive since 2017, died suddenly. Several months of searching for a new leader came up dry for the association. Several conversations later between Rohner and some trusted friends, and Rohner's name became known among those involved with the search.
Her passion for teaching fits well in her new role as the association's chief executive responsible for, among other things, educating politicians and policy leaders on issues important to Arizona agriculture. As a teacher, she acutely understands that her own educational process, and the knowledge she's trying to impart, is much the same outside the classroom as within.
Rohner is also a lobbyist. She wears that hat on behalf of cotton farmers in the state.
"That's probably the area I have the most room to grow," she said.
It's been a whirlwind year for Rohner. Hired in January, one of her first objectives was to plan the annual Arizona cotton industry meeting in Flagstaff in May. That meeting typically draws over 100 industry representatives, including Arizona growers and ginners, and national cotton industry leaders.
Farmers face issues
Despite a reduction in cotton acreage across Arizona, there is no shortage of issues faced by cotton farmers and their ginning partners. Water availability remains at the forefront with her growers. In one example, even in the case of growers who have long employed efficient irrigation systems, they still don't have water because the district where this farmer grows cotton cannot effectively push a head of water to the edge of the basin where he farms.
Air quality issues look to be another concern for the state's cotton industry as regulators and political leaders push for changes. Efforts continue to build relationships between the state's cotton industry and those policy leaders. This includes discussions with political staff who regularly advise regulators and the governor.
"We're going to see PM10 and ozone with some of the air quality issues," she said.
"Pesticide regulations are going to be a struggle again as we have new individuals within our legislature who don't have a lot of experience with these," she continued.
She highlighted the recent ban in California of sulfoxaflor, a pesticide active ingredient banned in California because of its reported impacts on pollinators, including honeybees.
"Arizona's attorney general just signed off on a multi-state coalition about sulfoxaflor that was started by California's attorney general," she said.
Much like the school field trips she helped lead while teaching high school ag classes, Rohner is helping to spearhead tours and other events to educate those down to the political intern level about Arizona agriculture and how policy decisions can half long term impacts on farmers, cotton gins, and local businesses in the state.
Subscribe to receive top agriculture news
Be informed daily with these free e-newsletters
You May Also Like
---