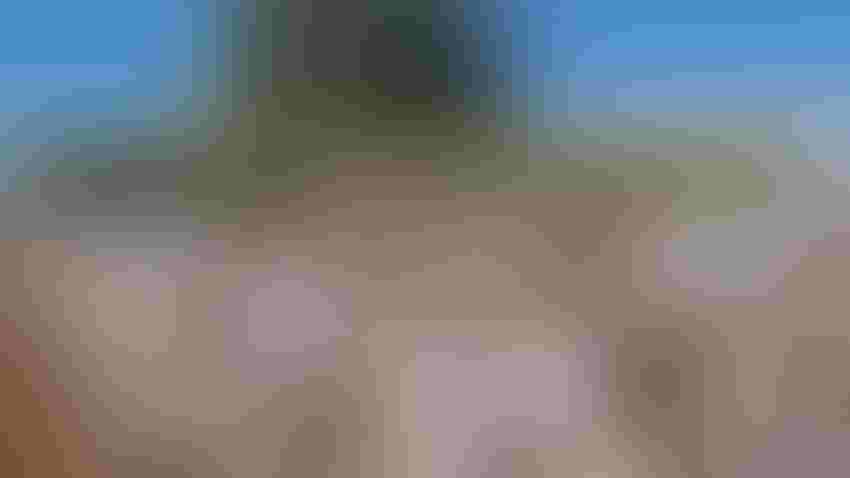 Texas cotton growers whose crops held on through recent weather could find strong prices during a summer of uncertainty, according to Extension Economist John Robinson.
Shelley E. Huguley
Texas cotton growers whose crops held on through recent weather could find strong prices during a summer of uncertainty, according to a Texas A&M AgriLife Extension Service expert.  
John Robinson, AgriLife Extension cotton economist, Bryan-College Station, said the 2023 cotton season will be the most uncertain he has ever analyzed. This uncertainty will likely make prices volatile until the market has a good estimate of how many cotton bales will be produced.
The uncertainty stems from the Jekyll and Hyde weather across Texas – the nation's top cotton-producing state – that has left early U.S. Department of Agriculture planting estimates in shambles, Robinson said.
Texas had been mired in drought, and producers were not hopeful entering the warm-season crop planting period, which started in South Texas in February and March and ends in mid-June in the Panhandle.
Producers became more optimistic after cotton was planted in South Texas, spring rains benefited the young crop and forecasts turned away from a La Niña pattern. But widespread rains that started around May 1 and consistently fell over the next month prevented many producers from the South Plains to Panhandle from planting cotton fields.
Fields that caught rainfall after producers planted seeds into dry soil delivered a mixed bag of results. Some stands emerged well while some young plants were drowned out by standing water and excess moisture levels in the soil, and some never emerged as the topsoil crusted over in the sun and heat following rains. 
Those issues were followed by severe storms that delivered flooding and widespread hail that damaged thousands of additional acres. One county in the Panhandle reported more than 5,000 acres of emerged cotton lost to hail.
Robinson said half to three-quarters of intended cotton acres in the Panhandle may not be harvested as cotton. Recent high temperatures have put cotton yields in South Texas in question. Temperatures in the upper 90s and exceeding 100 degrees arrived at a delicate time for cotton boll development. There were reports that plants were aborting bolls to survive, which could dramatically change the region's yield potential.  
"The weather has been strange, and how to aggregate the multiple factors that have created so many wrinkles of uncertainty is beyond me," he said. "Last year, it was drought, and we had a pretty good idea it was going to be bad, and the market could digest that information, but this is the most uncertain season I can remember."
Texas cotton crop creates uncertain market
The USDA estimated U.S. cotton acres to produce 16.5 million bales, based on prospective planting surveys earlier this year. Robinson said those surveys typically put the cotton estimate in the ballpark of what the overall crop result will eventually be.
Texas has around 55% of the national cotton production acres and produces half the U.S. crop in a good year and one-third in a bad year. In a normal year, Robinson said the upcoming June 30 acreage report by the USDA would adjust the prospective planting report up or down based on new information. But this year, the picture in Texas is wildly unknown. 
"It's always challenging to forecast production at the state level because Texas is so big, but this year is the absolute most uncertain because of the extremes the potential crop has been through," he said. "The USDA has probably not accounted for what has been lost. How big is the Texas crop? I have no clue."
Robinson said there is less uncertainty about cotton crops outside Texas other than delayed plantings along the Mississippi Delta due to wetness. Some analysts believe actual planted acres may be lower than prospective planting estimates in the Southeast and California due to historically high corn prices.
But there is no way to say losses in Texas might be made up elsewhere, he said. That uncertainty could lead to volatile cotton prices until September, when the USDA will have survey data from certified acres.
"Cotton prices have been below 80 cents per pound, and I would think this type of change would mark an increase in prices," he said. "I wouldn't be surprised to see cotton over 90 cents, but I would be surprised if it stayed there. I don't expect prices will be stable with this much uncertainty."
Growers can expect opportunity, volatile prices  
Uncertainty can drive price speculation, but speculation is likely to trigger roller coaster prices throughout the season, Robinson said.
Last year, three out of four cotton acres in Texas were not harvested, he said. The market reached $1.50 per pound in May and June before falling 50 cents and then rising again to around $1.15 per pound by late summer. Yet, when the 2022 crop production was clearer, prices settled down in the 80-cent per pound range.
Robinson said price increases are good news for Texas growers with crop potential. He doubts 80 cents per pound is a breakeven price due to inflation on inputs like seed, fertilizer, management chemicals and diesel.
Growers should lock in at prices they feel will be profitable for their operation, he said.
"The market will live with uncertainty all summer long, and there should be an opportunity or two for good prices," he said. "But you don't want to be holding on when the air goes out of the balloon."
AgriLife Extension district reporters compiled the following summaries: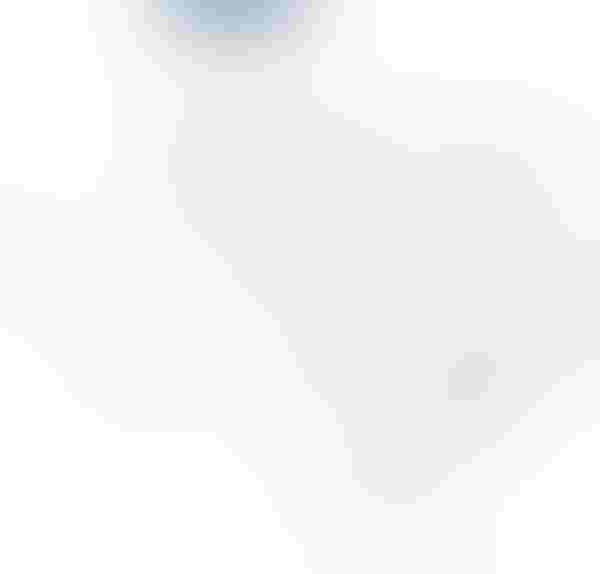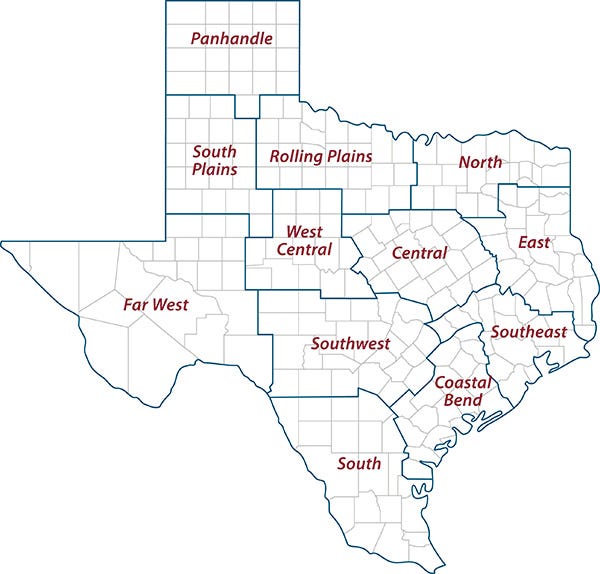 CENTRAL
Soil moisture levels were very short to adequate. Conditions were dry, with temperatures above 100 degrees. Strong winds and heavy rains did hit parts of the district. A line of storms delivered about 2 inches of rain within one hour and heavy, straight-line winds that caused extensive damage to trees and knocked out power. Winds also damaged corn fields. Spotty rainfalls were insufficient to curtail drought conditions. Corn silage operations began, while corn grain harvest was still about 45 days out. Cotton continued to set bolls, and some fields were starting to bloom. Insect activity remained high, with grasshoppers found in high numbers in all crops, while stink bugs increased in sorghum acres. Corn was rapidly drying down, mostly past the stage when precipitation could help yields.  Some late-planted corn will be unable to utilize the additional nitrogen fertilizer to fill the kernels. Corn stunted by excessive rainfalls in early development did not recover. Estimates were for an average crop, possibly the 75 bushels per acre with early planted corn fields that could approach the 125 bushels per acre, but there were many other fields heavily damaged by excessive rainfalls, which may yield as low as 30-40 bushels per acre. Sorghum was starting to color. Sesame was being dry planted. The limited acreage of mid-winter plantings of carinata was harvested, and yields were in the mid-20-bushel range. Expectations were for additional carinata acres to be contracted for fall plantings. Pasture conditions remained good for most producers, but the hot, dry weather pattern was taking a toll on grass growth. Producers were bailing hay with good yields reported. Rangeland and pasture conditions were very poor to excellent. Livestock remained in good condition, with producers feeding supplemental nutrients as needed.
ROLLING PLAINS
Most dryland and irrigated cotton was planted. Several counties reported a better-than-expected wheat harvest. Farmers and ranchers were anxious about the projected heat forecast for the weeks ahead. The extended heat wave could hurt pastures, dryland corn and dryland sorghum.  More rain will be needed to sustain pastures, crops and livestock drinking tanks. Parts of the district received severe storms, including a tornado in Motley County.
COASTAL BEND
Soil moisture and pasture conditions continued to decline with the intense heat and dry conditions throughout much of the district. Areas received trace amounts of up to 2 inches of rainfall during a heavy storm. High winds damaged grain sorghum and some corn. Corn and grain sorghum were drying down quickly. Grain sorghum and corn harvest were either underway or will begin by the first of July. The rice crop was doing well and heading out. Early planted cotton looked good and showed a good boll load, but fields need rain. Later planted cotton and sorghum began to show stress and needed rain soon to reach desired yields. Extreme heat caused some corn and sorghum to mature 10-14 days ahead of schedule, and yield losses were expected. Summer grasses and forages were slowing down and going dormant with the high heat and lack of moisture. Parts of the region reported pasture conditions deteriorated rapidly, with the clay soil drying out and cracking, and available grass being dry and losing its nutritional value. Hay harvest continued, and some hay fields were fertilized but needed rain for a second cutting. Producers were concerned about heat stress on livestock over the coming weeks. Calves may be weaned at a younger age to help maintain cow conditions, which could mean lighter calf weights when marketing this year's calf crop. The cattle market held strong.
EAST
Subsoil and topsoil conditions were adequate. Increasing temperatures and humidity stressed plants and animals as heat indexes reached upwards of 120 degrees. Storms caused damage and power outages around the district. Producers continued hay production in most counties. Pasture and rangeland conditions were good. Livestock were in fair to good condition. Panola County reported producers were practicing caution in working cattle due to extreme heat. Market prices were higher in all cattle classes, and feeder demand remained strong. Wild pigs continued to cause problems for most producers.
SOUTH PLAINS
Temperatures were in the upper 90s-100s, and some hail was reported. The extended forecast called for temperatures above 100 degrees and no rain. Crops under irrigation looked better than dryland, which needed a good soaking rain to continue developing. Some wheat was still being harvested for grain. An AgriLife Extension agent was surprised by the small number of cotton acres planted this year.
PANHANDLE
Continued rain and very wet conditions halted all farming activities across some parts of the district. Most counties reported adequate subsoil moisture, with some reporting a surplus of topsoil moisture. Many acres of corn and sorghum still need to be planted. Wheat acres left to harvest were taken over by weeds. There were big losses in cotton crops after extended wet and cool weather. Cotton will need high amounts of heat units to make a yield, with first bloom predicted for Aug. 1. Planting and replanting continued, with many producers trying to get in sorghum silage and grain sorghums. Small grain fields matured rapidly. Growers were planting alternative crops in fields too wet to plant cotton. Corn and early planted sorghum progressed well, but rain will be needed soon. Pastures and rangelands were in fair to excellent condition.
NORTH
Pastures and rangeland conditions were fair to good, while topsoil moisture ranged from short to adequate. Most counties reported rising temperatures, with heat indexes reaching over 100 degrees. Pastures and hay meadows looked great for most counties. Hay harvesting continued. Corn was in the filling stage. Wheat and oats were harvested. Soybeans looked good, with some fields blooming. Grain sorghum began heading out. Livestock conditions were good to excellent, but horn flies were bad.
FAR WEST
Temperatures averaged 109 degrees for the past week with a nightly temperature of 75 degrees. A few stray showers occurred, but only trace amounts of rainfall were reported. Hot, dry conditions continued to take a toll on soil moisture and overall crop conditions. Crops were not recovering from the heat overnight and remained stressed. Early planted cotton was beginning to square, while later-planted fields were anywhere from cotyledon to four true-leaves and not growing in the heat. Corn was tasseling, and pollination was sporadic. Sorghum was growing slower and had not headed out yet. Bollworms and fall armyworms were feeding heavily on sorghum. Watermelons and cantaloupe were doing well. Pastures were drying up, and grass was becoming sparse. Wheat harvest began, and yields were disappointing. Livestock were in fair condition. Extreme heat over recent weeks was taking its toll on livestock and wildlife. Producers worked the late kid and lamb crops and have or will ship soon. Rangeland conditions declined, and pastures were browning over the past few weeks.
WEST CENTRAL
Conditions were hot and humid, with highs over 100 degrees and a few scattered showers. Heat indexes were between 110-119 degrees. Soil profiles were declining, and row crops were showing heat stress. Irrigated producers were struggling to keep up with crop water demand. Some producers continued to cut and bale hay and follow with fertilizer. Good hay yields were reported. Most wheat was harvested with yields averaging over 30 bushels per acre. Producers were plowing fields behind the wheat harvest. High winds damaged some cotton fields. The heat was taking a toll on young cotton recently planted or replanted, but early planted cotton looked good. Producers were wrapping up cotton planting. The heat was also taking a toll on corn and sorghum during pollination. Walnut caterpillars were destructive in pecan orchards that were not treated. Pecan trees were being irrigated. Grasshopper numbers were increasing. Temperatures and no rain were impacting rangeland and pasture conditions. Pastures were browning in some areas and improving in others, but weed pressure was heavy. Stock tanks needed more runoff water. Cattle prices remained strong, and livestock were mainly in good condition.
SOUTHEAST
Conditions were hot and wet conditions were drying rapidly. Heat indexes were into the triple digits with high humidity. Strong winds and a possible tornado caused downed trees. Hay production was in full swing. All rice was planted. The cattle market, especially feeder calves, remained very strong. Grasshopper numbers were increasing. Weeds and algae were becoming an issue in stock tanks and recreational ponds. Producers were monitoring forage and hay fields for pests. Rangeland and pasture conditions were very poor to excellent. Corn looked good, and cotton was progressing as temperatures increased. Rain was in the forecast.
SOUTHWEST
No measurable precipitation was reported. Hot weather continued with daytime temperatures exceeding 110 degrees almost daily with dangerously high heat indexes. Nighttime temperatures stayed above 90 degrees until after midnight. Everything was showing signs of heat stress, and pastures were turning brown. Crop yields likely suffered from the effects of high temperatures. High temperatures were contributing to the further deterioration of rangeland conditions. Burn bans could soon return. Increasing numbers of livestock were being sent to auctions. Livestock and wildlife were still in fair to good shape. Long-range forecasts indicated hot and dry conditions were expected through the July 4 holiday.
SOUTH
Topsoil and subsoil conditions had deteriorated due to the heat wave. All crops were under irrigation due to high temperatures and no rainfall. Every facet of agriculture was suffering due to the extreme heat.  Cotton crops continued to develop under irrigation and were in the blooming stage. Corn crops were reaching maturity and in the denting stage. Hay grazer and Bermuda grass fields were being cut and baled. Wildlife and cattle were finding enough to eat to maintain good body condition but could need supplemental feeding soon. Pasture and rangeland grasses burned up rapidly, and some producers were already beginning to supplemental feed. Ponds were beginning to dry up. Producers had to supply livestock with water in some areas. Earlier planted row crops were reaching maturity quickly. Forage conditions and grazing availability were declining. Cattle prices were high and consistent, but some markets reported lower sale volumes. Feed prices remained high. Row crop producers were harvesting. Whitetail does were fawning, and quail hatchlings were seen scurrying along and across rural roads.
Source: Texas A&M AgriLife Extension, AgriLife Today
Subscribe to receive top agriculture news
Be informed daily with these free e-newsletters
You May Also Like
---