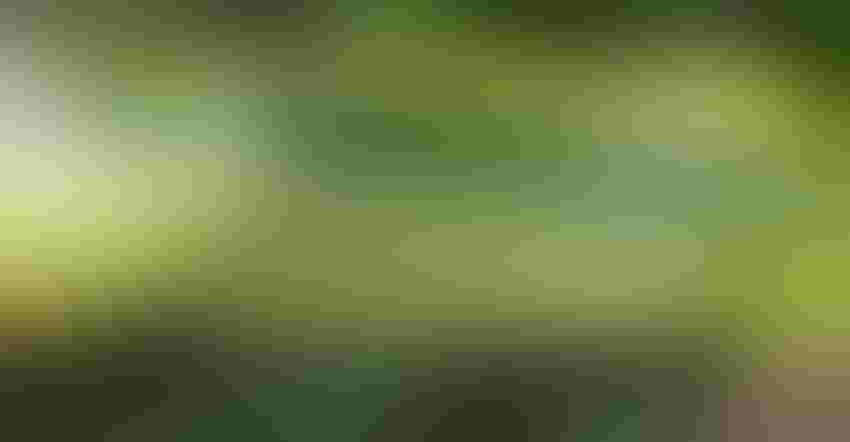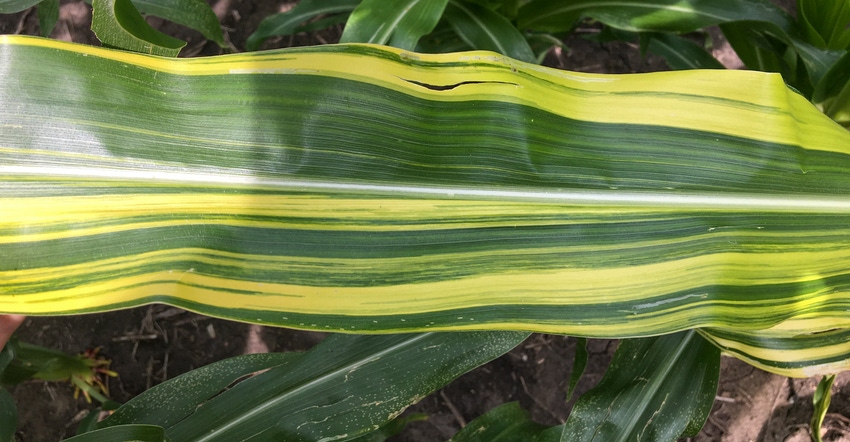 ZEBRA STRIPE: A striped corn leaf stands out. Zebra leaf striping like this is not caused by a disease or nutrient deficiency, but rather a genetic mutation.
Photos courtesy Legend Seeds
Jennifer Duffy, a research specialist with Legend Seeds based in De Smet, S.D., says one of the unusual things you may see in corn this year is zebra striping. It's not a disease or a nutrient deficiency. It's a genetic mutation.
"If you look very closely, you can see the striping continues in the stalk as well as the leaves," Duffy says. "This mutation affects the chlorophyll of the plant. This plant will not be as productive as a normal corn plant as the zebra striping will limit the sunlight intake for the plant."
Nutrient deficiency striping
Zinc (Zn), sulfur (S) and magnesium (Mg) deficiencies can cause striping, too, but the symptoms look a little different than zebra striping. The leaves are usually paler.
You can soil test before planting to make sure these nutrients aren't in short supply. Tissue testing can identify deficiencies, too.
GENE CHANGE: The striping on this plant is due to genetic mutation. The zebra striping will limit the amount of sunlight the plant can take in, making it less productive than its unstriped counterparts.
According to Purdue Extension, sulfur deficiency may cause striping or overall yellowing of corn leaves. Release of sulfur from soil organic matter is the primary source of S for plants when no fertilizer sulfur is applied. Cold, wet, low organic matter and sandy soils, high residue, and no-till are conditions that promote S deficiency. Tissue sulfur less than 0.15% to 0.18%, or an N:S ratio greater than 15:1 to 20:1, are indicative of sulfur deficiency.
Zinc deficiency may cause striping that begins at the base of the leaf and progresses to the tip. Stripes often coalesce to form a white band along the edge of the leaf or the midrib. High pH, low organic matter, sandy soils are most prone to Zn deficiency especially in cool, cloudy springs. Tissue zinc less than 15 to 25 parts per million (ppm) is considered deficient.
Magnesium deficiency may cause striping or reddening of corn leaves. Yellow areas between the veins may be "beaded" rather than striped. Low magnesium is often associated with low pH, but magnesium deficiency can occur at high pH if imbalances with calcium occur. High soil potassium and high applications of potassium and anhydrous ammonia can aggravate magnesium deficiency. Tissue magnesium less than 0.15-0.20% is considered deficient.
About the Author(s)
Subscribe to receive top agriculture news
Be informed daily with these free e-newsletters
You May Also Like
---