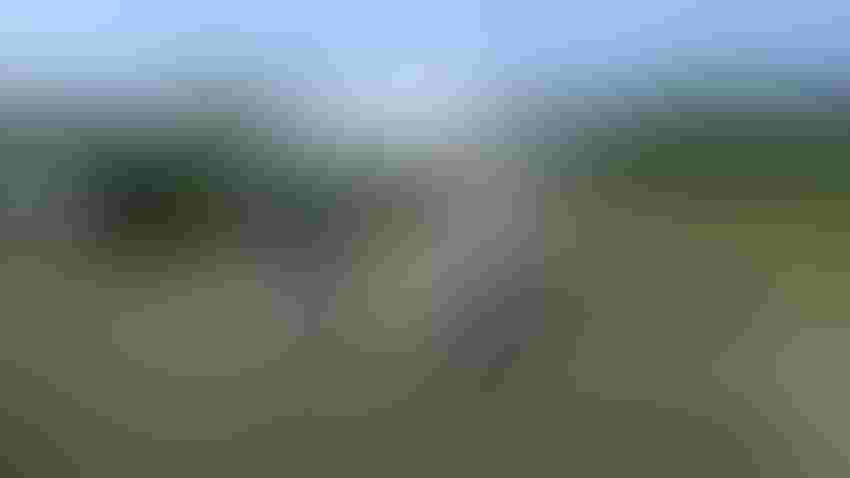 SHORT CORN: Daniela Carrijo (left), grain crops Extension specialist for Penn State, and Ethan Whitmoyer, grain crops research technologist, show a side-by-side comparison of tall corn and Bayer's short-stature corn. Data from Penn State's trial show short-stature corn averages about 2 feet shorter than its taller counterparts.
Photos by Chris Torres
Bayer's new short-stature corn hybrids will likely roll out next year across the Midwest, which means growers in the Northeast will only get access to it a year or two after.
And while it sounds intriguing, the question most farmers should ask themselves is, why should I plant it? And if you're a dairy farmer, will it be worth growing for silage?
A group of Penn State researchers is looking to get answers to that second question.
A 1.5-acre plot of short-stature corn was planted this spring at the university's research farm in Rock Springs, Pa. Daniela Carrijo, grain crops Extension specialist, and Ethan Whitmoyer, grain crops research technologist, talked about the trial at last week's "Farming for Success" field day at the Southeast Agricultural Research and Extension Center.
Ten hybrids, five short-season and five "tall" hybrids, are being compared in side-by-side plots and will be chopped as corn silage soon. Planting was done at two seeding rates — 34,000 seeds vs. 42,000 seeds — on May 22 in a plot that was previously soybeans.
While harvest is still weeks away, some initial data was measured during the R2 and R3 growth stages, mainly plant height, ear height and stalk diameters.
Here's what was found:
Short-stature varieties stood almost 2 feet lower than the tall varieties, averaging 6.5 feet tall to 8.3 feet tall.

Ear height for short-stature corn was 31 inches, compared to 46 inches for the conventional types.

The short-stature hybrids are thicker at the base and have slightly thicker ears. Base stalk diameter for the short-stature hybrids averaged 27 millimeters vs. 22 millimeters, while ear stalk diameter averaged 21 millimeters vs. 18 millimeters.
Much of the shorter plant height, Whitmoyer said, is a result of shortening the internodes toward the base.
Growing these shorter corn plants offers many potential advantages, including lower risk of lodging, more late-season application of inputs using a rig and potentially stronger plants that can withstand a high-wind event.
But it's limited, for now
This season, growers in the Midwest — specifically Indiana, Illinois, Iowa and Nebraska — are growing Bayer's short-stature corn on about 30,000 acres.
The company's Preceon Smart Corn System incorporates the company's FieldView precision ag system with growers' data, including yield and management practices, to recommend fields to place short-stature hybrids. Called the Ground Breakers Field Trials, this year's growers had three hybrids to choose from, ranging from 108-day to 122-day maturities.
"We anticipate that acres of the Preceon Smart Corn System will double during our targeted commercial introduction in 2024," said Brian Leake, spokesman for Bayer. "We will target our initial system launch across the Corn Belt."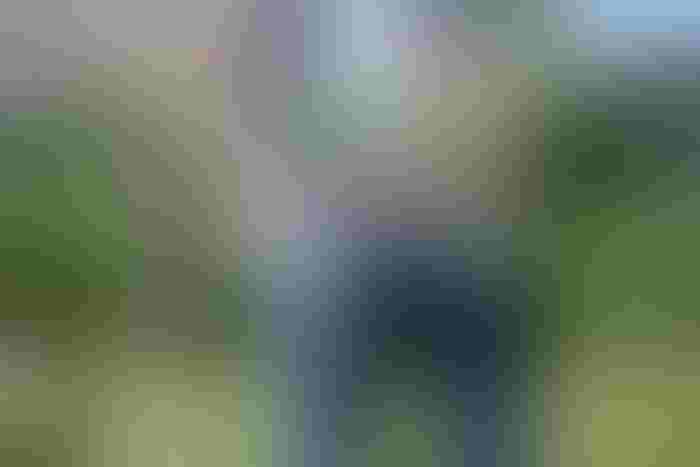 WIDER STALKS: Short-stature corn (right) looks wider than its tall counterpart. Penn State data show that stalk diameter for short-stature corn is 5 millimeters more than tall corn.
Whitmoyer said that anecdotally he has heard that short-stature corn could be available in the mid-Atlantic by 2025. Leake did not confirm this.
The initial short-season hybrids are conventionally bred, non-GMO varieties. USDA has approved a GMO version of the corn that will likely be available later this decade, although it still requires approval from the Environmental Protection Agency.
What about silage?
This is a big question since much of the corn grown in the Northeast goes for dairy and beef.
"If we're growing a lot of corn with short stature … are we going to give up tonnage, total tonnage yield, with growing this short-stature corn because we have less stalk?" Whitmoyer said. "And that's going to be a concern to farmers. I can plant this short corn, but I give up X amount of tonnage. I don't have enough tons of feed to feed my cows."
But it could also fill a niche for some dairies, he added, especially those that grow brown midrib corn. While BMR corn has lower levels of undigestible lignin in the stalks and leaves, making for a more digestible product, it has been dogged by lower overall yields and unpredictable standability.
Short-stature corn could at least address the standability issue, Whitmoyer said, because of its thicker stalks. More research is needed, though, to compare overall tonnage and lignin, and to see the impacts of feeding this corn to cows — mainly on production and overall profitability.
Whitmoyer said that he also has questions about ear height, especially during a dry year.
Bayer has stated that corn ear height will be more than or equal to 2 feet for compatibility with harvest equipment. Still, Whitmoyer said this is something to keep an eye on, whether chopping for silage or shelling for grain.
"The harvestability is a concern because if that ear gets too low to the ground, we have to make sure it is at least high enough off the ground that the harvester can get it," he said.
Links
https://www.farmprogress.com/corn/bayer-advances-short-stature-corn-on-30-000-acres-in-2023
https://www.farmprogress.com/corn/what-you-should-know-about-short-corn-
Subscribe to receive top agriculture news
Be informed daily with these free e-newsletters
You May Also Like
---