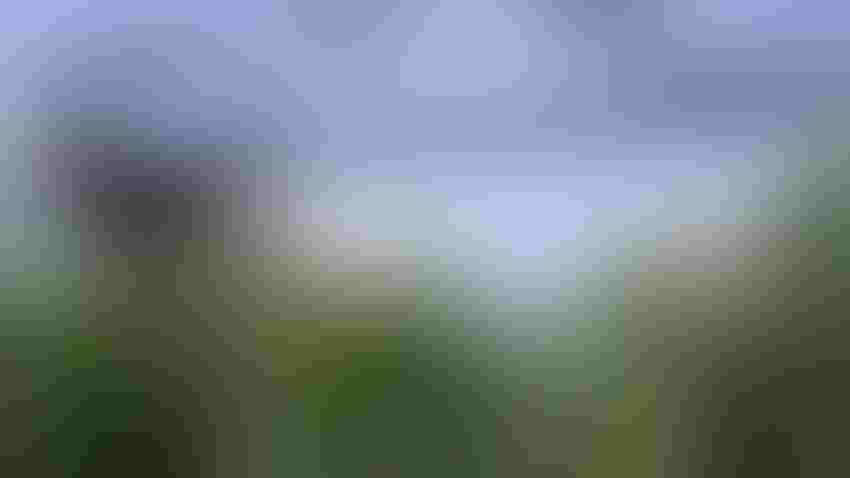 MORE FLEXIBILITY: Shorter corn means more clearance with high-clearance rigs for mid- to late-season spraying applications.
Tom J. Bechman
Odds are high you've read about short corn. Maybe you've seen plots. Maybe you're already planting it. Will short corn hybrids become more prevalent? If so, when? If you plant them, should you adjust management practices?
Here's a look beyond the hype:
Background. Myron Stine, president of Stine Seed, says his company has offered shorter corn hybrids for nearly 10 years, and researched them for over 25 years. He adds that there is no hard-and-fast definition for "short corn." Many hybrids in the Stine Seed lineup are in the 84- to 96-inch height range. Historically, he considers that "short."
"My father, Harry, focused on shorter corn in his plots years ago," Stine explains. "Our conventional breeding program contains genetics which tend to be shorter. We select for the best hybrids, not just the shortest ones. Many of our best hybrids happen to be shorter than many competitive hybrids."
Industry efforts. Today, Bayer has a two-pronged approach to short corn. The development of short-stature corn started in Bayer's research plots in Mexico. Bayer is advancing a conventional breeding version of short corn now and working on a biotech version.
"We have taken a technical approach to our elite corn products and are keeping the benefits of our regular hybrids," says Bob Reiter, Bayer Crop Science head of research and development.
Meanwhile, Sam Eathington, executive vice president and chief technology and digital officer for Corteva Agriscience, explains that his company has been working on reduced-stature corn technology for a decade. New breeding technology, including gene editing, helps speed up the process.
"We're testing and evaluating performance," he says. "History shows that higher corn yields have been driven by more plants per acre. We believe reduced-stature corn will play a role in moving plant populations higher. What we're doing now is analyzing results to put together recommendations that will make these hybrids successful when they come to market."
Genetic suppliers. One company that supplies genetics to the industry, Peterson Corn Genetics LLC, is offering Built Rite hybrids. These hybrids have shorter stature, built to withstand strong winds more effectively, yet yield with other genetics in its portfolio.
Spokespersons emphasize the secret to making these short corn hybrids successful includes planting them at higher populations and reducing shading effect. Filling half the planter with a short hybrid and half with a regular hybrid won't produce good results.
Availability. Stine offers 13 short corn hybrids for '23. Bayer intends to offer limited quantities of short corn coming through its conventional breeding program in '23. Short corn with a biotech short-corn trait from Bayer is on track for 2027 in the U.S.
Corteva expects it will be at least a couple of years before its short corn is marketed through Pioneer and Brevant Seeds.
Meanwhile, Built Rite genetics are available to seed companies now. Whether a seed company maintains the Built Rite moniker when marketing to you will be up to them.
Emphasizing practices. "Two key things you must do to make shorter hybrids successful are eliminate shading and increase plant populations per acre," Stine says. "Keep that in mind as you start seeing more short corn hybrids in plots. It's not a fair test if they're next to a taller hybrid."
Jennifer Carrico, editor of sister publication Wallaces Farmer, contributed to this story.
Subscribe to receive top agriculture news
Be informed daily with these free e-newsletters
You May Also Like
---