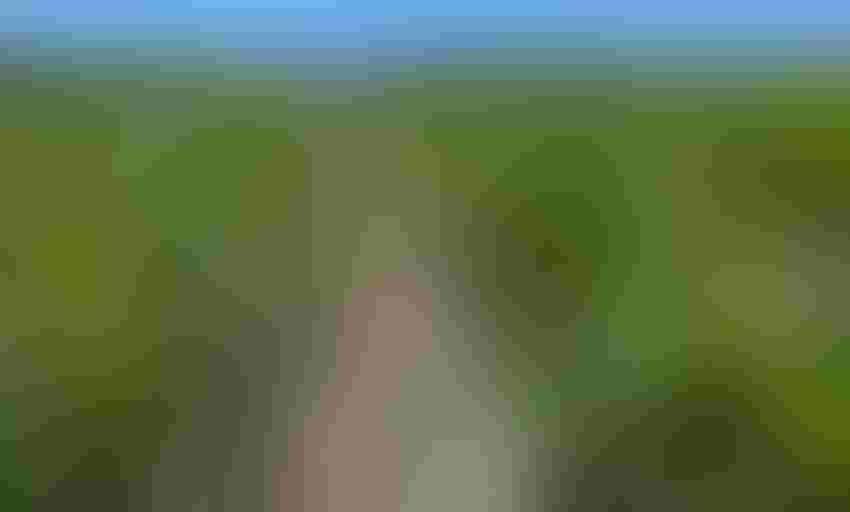 This field outside Troy, Ala., will be the reference point of the Farm Press editorial series 'Tracking Will's 500-bushel corn.' Picture was taken April 26.
Will Curtis - Alabama Farmer
The corn field sits just outside Troy, Ala. Will Curtis plans to make it average 500 bushels per acre this year, and we're going to be checking in with him throughout his season to see how the corn in the field progresses, how he manages it and if he pulls off that average.
He's done it before. The 500-bushel average is what he shoots for with his double-crop system. But this year will be the first time he didn't rotate the field back into soybeans. The field had corn on it last year, too. He believes yearly rotation is key to high yields, but this year due to the pricing he decided to do two years of corn in the field, plus the double crop. He plans to harvest the field and then plant back corn by the first week of August.
Southeast Farm Press visited Curtis March 19, the day he planted the 68-acre irrigated field with DKC68-69 on 36-inch twin-rows with an average population of 37,000 seed per acre. The field received about 2.5 tons per acre of chicken litter prior to planting. He typically strips into a cover crop, but this year because he was going back-to-back corn, he used a vertical till to incorporate as much of last year's corn stubble
In all, Curtis planted 600 acres this year, the last field, where he had cattle grazing, being planted April 28. He plans to double crop 200 acres this year.
Related:Will Curtis shoots for 500-bushel season on a third of his corn acres
About three weeks after he planted the field, atypical weather brought frost conditions to the region, he said, the corn faired fine. The corn's growing point hadn't reached the surface at that time. The season so far "has been a bit wet and cooler, but the corn is growing well now," he said.
As of the week of April 26, the field had received 13 inches of rain since planting and was around the V-5 stage, and it was getting its first shot of fungicide. He said it's been tougher getting product this year. For this application, he used 6 ounces of Headline Amp with 3 ounces of Provysol, "trying to be proactive. Last year, the late, double-crop fungicide applications did not work well."
He's fertigated the field with 20 to 40 units of 28-0-0-5 through pivots once a week. With the wetter-than-normal spring so far, it's been tough to get the fertilizer out. "Luckily, my dirt holds up well for pivots." He applied two-tenths of an inch of water with each fertigation. "The cheapest way to fertilize for me and you get good leaf absorption," he said.
EDITOR'S NOTE: This mini editorial series is called 'Tracking Will's 500-bushel corn.' Curtis kindly agreed to send Southeast Farm Press pics and let us check in every couple of weeks or more, depending on how the season goes and what Mother Nature might throw at the field.
About the Author(s)
Subscribe to receive top agriculture news
Be informed daily with these free e-newsletters
You May Also Like
---