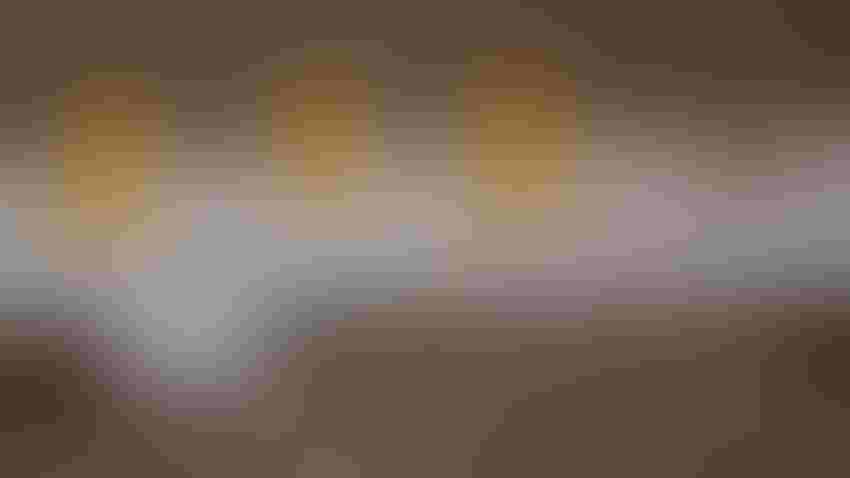 MISSING EAR SYNDROME: Late emergers often wind up producing no ear or a very small ear that contributes little to yield, Dave Nanda says. The ear on the right is from a later-emerging plant.
Tom J. Bechman
Dave Nanda and I took different viewpoints on a visit to the Corn Watch '23 field recently. I was zeroed in on how good this 100-acre field looked for mid-June. Corn was dark green and well-spaced, for the most part, and was already approaching the V7 growth stage. I could see estimated yield numbers in August climbing up over 240 bushels per acre with favorable weather.
Meanwhile, Nanda, director of genetics for Seed Genetics Direct, sponsor of Corn Watch '23, saw something different. He took the "hole in the fence" approach. Jay Akridge, former dean of the Purdue College of Agriculture and former Purdue provost, remembers helping his grandpa check his Hereford cows. Akridge would see a beautiful herd of Hereford cattle. Grandpa would look for the "holes in the fence" — future problems or things that could be done better. Nanda was seeing problems where I saw bushels.
"Why couldn't we get 275 bushels per acre?" Nanda asked. "We could with more ears per 1/1,000 acre. There appears to be enough nitrogen. Look how green it is, and you told me tissue tests confirmed good nitrogen levels in plants.
"Look here. See that small plant? It won't make an ear; it will become a runt. See that gap? If both are in the same 1/1,000 acre, that's two missing ears. Get them back and you up yields."
Nanda has a suggestion: Increase seeding rate another 2,000 seeds per acre next year over whatever the rate was to achieve the stand you had this year. That would compensate for a late emerger or missing plant, which in field experience, always seems to occur.
What math says
Do yield calcualtions back up Nanda's suggestion? Here are examples, using the tried-and-true yield estimation method suggested by Purdue. This method uses a fudge factor. The better the grain fill, the lower that number; the more average the grain fill, the higher that number and the lower the resulting yield estimate.
Example 1: This year. You count 30,000 ears on 32 plants, with no gaps, in 1/1,000 acre. Two plants are spindly and barren. Ears average 17 rows with 38 kernels per row, and you use 80 as the fudge factor for 80,000 kernels per bushel. So: 30 x 17 x 38 = 19,389 / 80 = 242.25 bushels per acre.
Next year. You take Nanda's advice. Next year, you have 32 ears on 34 plants and no gaps. So: 32 x 17 x 38 = 20,672 / 80 = 258.4 bushels per acre. That's over 16 bushels more per acre than the year before.
Example 2: This year. You count 31 ears and one gap in 1/1,000 acre. No plant emerged in the gap. You dug and discovered the seed was there but didn't germinate. So: 31 x 17 x 38 = 20,026 / 80 = 250.3 bushels per acre.
Next year. Next year, you get 33 ears and no gaps in 1/1,000 acre. So: 33 x 17 x 38 = 21,318 / 80 = 266.5 bushels per acre. That's 16 more bushels per acre than the year before.
Simplistic? Maybe. But one fact rings true. Numbers don't lie. More ears means more contribution to yield. And Nanda says you can take that to the bank.
Subscribe to receive top agriculture news
Be informed daily with these free e-newsletters
You May Also Like
---