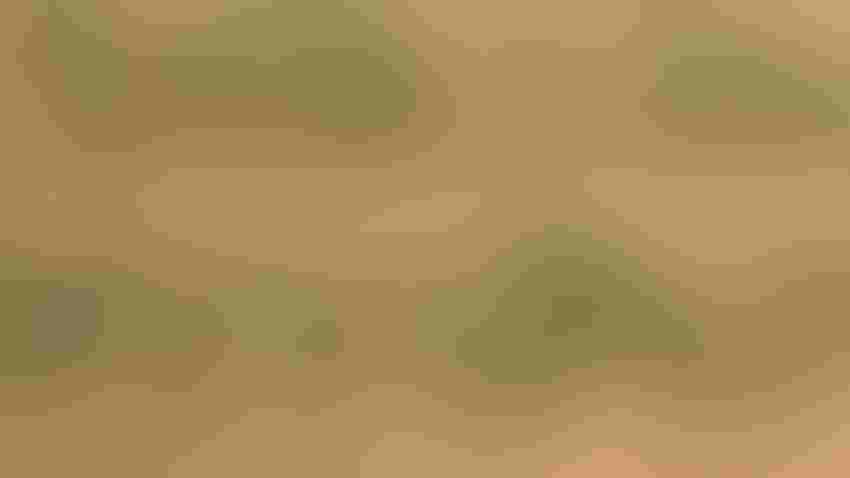 COMPENSATE FOR NONCONTRIBUTORS: Corn Watch consultant Dave Nanda believes that if you increase seeding rate 2,000 or so seeds per acre, you can achieve the productive plant population you want. One plant in each of these rows may wind up lagging behind.
Tom J. Bechman
Editor's note: Dave Nanda and I had a conversation while walking corn that resulted in a practical suggestion for next planting season. Read on to learn more.
"What's wrong with this plant?" Dave Nanda asked, pointing to a corn plant that was shorter than its neighbors. Nanda is director of genetics for Seed Genetics Direct, sponsor of Corn Watch '23, and consultant for the Corn Watch '23 field.
"It probably came up late, although I can't prove it — we didn't flag that row," I said.
"It might have seedling disease too. We saw some this year," Nanda said. "It really doesn't matter. This plant is so far behind, it probably won't produce an ear."
I picked up the thread. "Well, you're going to see one now and then, Dave. This is still good corn, dark green and at V6 to V7 on June 14, just having received an inch of rain. What more could you want?"
"I want 32,000 productive plants per acre, preferably more, and we're coming up short," he replied.
"How do you figure, Dave?" I asked. "I have three flagged plots, each 1/1,000 of an acre, two of them four rows and one three rows, and the average population is over 32,000 plants per acre."
"Yes, but you counted all plants when you checked, right?" Nanda countered.
"Well, yes."
"I am finding one to two smaller plants and one gap where no seed emerged in every 1/1,000 acre I walk, Tom," he explained.
"I will give you one small plant, not two," I said. "Some flagged rows don't have any late emergers."
"OK, call it one small plant and one gap," Nanda said. "Why is there a gap?"
"Dave, it's 95% germination — that's one in 20," I answered. "So, in a string of 32 or more seeds in 1/1,000 of an acre, odds are you will get a gap. At least one seed won't grow."
"Tom, haven't you listened to me over the years?" Nanda chided. "All companies put 95% minimum germination on the tag. Normally, it is much better than 95%. Sometimes it is 100%."
"Come on, Dave, it's usually not zero gaps. Once in a while, a seed doesn't grow."
"OK, let's assume one small plant and one gap, for whatever reason, per 1/1,000 acre," Nanda said. "So, now you're looking at 30,000 ears, not 32,000. What does that do if you plug numbers into your yield formula?"
I answered, "It drops yield about 15 bushels or more per acre. So, 270 bushels per acre becomes 255."
"That's right," Nanda insisted. "And that's my point. You and I have walked lots of fields, together and apart, all over Indiana for many years. Typically, we find at least one nonproducing plant and one gap in 1/1,000 acre in almost every field.
"So, why not compensate for that upfront when you figure seeding rate?" he continued. "If you want 32,000 plants per acre, and you've been planting 33,500 or 34,000 seeds per acre, but only getting 30,000 productive plants, up your seeding rate. Plant 2,000 more seeds per acre than before, and next year you should have 32,000 productive plants. It could mean another 15 or more bushels per acre."
"OK, Dave," I complied. "That makes sense to me."
Subscribe to receive top agriculture news
Be informed daily with these free e-newsletters
You May Also Like
---